---
US: S&P 500 and Nasdaq 100
By Colin Twiggs
April 30th, 2012 4:00 a.m. ET (6:00 p.m. AET)
These extracts from my trading diary are for educational purposes and should not be interpreted as investment or trading advice. Full terms and conditions can be found at Terms of Use.
The S&P 500 respected support at 1350/1370, again confirming the primary up-trend signaled by 63-day Twiggs Momentum in December 2011. Immediate target for the advance is 1450*. Reversal below 1350 is unlikely but would warn of a correction to 1300.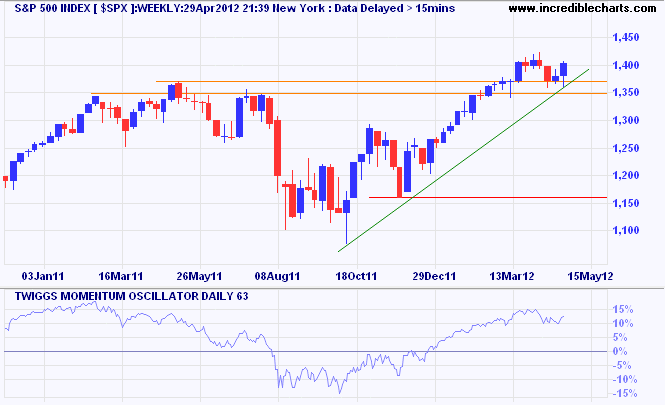 * Target calculation: 1300 + ( 1300 - 1150 ) = 1450
The Nasdaq 100 gapped above 2700, on its way to a re-test of resistance at 2800. Completion of the flag formation indicates another primary advance. Reversal below 2650 is unlikely but would warn of a stronger correction. Retreat of 21-day Twiggs Money Flow below zero would also give a bear warning, while respect of the zero line would indicate buying pressure.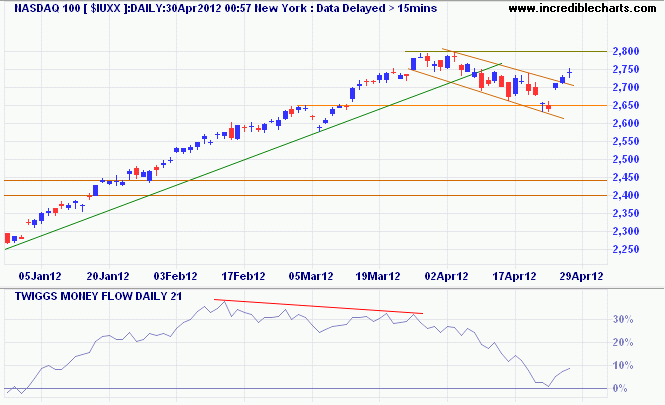 * Target calculation: 2800 + ( 2800 - 2650 ) = 2950
There are decades when nothing happens and there are weeks when decades happen.

~ Vladimir Ilyich Lenin