---
Dollar and gold test key support levels
By Colin Twiggs
April 26th, 2012 4:00 a.m. ET (6:00 p:m AET)
These extracts from my trading diary are for educational purposes and should not be interpreted as investment or trading advice. Full terms and conditions can be found at Terms of Use.
The Dollar Index continues to struggle with resistance at 80. Reversal below 78 would signal the end of the primary up-trend and a re-test of the 2011 low. Reversal of 63-day Twiggs Momentum below zero would strengthen the warning, while respect would indicate another primary advance.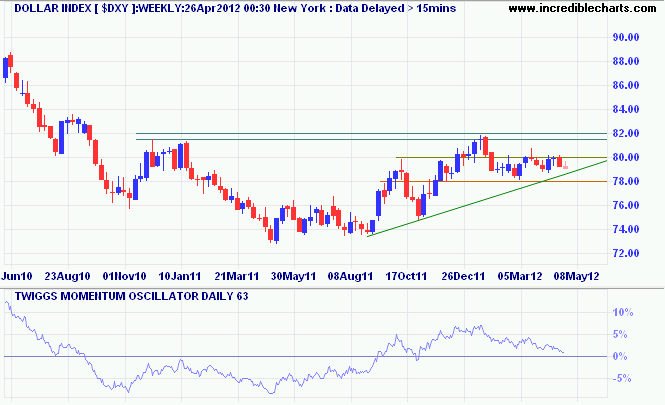 * Target calculation: 82 + ( 82 - 78 ) = 86
Spot Gold failed to respond to the listless dollar, testing the long-term trendline and support at $1600/ounce. 63-Day Twiggs Momentum oscillating around the zero line indicates indecision. Recovery above $1700 would indicate a fresh primary advance, while failure of $1600 would warn of a primary down-trend — with a long-term target of $1200*.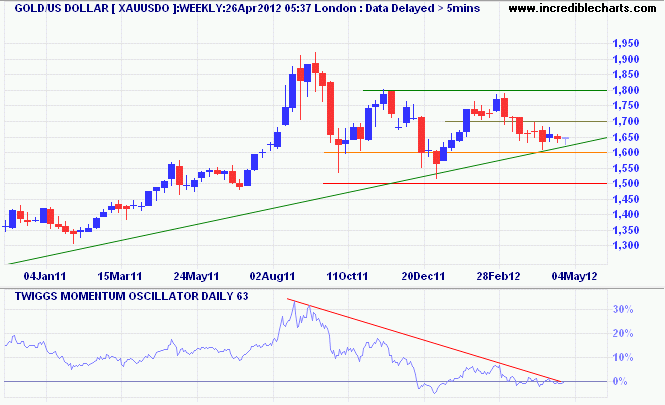 * Target calculation: 1800 + ( 1800 - 1600 ) = 2000; 1500 - ( 1800 - 1500 ) = 1200
I have found the best way to give advice to your children is to find out what they want and then advise them to do it.

~ Harry Truman