---
Secondary correction, but watch Fedex
By Colin Twiggs
March 24th, 2012 9:30 p.m. ET (12:30 p.m. AET)
These extracts from my trading diary are for educational purposes and should not be interpreted as investment or trading advice. Full terms and conditions can be found at Terms of Use.
The weekly S&P 500 chart suggests retracement to the new support level at 1370. No major deviation on 13-week Twiggs Money Flow indicates this is merely a secondary correction. Respect of 1350 would signal a primary advance. Long-term target for the breakout is 1600*.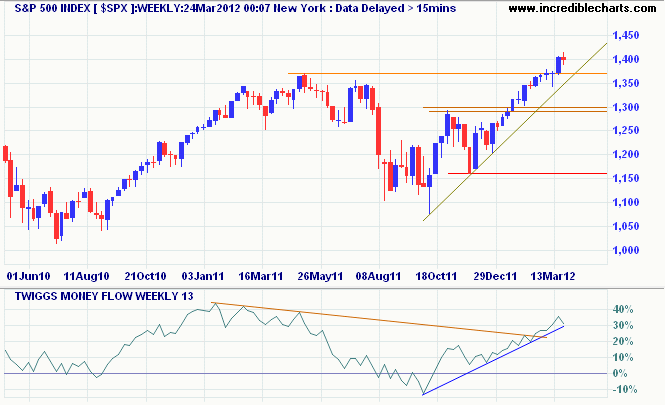 * Target calculation: 1350 + ( 1350 - 1100 ) = 1600
Nasdaq 100 Index similarly displays a bearish divergence on 21-day Twiggs Money Flow but no major deviation on the 13-week indicator, suggesting a secondary correction to the long-term rising trendline.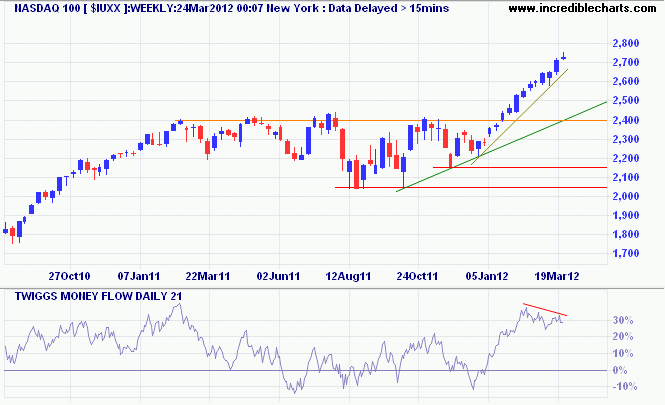 * Target calculation: 2400 + ( 2400 - 2050 ) = 2750
Bellwether transport stock Fedex, however, displays a stronger bearish divergence, on 13-week Twiggs Money Flow. Failure of support at 88.00 would indicate reversal to a primary down-trend; follow-through below 86.00 would confirm. A Fedex down-trend would warn that economic activity is slowing.
Either you think - or else others have to think for you and take power from you, pervert and discipline your natural tastes, civilize and sterilize you.

~ F. Scott Fitzgerald