---
Gold encounters resistance as Dollar finds support
By Colin Twiggs
March 1st, 2012 4:30 a.m. ET (8:30 p:m AET)
These extracts from my trading diary are for educational purposes and should not be interpreted as investment or trading advice. Full terms and conditions can be found at Terms of Use.
Spot gold ran into resistance at $1800/ounce and is testing medium-term support at $1700. Recovery of 63-day Twiggs momentum above zero signals a primary up-trend but we will not have confirmation until there is a clear break through $1800.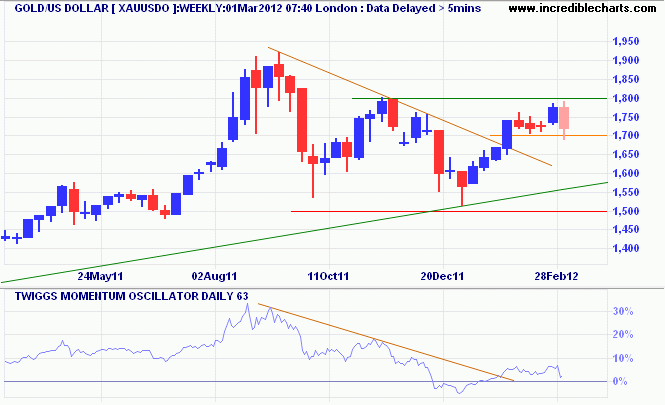 * Target calculation: 1800 + ( 1800 - 1500 ) = 2100
The Dollar Index is conversely testing support at 78.00. 63-Day Twiggs Momentum may be slowing but the dollar remains in a primary up-trend. Respect of support would signal continuation — and weaker demand for gold.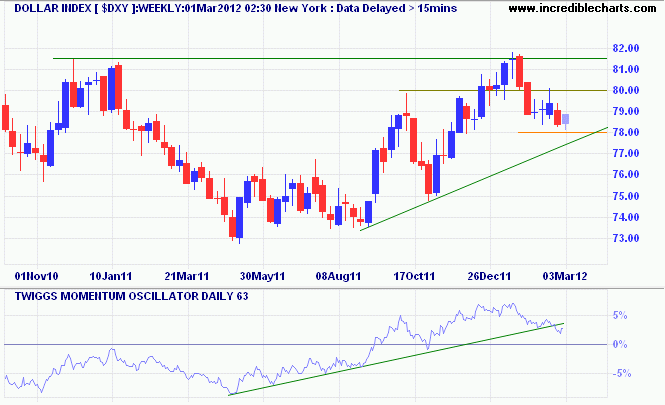 * Target calculation: 80 + ( 80 - 75 ) = 85
Man invented language to satisfy his deep need to complain.

~ Lily Tomlin