---
Gold rallies as dollar weakens
By Colin Twiggs
February 2nd, 2012 5:00 a.m. ET (9:00 p:m AET)
These extracts from my trading diary are for educational purposes and should not be interpreted as investment or trading advice. Full terms and conditions can be found at Terms of Use.
Spot gold is headed for a test of resistance at $1800 after breaching the descending trendline on the weekly chart, indicating that a bottom is forming. Breakout above $1800 would complete a double bottom reversal, with a target of $2100*. Respect of $1800 remains as likely, however, and would indicate another test of primary support at $1500.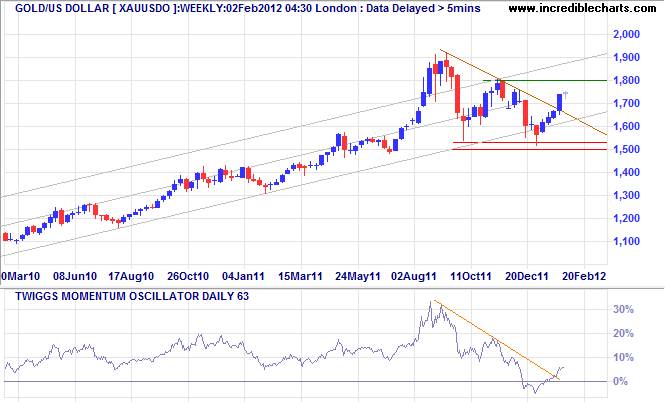 * Target calculations: 1800 + ( 1800 - 1500 ) = 2100
The Dollar Index is weakening in anticipation of QE3 ahead of the November 2012 elections. The primary trend remains upward, though breach of the rising trendline, and/or reversal of 63-day Twiggs Momentum below zero, would warn that a top is forming.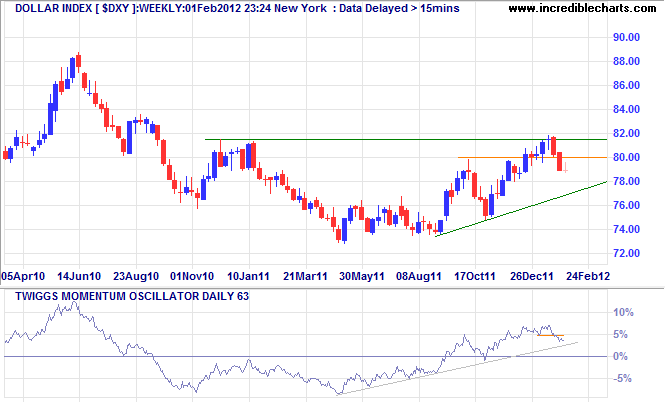 * Target calculations: 80 + ( 80 - 75 ) = 85
Reality is the leading cause of stress
among those in touch with it.

~ Lily Tomlin