---
Eurosis and US window-dressing
By Colin Twiggs
January 10th, 2012 3:00 a.m. ET (7:00 p.m. AET)
These extracts from my trading diary are for educational purposes and should not be interpreted as investment or trading advice. Full terms and conditions can be found at Terms of Use.
Neurosis: Emotional disorder arising from no apparent organic lesion or change and involving symptoms such as insecurity, anxiety, depression, and irrational fears.... No longer in scientific use.

Eurosis: Economic disorder involving symptoms such as insecurity, anxiety and depression, arising from rational fears of a collapse of the European monetary and banking system.... No longer of much use.
Europe
Dow Jones Europe index encountered (medium-term) resistance at 240. 21-Day Twiggs Money Flow below zero warns of selling pressure. Expect a test of primary support at 210. Failure of support would indicate a fall to 160*.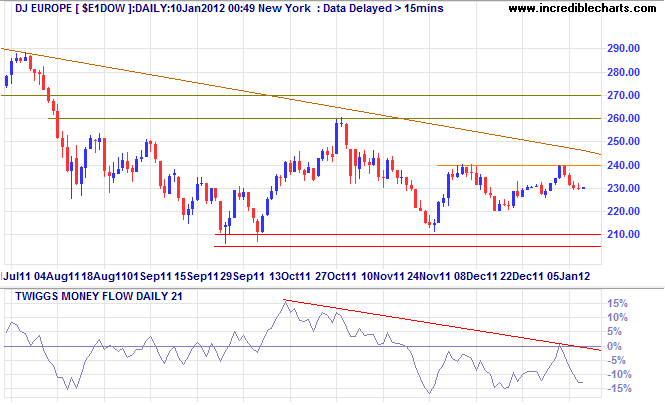 * Target calculation: 210 - ( 260 - 210 ) = 160
US
The S&P 500 index is stronger, testing resistance at 1300. Breakout would signal resumption of the primary up-trend. We are likely to see significant window-dressing ahead of the November 2012 election. The market may well respond, but the real picture is bleaker with an economy reliant on deficit-spending in order to avoid a slide back into recession. Respect of resistance at 1300 would warn of another test of primary support at 1160.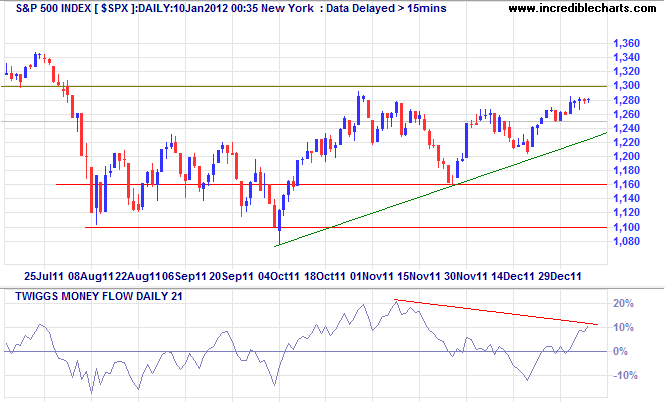 Australia
ASX 200 index reflects the middle ground. Rising 21-day Twiggs Money Flow indicates medium-term buying pressure but the index is presently testing primary support at 4000. Failure would signal a fall to 3650*. News of a fresh stimulus program in China, however, should help support resources stocks.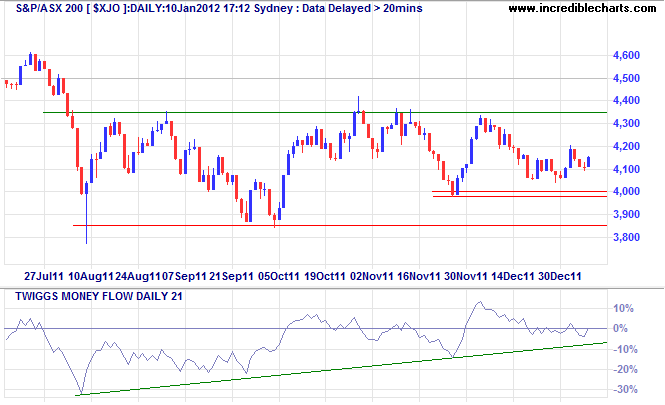 I place economy among the first and most important republican virtues, and public debt as the greatest of the dangers to be feared. To preserve our independence, we must not let our rulers load us with perpetual debt.

~ Thomas Jefferson