---
What's New: Preview of Incredible Charts 6.0
By Colin Twiggs
December 24th, 2011 1:00 a.m. ET (5:00 p.m. AEDT)
This newsletter is subject to Incredible Charts Terms of Use.
This is my last newsletter for the year. I will be on holiday until January 9th, but will continue to post on my trading blog: GoldStocksForex.com. We wish you all peace and goodwill over the Christmas season and prosperity in the year ahead.
Preview: Incredible Charts 6.0
Here is a quick preview of Incredible Charts 6.0 due for release early in the new year. Download the beta version to try the new features and provide us with feedback. Simply install to the same folder as your existing Incredible Charts software — it will not overwrite existing projects and watchlists.
Hour & Minute Charts
Select a chart interval on the toolbar (e.g. 1 Hour):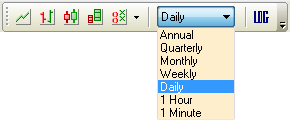 Display Periods
Select a display period from the chart menu (e.g. 96 Hours)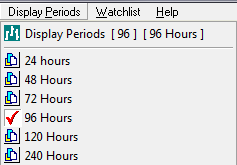 Hour & Minute Indicators
You will need to set up separate indicators for Hour (e.g. 24-Hour Twiggs Momentum) and Minute (e.g. 120-Minute Twiggs Momentum) charts.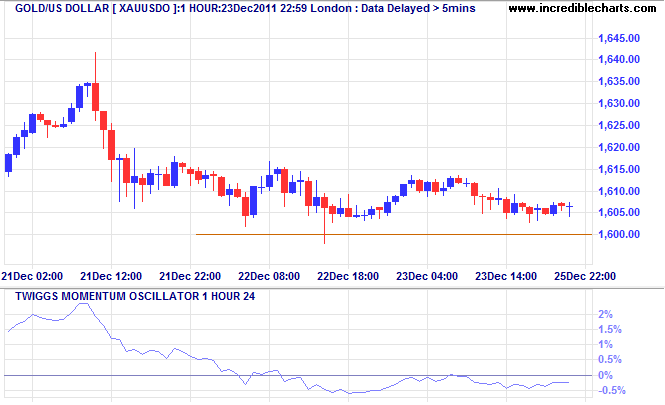 Point & Figure Charts
Point & Figure charts now offer smaller box sizes for intra-day charting. Ideally suited to Forex and Precious Metals trading, box sizes as small as 0.1 can be selected from the indicator panel. Select 1-Minute chart intervals (on the toolbar) for the most accurate results. The chart below uses a box size of 0.1 and reversal of 3: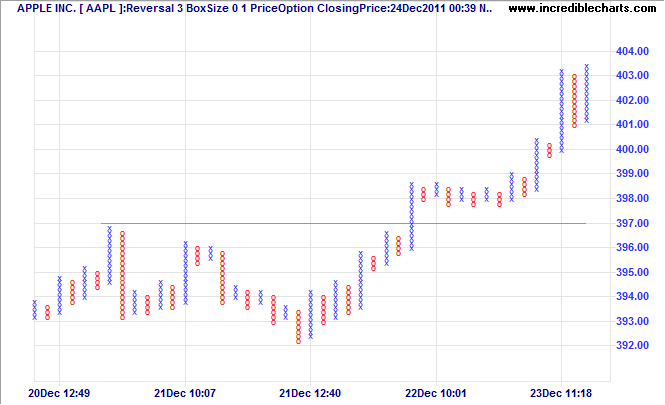 Outstanding Issues
There are several issues we have to clear up before this can be released as a full version:
Multiple minute/hour charts (e.g. 5-minute or 2-hour candlesticks);
Improve date and grid display on x-axis;
Improve indicator panel display;
Streamline Display Periods menu (e.g. offer "Maximum" instead of 20 to 100 years);
Make project defaults more user-friendly; and
Improve display of candlestick for incomplete periods.
In the mean time, we hope that you find the beta useful. We will survey members in the new year for feedback.
Regular Backup
It pays to make regular backups of indicators, trendlines, captions and watchlists stored on your computer:
Copy the User Files folder at C:\Program Files\Incredible Charts to an external hard drive or USB memory stick; or
Burn it to a CD or DVD.
Future Plans
We have completed the following upgrades this year:
New data module offering incremental updates;
New data supplier: SIX Telekurs;
1-Minute updates for Australia, London, Toronto and Singapore — delayed 15/20 minutes;
Hour & Minute charts first beta version; and
Scheduled stock screens with additional filters.
We still have further to go with:
Hour & Minute charts full version;
FTSE index feed (including Singapore Straits Times Index);
Indian (NSE and BSE) delayed data.
Flags for dilutions and dividends;
Tiered subscriptions so that members can customize their subscriptions.
Exchange royalties and licensing make real-time updates more expensive, but we will also survey members to ascertain support for real-time data. We look forward to bringing you more new features in 2012 and hope that it is a prosperous year for all.
There can be no doubt that distrust of words is less harmful than unwarranted trust in them. Besides, to distrust words, and indict them for the horrors that might slumber unobtrusively within them — isn't this, after all, the true vocation of the intellectual?

~ Vaclav Havel (5 October 1936 - 18 December 2011).