---
Shanghai breaks primary support
By Colin Twiggs
December 12th, 2011 4:00 a.m. ET (8:00 p.m. AET)
These extracts from my trading diary are for educational purposes and should not be interpreted as investment or trading advice. Full terms and conditions can be found at Terms of Use.
The Shanghai Composite index broke primary support at 2300 Monday, signaling a decline to 2100*. Follow-through on Tuesday would strengthen the signal. The sharp fall on 13-week Twiggs Money Flow warns of strong selling pressure.
* Target calculation: 2300 - ( 2500 - 2300 ) = 2100
Hong Kong's Hang Seng Index held above 18500 Monday, but another test of medium-term support at 17500 is likely.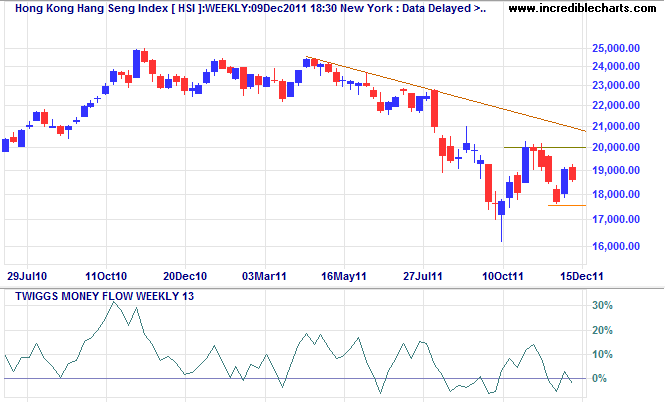 Dow Jones Industrial Average is testing resistance at 12300. Breakout would signal a primary advance to 13400 and an end to the bear market. Rising 63-day Twiggs Momentum is encouraging but will only be significant if retracement respects the zero line.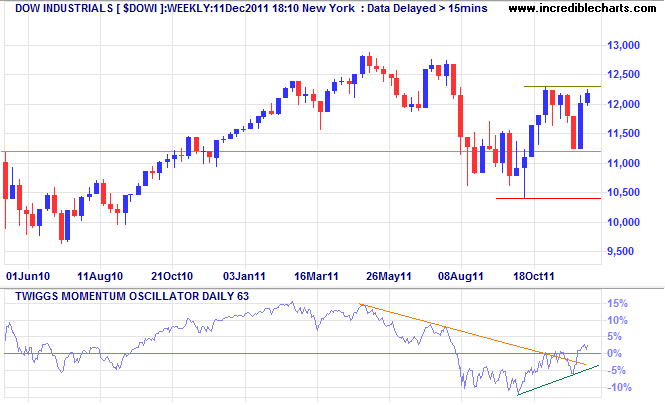 * Target calculation: 12300 + ( 12300 - 11200 ) = 13400
The Nasdaq 100, however, displays a large bearish divergence on 13-week Twiggs Money Flow, warning of selling pressure. Reversal below 2040 would confirm a primary down-trend. Breakout above 2400 is less likely, but would suggest an advance to 2800*.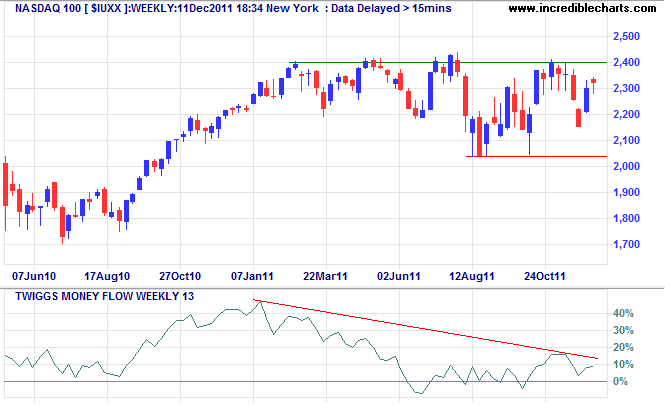 * Target calculation: 2400 + ( 2400 - 2000 ) = 2800
Never confuse movement with action.

~ Ernest Hemingway