---
Dollar surges on euro turmoil
By Colin Twiggs
November 10th, 2011 5:00 a.m. ET (8:00 p:m AET)
These extracts from my trading diary are for educational purposes and should not be interpreted as investment or trading advice. Full terms and conditions can be found at Terms of Use.
The Dollar Index is headed for another test of resistance at 80 on the strength of the euro crisis. Respect of the zero line by 63-day Twiggs Momentum suggests a primary up-trend. Breakout above 80 on the index (or 5% on TMO) would confirm, offering a medium-term target of 85*.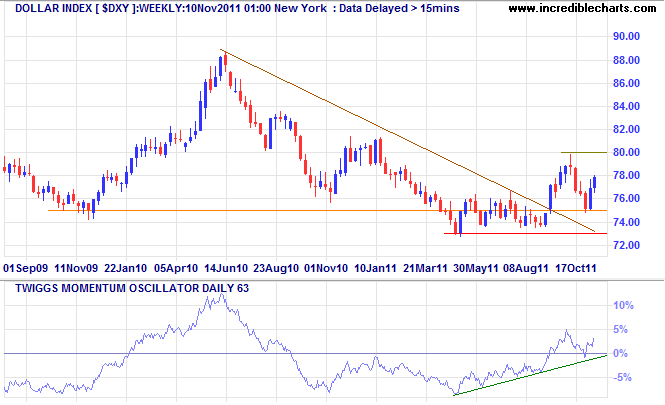 * Target calculation: 80 + ( 80 - 75 ) = 85
Spot gold is testing short-term support at $1750/ounce as the greenback strengthens. Breach of the rising trendline would suggest that the advance is losing momentum — and breakout below $1700 would signal another test of primary support at $1600. Respect of $1700 is less likely, but would signal an advance to $1900.
* Target calculation: 1800 + ( 1800 - 1700 ) = 1900
Most forecasters use models that reduce a complex economy to a rigid set of largely backward-looking relationships. Simply put, they try to predict the near future based on what has happened in the recent past. This can work for a while — until the critical moment when a turning point approaches, and such models reliably fail. This is because extrapolating from the recent past is a sure-fire recipe for being surprised by the next turn.

~ ECRI