---
Dollar rebounds as euro-zone crisis drags on
By Colin Twiggs
November 3rd, 2011 4:00 a.m. ET (7:00 p:m AET)
These extracts from my trading diary are for educational purposes and should not be interpreted as investment or trading advice. Full terms and conditions can be found at Terms of Use.
The Dollar Index is consolidating below resistance at 77.50. Breach of the descending trendline suggests the correction is over and recovery of 63-day Twiggs Momentum above the zero line indicates that the primary trend remains upward. Breakout above 77.50 would offer a medium-term target of 80*.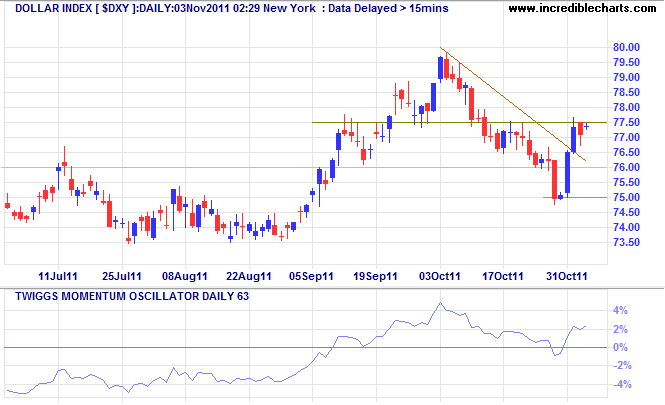 * Target calculation: 77.50 + ( 77.50 - 75.00 ) = 80.00
10-Year Treasury Yields are testing medium-term support at 2.00 percent. Failure would indicate another primary decline — and bad news for stocks.
Spot gold is testing support at $1700/ounce after its recent breakout above the descending trendline and resistance (at $1700). Respect of support would indicate a primary advance to $1900. In the long term, breakout above $1900 would offer a target of $2200, while failure of support at $1600 would warn of a primary down-trend.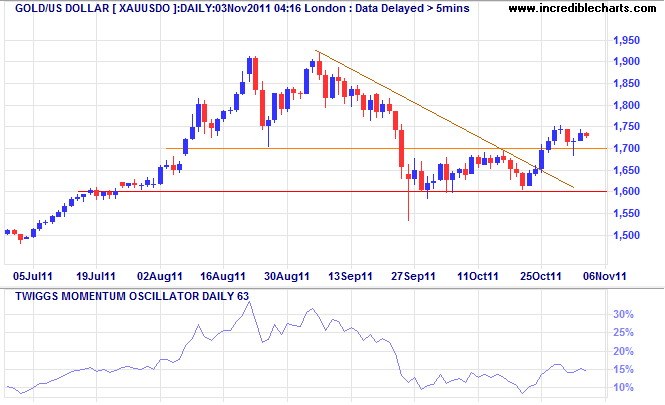 * Target calculation: 1900 + ( 1900 - 1600 ) = 2200
Amex Gold Bugs Index is headed for another test of the upper border of its right-angled broadening wedge formation. The pattern is bearish and breakout below 500 would warn of a primary reversal for spot gold.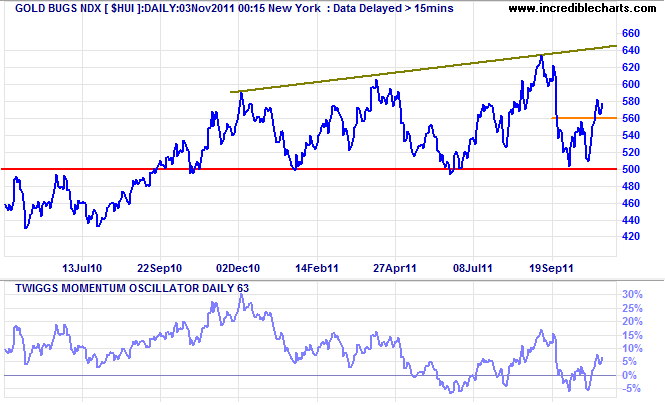 The ultimate result of shielding men from the effects of folly is to fill the world with fools.

~ Herbert Spencer, English philosopher