---
Dollar declines, gold and commodities rise
By Colin Twiggs
October 27th, 2011 3:30 a.m. ET (6:30 p:m AET)
These extracts from my trading diary are for educational purposes and should not be interpreted as investment or trading advice. Full terms and conditions can be found at Terms of Use.
The Dollar Index retraced to test the new support level at 76.00. Respect would confirm the primary up-trend, while failure would signal trend weakness. A trough above zero on 63-day Twiggs Momentum would strengthen the bull signal.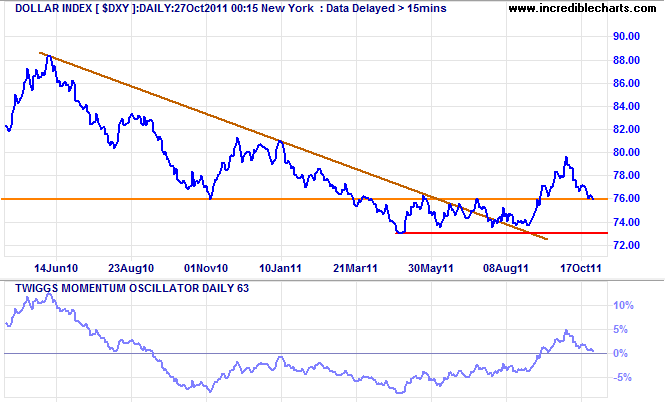 * Target calculation: 80 + ( 80 - 76 ) = 84
Gold broke through $1700/ounce in response to dollar weakness. Expect retracement to test the new support level. Respect would signal a primary advance to 1800*. The long-term (primary) trend remains upward.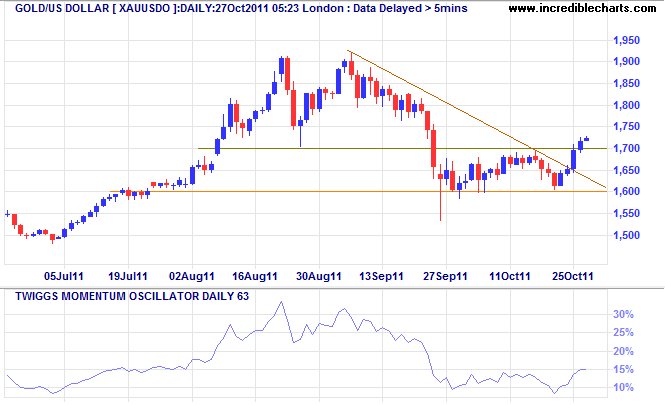 * Target calculation: 1700 + ( 1700 - 1600 ) = 1800
The Amex Gold Bugs Index is testing medium-term resistance at 560. Breakout would test the upper border of broadening wedge pattern — around 650 — and support a similar advance for the spot metal.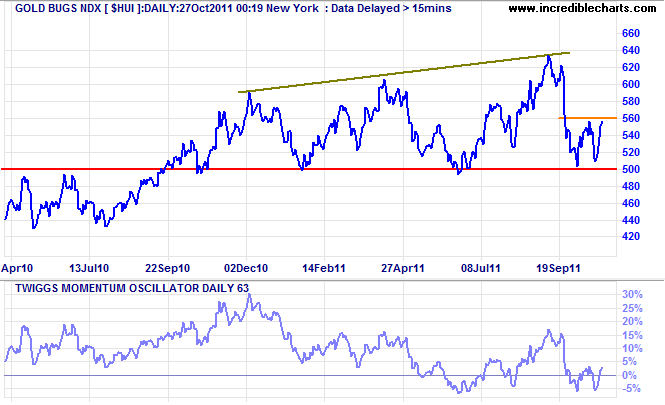 Brent crude is also stronger, testing its upper trend channel at $110/barrel. Respect would indicate another test of the lower channel — and the ascending long-term trendline — while breakout would signal an advance to $120*.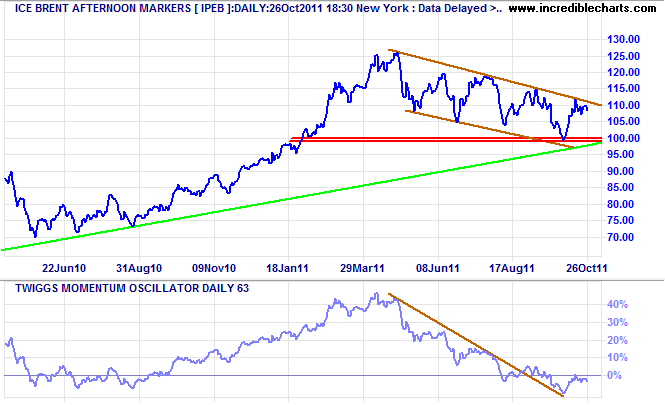 * Target calculation: 110 + ( 110 - 100 ) = 120
The broader CRB Commodities Index is also headed for its upper trend channel. The ascending primary trendline remains intact but 63-day Twiggs Momentum respect of the zero line (from below) warns of a strong down-trend.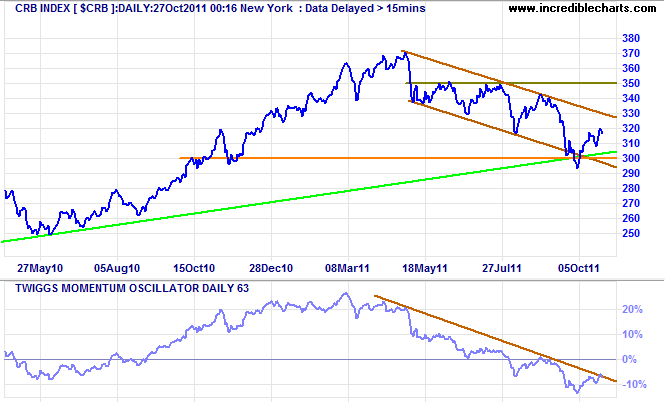 * Target calculation: 110 + ( 110 - 100 ) = 120
The speculator's chief enemies are always boring from within. It is inseparable from human nature to hope and to fear.......The successful trader has to fight these two deep-seated instincts. He has to reverse what you might call his natural impulses. Instead of hoping he must fear; instead of fearing he must hope. He must fear that his loss may develop into a much bigger loss, and hope that his profit may become a big profit.

~ Jesse Livermore in Reminiscences of a Stock Operator by Edwin Lefevre.