---
ASX 200 rally — but it's still a bear market
By Colin Twiggs
October 6th, 2011 3:00 a.m. ET (6:00 p:m AET)
These extracts from my trading diary are for educational purposes and should not be interpreted as investment or trading advice. Full terms and conditions can be found at Terms of Use.
Australia's ASX 200 index rallied strongly Thursday and is headed for a test of the upper trend channel. 63-day Momentum declining below zero reminds that we are in a strong primary down-trend. Respect of the upper channel would warn of another decline — to test the lower channel border.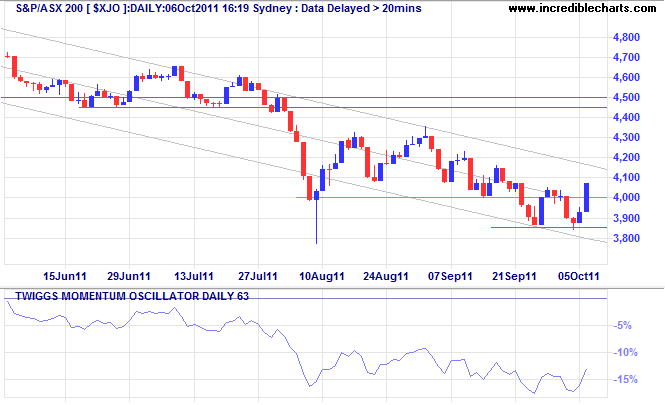 * Target calculation: 4000 - ( 4500 - 4000 ) = 3500
We are experiencing exceptional volatility at present and risk of false signals is high. It is important in such situations to look for strong confirmation. One step is to wait for signals on the weekly chart to confirm those on the daily chart. As you can see, this bear market is a long way from over.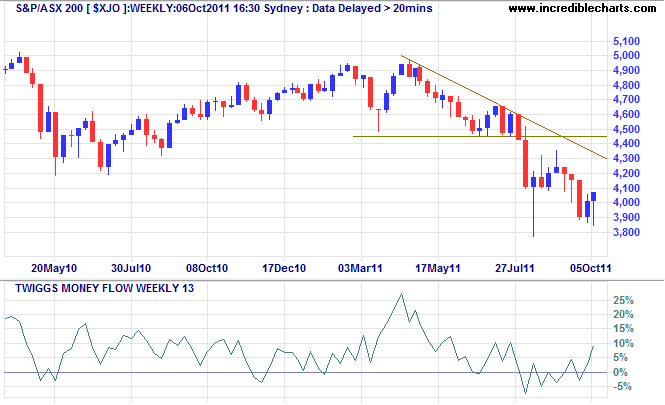 The strong advance on the US Dollar Index continues. Now that the index has reached its current target of 79, expect retracement to test the new support level at 76. Respect of support would confirm the primary up-trend and offer a target of 84* for the next advance. A trough above zero on 63-day Momentum would strengthen the signal.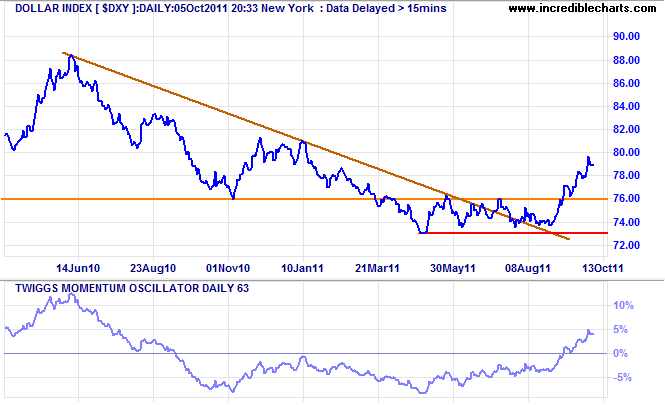 * Target calculation: 80 + ( 80 - 76 ) = 84
Spot gold is testing support at $1600/ounce, but the primary trend remains upward. Expect a rally to the declining trendline. Breakout above $1700 would indicate the correction is weakening, while failure of support would test $1500*.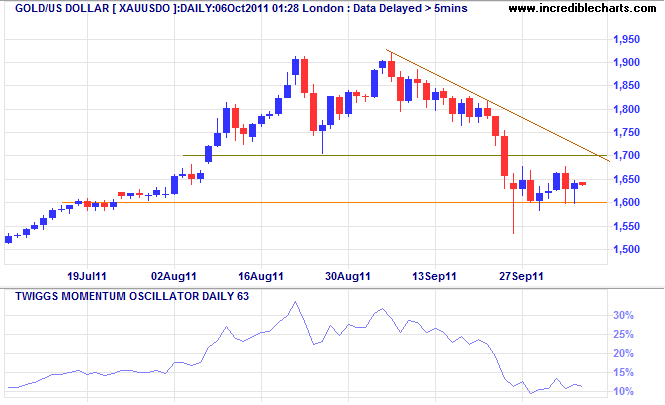 * Target calculation: 1700 - ( 1900 - 1700 ) = 1500
Amex Gold Bugs Index, representing un-hedged gold stocks, is testing primary support at 500. Failure of support would warn of a reversal in the primary trend and would be a bearish sign for spot metal prices.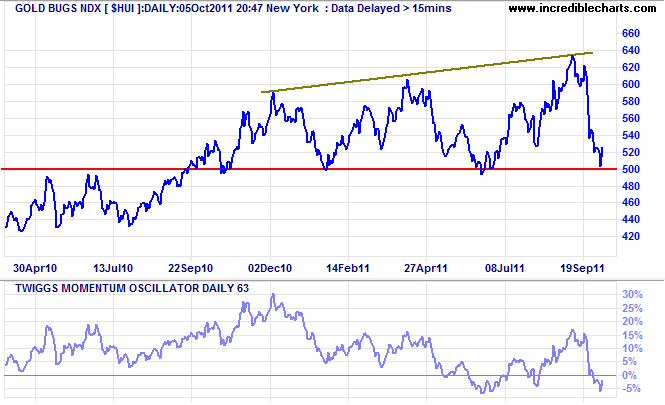 You know a professional gambler is not looking for long shots, but for sure money.

~ Jesse Livermore in Reminiscences of a Stock Operator by Edwin Lefevre.