---
Commodities point to weaker Aussie and Canadian Dollar
By Colin Twiggs
September 29th, 2011 2:30 a.m. ET (4:30 p:m AET)
These extracts from my trading diary are for educational purposes and should not be interpreted as investment or trading advice. Full terms and conditions can be found at Terms of Use.
CRB Commodities Index is testing support at 300 and the lower border of its trend channel. 63-day Twiggs Momentum holding below zero indicates a strong primary down-trend. Breakout below the trend channel would warn of a sharp decline, with a target of 260*. Respect is less likely, but would indicate a rally to test the upper trend channel.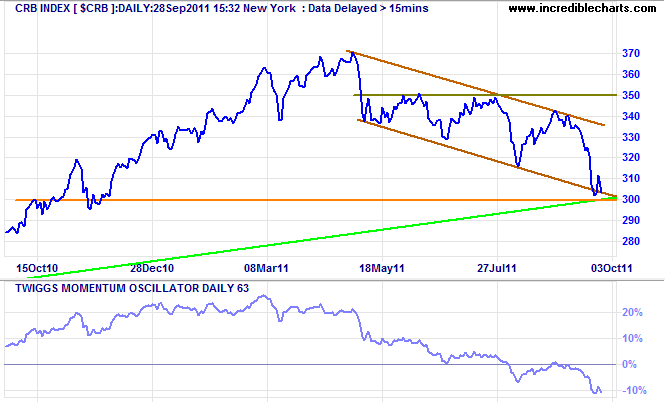 * Target calculation: 300 - ( 340 - 300 ) = 260
Canada's Loonie and the Aussie Dollar are both closely linked to commodity prices. A fall in the CRB index would lead to similar falls in the two currencies. CAD breakout below $0.9650 would signal a test of $0.94*.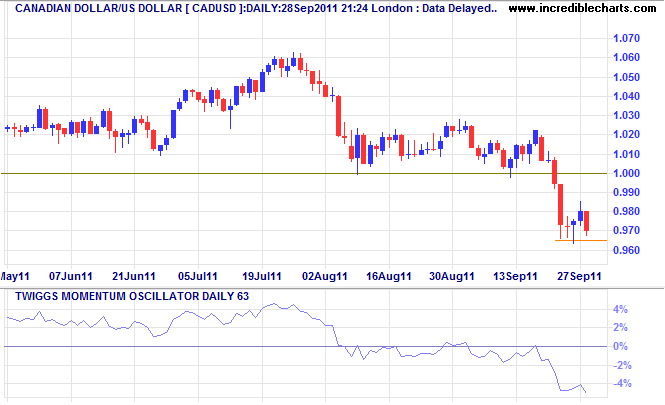 * Target calculation: 1.00 - ( 1.06 - 1.00 ) = 0.94
Both currencies commenced a primary down-trend when they broke parity. An Aussie Dollar breakout below $0.97 would offer an identical target of $0.94*.
* Target calculation: 1.02 - ( 1.10 - 1.02 ) = 0.94
Spot Gold is testing support at its initial target of $1600/ounce. The long tail is evidence of buying support, but failure would test $1500. The primary trend direction remains up and, despite gold experiencing a strong correction, is unlikely to change.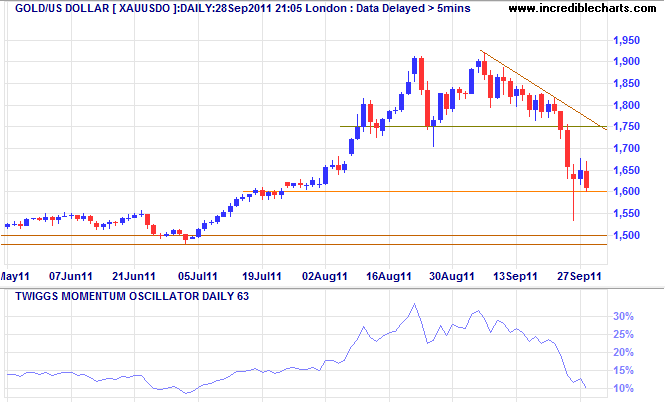 * Target calculation: 1750 - ( 1900 - 1750 ) = 1600
Brent crude is testing support at $104/barrel while Nymex WTI crude is at $80/barrel. There is no sign of the divergence between the two grades closing. Both have signaled a primary down-trend, though Brent has yet to confirm with a break of its rising trendline.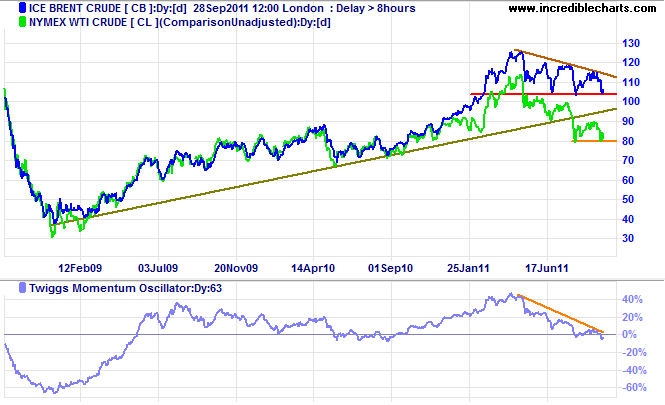 * Target calculation: 105 - ( 120 - 105 ) = 90
Tape reading was an important part of the game; so was beginning at the right time; so was sticking to your position. But my greatest discovery was that a man must study general conditions, to size them so as to be able to anticipate probabilities.

~ Jesse Livermore in Reminiscences of a Stock Operator by Edwin Lefevre.