---
Gold tests key support level at $1750/ounce
By Colin Twiggs
September 22nd, 2011 7:00 a.m. ET (9:00 p:m AET)
These extracts from my trading diary are for educational purposes and should not be interpreted as investment or trading advice. Full terms and conditions can be found at Terms of Use.
Buyers appear to be losing interest and spot gold is headed for a test of the key $1750 support level. Failure would complete a double top, warning of a correction to $1500/$1600* (depending on whether you take the base as $1700 or $1750). Respect would indicate another test of $1900.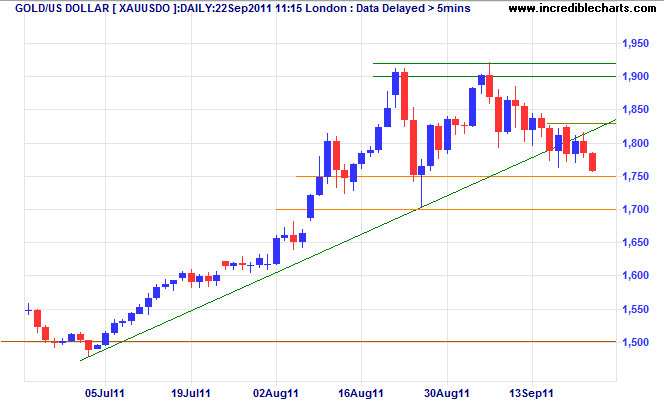 * Target calculation: 1900 + (1900 - 1750 ) = 2050 and 1750 - (1900 - 1750 ) = 1600
Gold miners such as AMEX Gold Bugs Index ($HUI) continue to test support after their recent breakout. Failure of support at 600 would warn of a bull trap and weaker spot prices.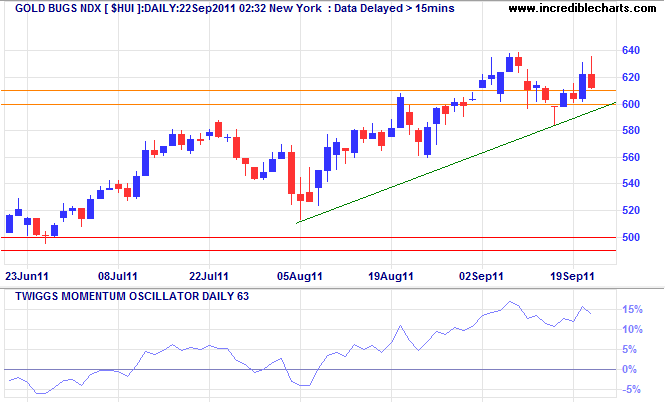 * Target calculation: 600 + ( 600 - 500 ) = 700
The US Dollar Index surged after the latest FOMC statement avoided any mention of additional purchases of Treasuries or mortgage-backed securities (MBS). Though they did leave the door ajar with their concluding paragraph:
....The Committee discussed the range of policy tools available to promote a stronger economic recovery in a context of price stability. It will continue to assess the economic outlook in light of incoming information and is prepared to employ its tools as appropriate.
The index respected the new support level at 76.00, confirming a primary advance to 79* — the start of a primary up-trend. 63-Day Twiggs Momentum crossed to above zero, further strengthening the primary trend signal; a large trough that respects the zero line would provide final confirmation.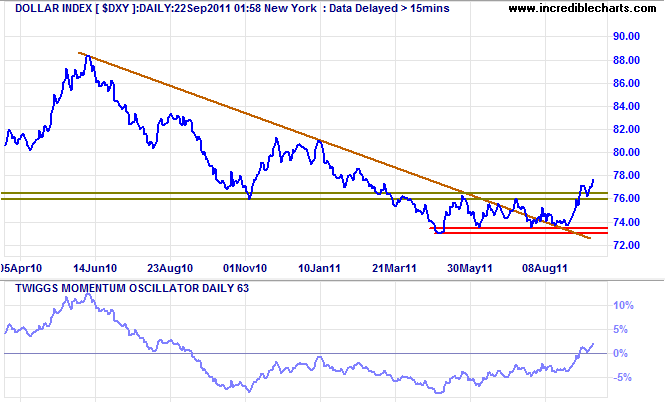 * Target calculation: 76 + ( 76 - 73 ) = 79
Brent crude respected its declining trendline and is likely to re-test support at $104. Failure would warn of a correction to the long-term, rising trendline at 95*.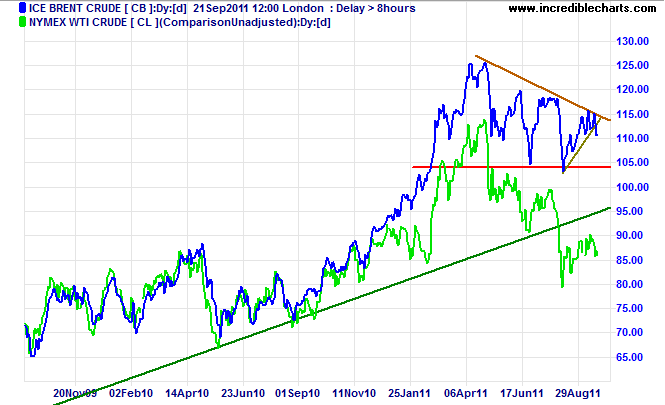 * Target calculation: 105 - ( 115 - 105 ) = 95
It was the change in my own attitude that was of supreme importance to me. It taught me little by little, the essential difference between betting on fluctuations and anticipating inevitable advances and declines, between gambling and speculating.

~ Jesse Livermore in Reminiscences of a Stock Operator by Edwin Lefevre.