---
Gold: Where to from here?
By Colin Twiggs
September 14th, 2011 3:00 a.m. ET (5:00 p:m AET)
These extracts from my trading diary are for educational purposes and should not be interpreted as investment or trading advice. Full terms and conditions can be found at Terms of Use.
Gold is rising in a super-trend which has lasted for more than 10 years. The primary trend, however, is accelerating as the debt crisis in Europe evolves. European banks are now in a precarious position and default of a single debtor nation would cause a crisis of confidence. The situation is similar to the 2007 sub-prime crisis which was accompanied by a similar surge in demand for gold.
Two events stand out. In March 2008 the Fed rescue of Bear Stearns reassured the markets, easing demand for gold and resulting in a 30% retreat in the spot price from its peak at $1000/ounce. The second event was the September 15th collapse of Lehman Brothers. Gold surged 20% in a matter of days, as confidence in the Fed's ability to contain the crisis was shaken, before settling back at $700 by November. It then commenced the current bull run, climbing 170% so far from its 2008 low.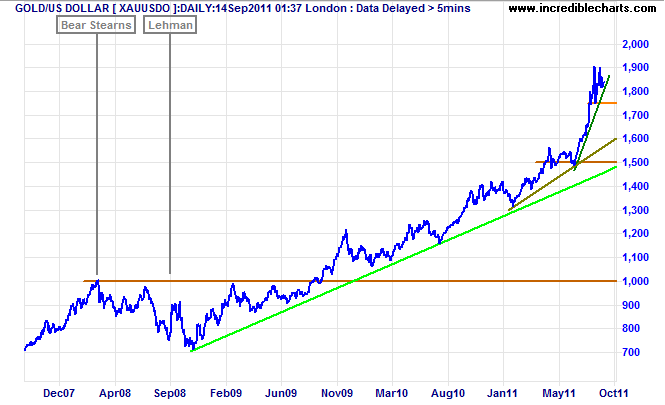 The question is: are we facing a "Bear Stearns" event that will reassure financial markets or another "Lehman", causing a flight to safety? Current European dis-unity suggests a crisis of confidence and surge in demand for gold.
The daily chart shows a bullish ascending triangle, indicating further accumulation. Breakout above 1900 would signal a fresh advance to 2100*.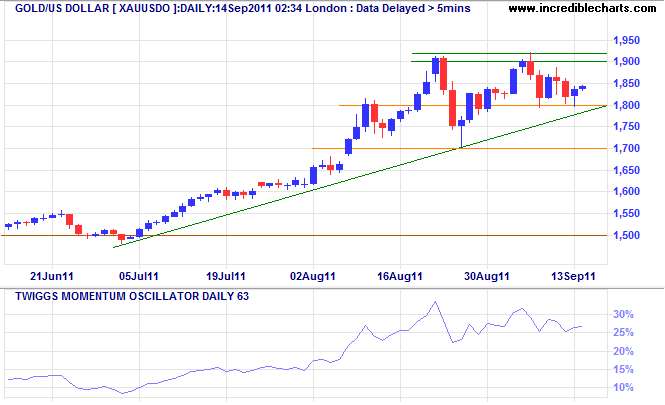 * Target calculation: 1900 + ( 1900 - 1700 ) = 2100
The situation can change rapidly, however, and some contrarians believe that gold is over-bought. Reversal below support at $1800 would break the ascending pattern and rising (secondary) trendline. All bets are then off and reversal below $1750 would complete a double top, threatening correction to $1500.
Amex Gold Bugs Index broke through long-term resistance at 600 last week and is now retracing to test the new support level. Respect of 600 would confirm a primary advance to 700* — a bullish sign for spot gold prices.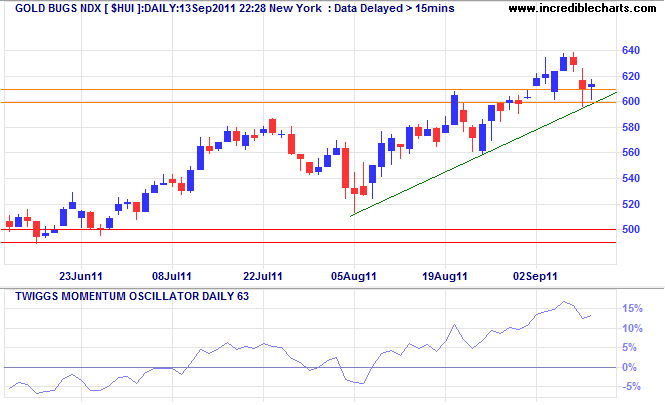 * Target calculation: 600 + ( 600 - 500 ) = 700
The strengthening dollar caused crude prices to soften, with Brent crude headed for another test of support at $104/$105 per barrel. Failure of support would warn of a down-swing to $90, but breakout above the descending trendline is equally likely and would suggest a new primary advance.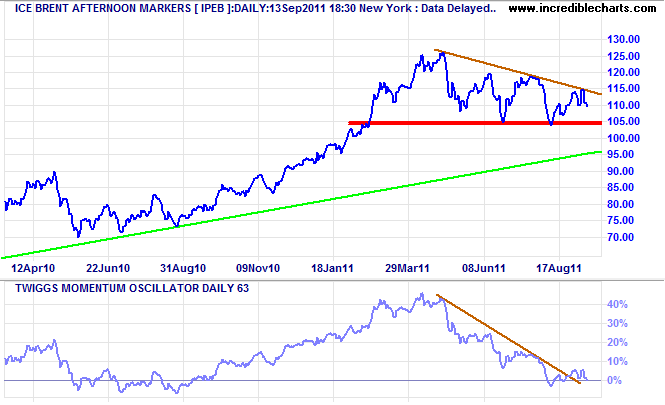 * Target calculation: 105 - ( 120 - 105 ) = 90
Without faith in his own judgment no man can go very far in this game. That is about all I have learned — to study general conditions, to take a position and stick to it.

~ Jesse Livermore in Reminiscences of a Stock Operator by Edwin Lefevre.