---
Dow acid-test
By Colin Twiggs
September 12th, 2011 2:30 a.m. ET (4:30 p.m. AET)
These extracts from my trading diary are for educational purposes and should not be interpreted as investment or trading advice. Full terms and conditions can be found at Terms of Use.
The Dow is headed for the band of support between 10600 and 10800 — a real acid-test. Support is likely to fail unless we see a substantial increase in volume, indicating buying support. Breach of 10600 would confirm another down-swing with a target of 10000*.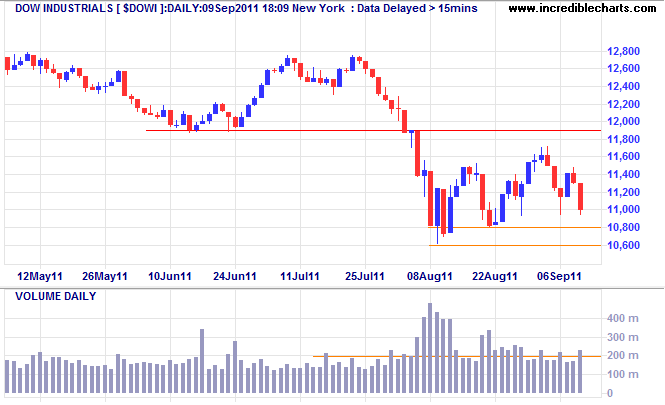 * Target calculation: 11000 - ( 12000 - 11000 ) = 10000
10-Year Treasury yields fell to their lowest level in more than 50 years on Friday, responding to heightened uncertainty in Europe. The flight to safety warns of further stock market weakness in the week ahead.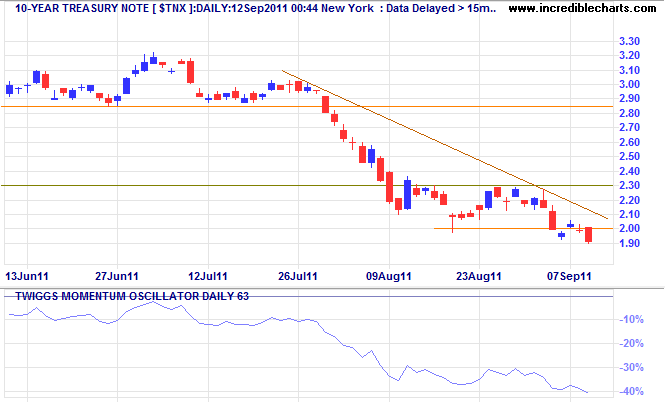 The German DAX Index broke support at 5500 to warn of a down-swing to 4500*. Declining 13-week Twiggs Money Flow below zero indicates strong selling pressure.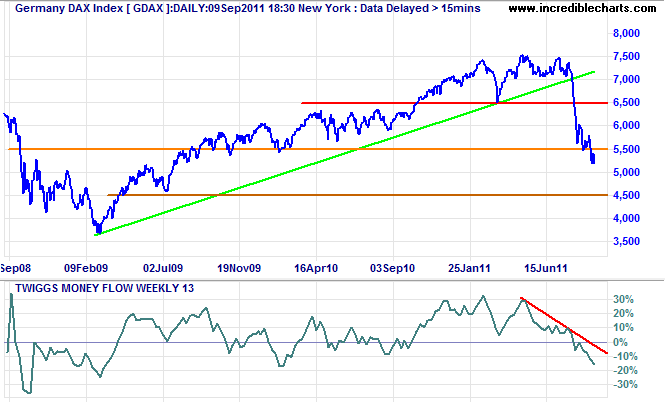 * Target calculation: 5500 - ( 6500 - 5500 ) = 4500
In France, the CAC-40 Index reversed below support at 3000, led by a sell-off in French banks. Expect support at the 2009 low of 2500, though the calculated target is even lower. 13-Week Twiggs Money Flow again signals strong selling pressure.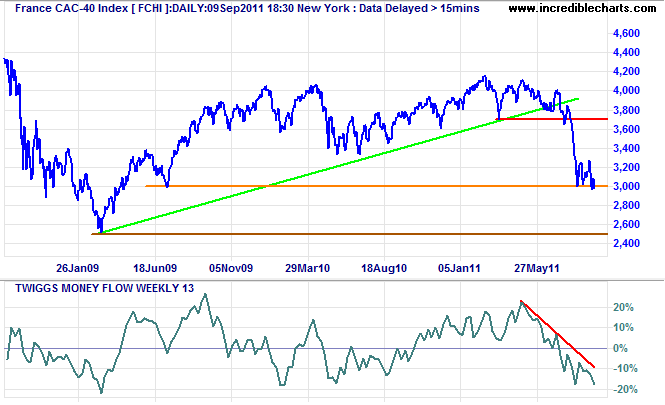 * Target calculation: 3000 - ( 3700 - 3000 ) = 2300
The FTSE 100 is consolidating above 5000, but is likely to be dragged lower if major European trading partners fall. Breach of support would offer a target of 4400*.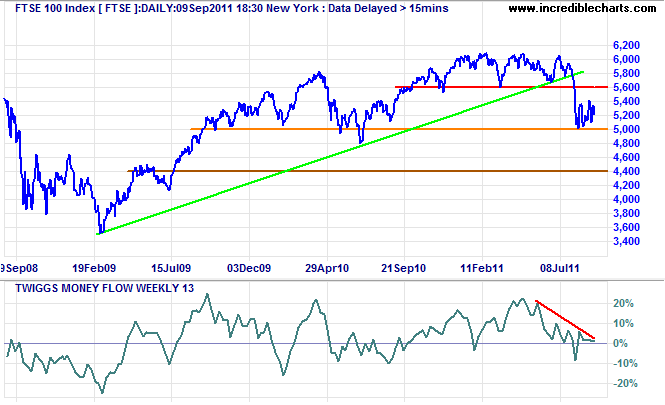 * Target calculation: 5000 - ( 5600 - 5000 ) = 4400
With Europe awash with stories predicting the imminent default of Greece, and German banks told to prepare for a 50% haircut on Greek bonds [Bloomberg], this would be a good time to buy gold. Any rupture in current bailout arrangements would cause a flight to safety, driving Treasury yields even lower and gold even higher. Breakout above $1900 would confirm a fresh advance, with a target of 2100*. Reversal below 1800 is unlikely but would warn that the ascending triangle formation has failed.
* Target calculation: 1900 + ( 1900 - 1700 ) = 2100
There is one side to the stock market; and it is not the bull side or bear side, but the right side.

~ Jesse Livermore in Reminiscences of a Stock Operator by Edwin Lefevre.