---
Denial is not a river in Egypt
By Colin Twiggs
September 8th, 2011 5:00 a.m. ET (7:00 p:m AET)
These extracts from my trading diary are for educational purposes and should not be interpreted as investment or trading advice. Full terms and conditions can be found at Terms of Use.
Dow Jones Industrial Average rallied, suggesting a second higher low above primary support at 10600/10800. Expect a test of 11900/12000, but this does not mean the bear market is about to reverse. We are still in the early "denial stage" of the bear market, identified by sporadic bargain-hunting, high volatility and a general lack of direction. Declining volume indicates a lack of enthusiasm from buyers and sellers. Failure of primary support would change that, leading to a sharp fall to 10000*.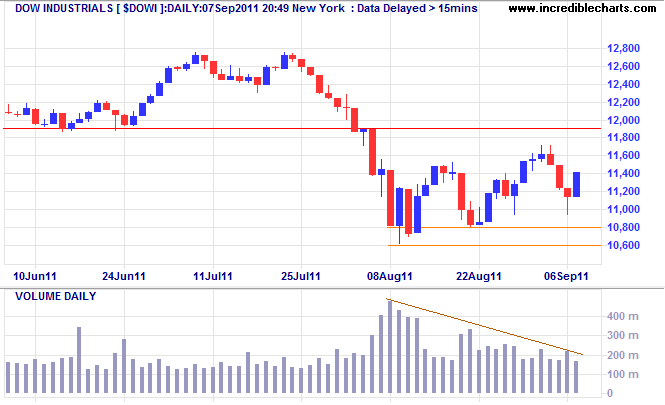 * Target calculation: 11000 - ( 12000 - 11000 ) = 10000
Spot gold found short-term support at $1800/ounce. A rally to $1900 from this point would form a bullish ascending triangle, suggesting an upward breakout and offering a target of $2100*. Failure of support, however, would penetrate the rising (secondary) trendline and suggest a correction to $1500.
* Target calculation: 1900 + ( 1900 - 1700 ) = 2100
Gold Bugs ($HUI) and Gold Miners ($GDX) Indexes both broke through resistance to signal a fresh primary advance. With a target of 700 for $HUI, the breakout favors continuation of the current advance in spot prices.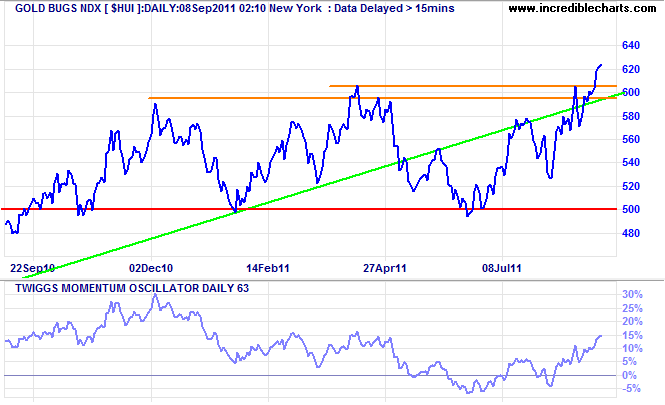 * Target calculation: 600 + ( 600 - 500 ) = 700
Upside potential for gold remains strong. Treasury and the Fed are running out of options to revive the economy and further quantitative easing grows ever more inviting despite the inflationary outcome. With presidential elections looming in 2012, the White House will also be doing their best to influence the Fed decision.
The Dollar Index rallied strongly — expect stubborn resistance between 76.00 and 76.50. Consolidation between 73.00 and 76.50 has continued for more than four months, but we are in a bear trend and downward breakout remains likely. Failure of support at 73.00 would offer a target of 70.00*. Any hint of quantitative easing in the next FOMC announcement, on September 21st, would accelerate the sell-off.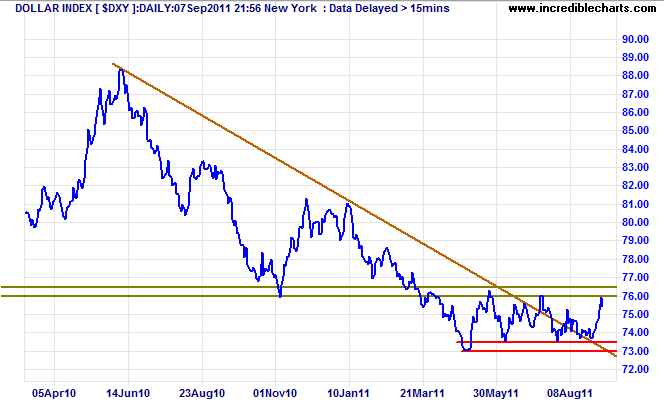 * Target calculation: 73 - ( 76 - 73 ) = 70
When you are doing nothing, those speculators who feel they must trade day in and day out, are laying the foundation for your next venture. You will reap benefits from their mistakes.

~ Jesse Livermore in Reminiscences of a Stock Operator by Edwin Lefevre.