---
What's New: 1-minute updates for UK, Singapore and Canada
By Colin Twiggs
September 7th, 2011 3:00 a.m. ET (5:00 p.m. AET)
These extracts from my trading diary are for educational purposes and should not be interpreted as investment or trading advice. Full terms and conditions can be found at Terms of Use.
1-minute updates for LSE, SGX and TSX
Incredible Charts now offers 1-minute updates for the following exchanges:
Exchange
Symbol
Delay (minutes)
Australian Stock Exchange
ax
20
Singapore Stock Exchange
sg
20
New
London Stock Exchange
uk
15
New
Toronto Stock Exchange
ca
15
New
US Consolidated
(NYSE, NASDAQ, AMEX, OTCBB and Pink Sheets)
us
15
Dow Jones Indices
us
15
Forex
fx
5
Precious Metals
pm
5
Future Plans
Hour and minute charts are taking longer than expected, but we aim to complete the following by end of the year:
Hour & Minute charts;
FTSE index feed (including Singapore Straits Times Index);
Tiered subscriptions that members can customize according to their needs.
The Harpex Index of container ship rates is retreating. Failure of support at 600 would warn of another test of the 2010 low. The index, calculated by Harper Petersen ship brokers, reflects international demand for container vessels and is a useful measure of international trade in light manufactured goods. Falling international trade would have the greatest impact on export-oriented Asian markets like China, Taiwan, Japan and South Korea.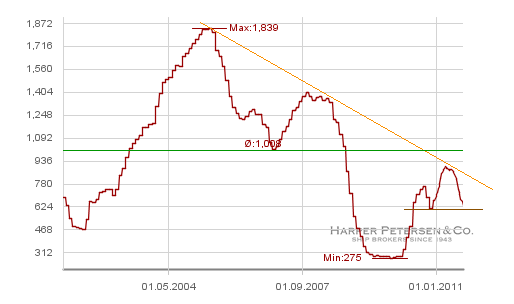 Number for the day is 45.0%
The percentage of containers that were shipped empty from the Port of Los Angeles during the 2011 financial year was 48.42% (or 3.75 million twenty-foot units). Incoming containers received empty were a mere 3.42%. Our number for the day is the net 45.0% of incoming containers that are returned empty to their port of destination.
Shippers attempt to fill containers on their return journey, even at super-low rates, in order to offset the cost of completing the round-trip. Empty containers indicate failure to locate manufactured goods that can compete in these export markets. This affects not only the shipper, but the entire economy. You see, those containers leaving the West Coast are not really empty. They contain something far more valuable than the goods being imported. They contain manufacturing jobs — and the infrastructure, skills and know-how to support them.
In 2012, if you need an independent gauge of how successful President Obama's jobs program has been, check this number.
It is not what we get. But who we become, what we contribute... that gives meaning to our lives.

~ Tony Robbins.