---
Dow threatens support
By Colin Twiggs
August 18, 2010 9:00 p.m. ET (11:00 p.m. AET)
These extracts from my trading diary are for educational purposes and should not be interpreted as investment or trading advice. Full terms and conditions can be found at Terms of Use.
The Dow Jones Industrial Average fell sharply on Thursday, accompanied by strong volume. Failure of support at 10700 would complete the dead cat bounce, offering a target of the 2010 low at 9600*.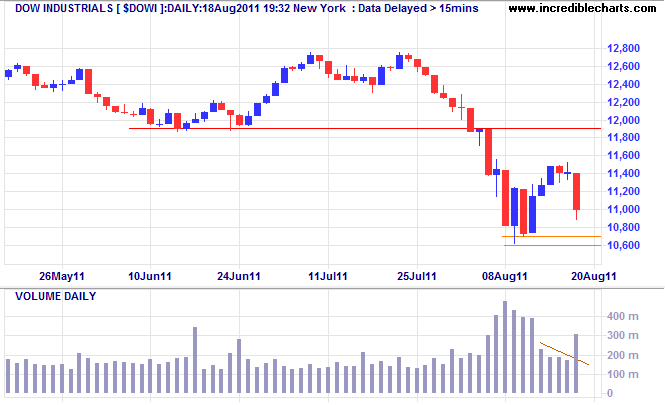 * Target calculation: 10800 - ( 12000 - 10800 ) = 9600
Gold renews drive to $2000/ounce
Spot gold broke through resistance at $1800, signaling an advance to test $2000/ounce in the medium-term. Retracement that respects the new support level would strengthen the signal.
* Target calculation: 1800 + ( 1800 - 1600 ) = 2000
Shrinking debt levels warn of a dearth of private capital investment in the UK and Australia — and little job creation as a consequence. Falling household debt in the UK also indicates a weak housing market. But US levels appear to be bottoming.
Click here for the latest forex updates.
Peace comes from within. Do not seek it without.

~ Buddha