---
China, ASX strong but Dow remains weak
By Colin Twiggs
April 11, 2011 5:30 a.m. ET (7:30 p.m. AET)
These extracts from my trading diary are for educational purposes and should not be interpreted as investment or trading advice. Full terms and conditions can be found at Terms of Use.
I will keep this newsletter short as I picked up a 'flu virus that looks like it will lay me up for most of the week.
US Market
The Dow Jones Industrial Index continues to signal weakness despite testing resistance at 12400. Bearish divergence on Twiggs Money Flow (21-day) highlights low volumes and profit-taking. Expect retracement to test support before another attempt at the resistance level.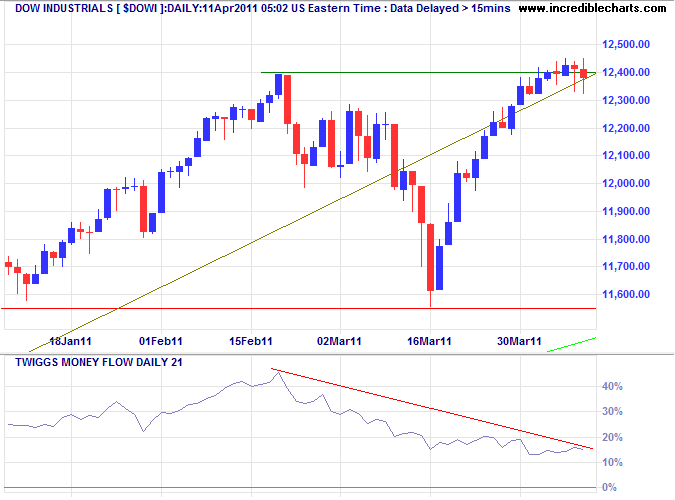 The Nasdaq 100 displays even stronger selling pressure, with declining 13-week Twiggs Money Flow. Failure of support at 2200 would warn of a primary down-trend.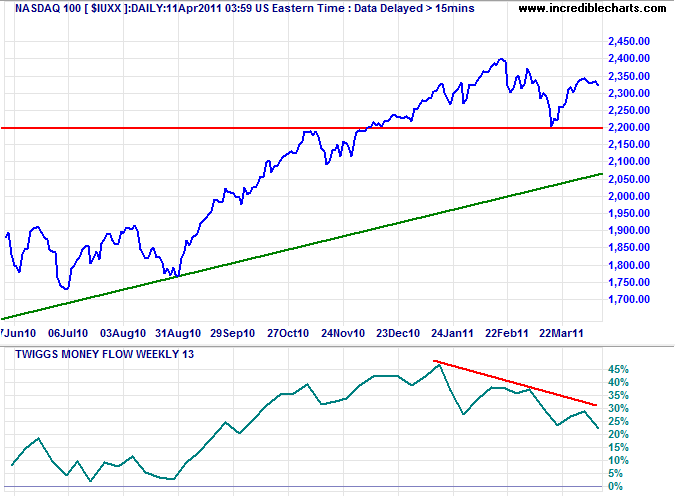 United Kingdom
The FTSE 100 shows surprising strength, with rising 13-week Twiggs Money Flow indicating buying pressure. Breakout above 6100 would offer a target of 6600*.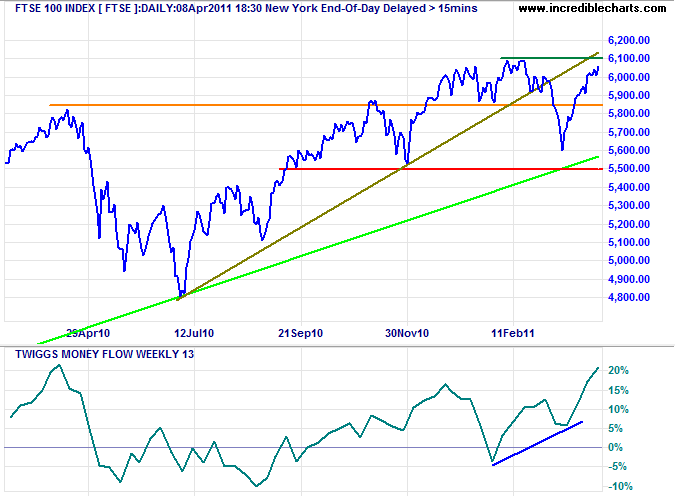 * Target calculations: 6100 + ( 6100 - 5600 ) = 6600
Germany
But Germany shows similar weakness to US markets, with 21-day Twiggs Money Flow below zero warning of selling pressure.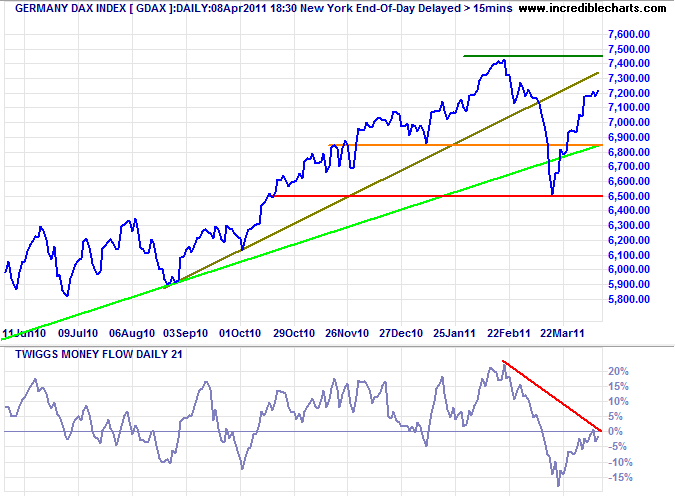 India
The Sensex retreated below 19500, suggesting that the primary down-trend will continue. Bearish divergence on 13-week Twiggs Money Flow warns of selling pressure. Expect a test of support at 18500.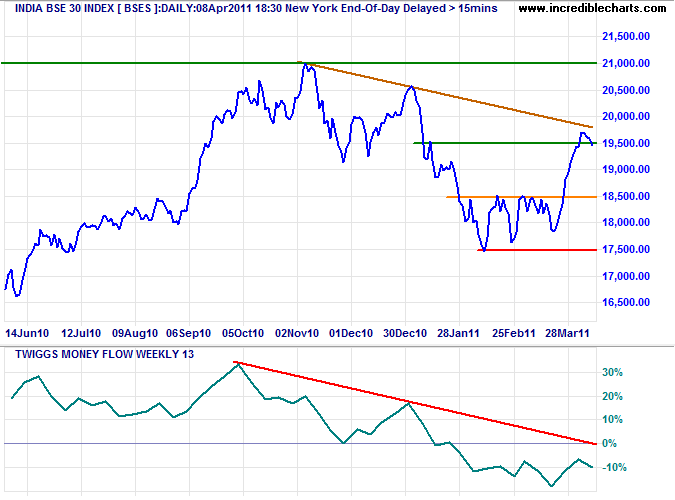 Japan
The Nikkei 225 Index is responding to the latest round of quantitative easing by the Bank of Japan and a weaker yen which favors exporters.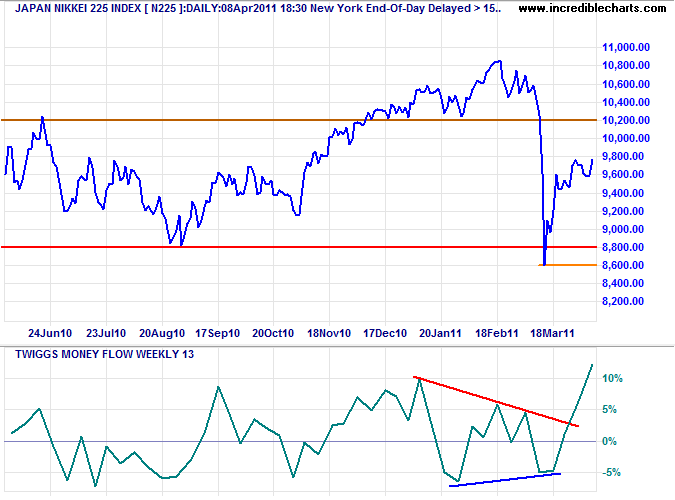 China
The Shanghai Composite Index is retracing Monday to test the new support level at 3000. Rising 13-week Twiggs Money Flow confirms buying pressure and a test of resistance at 3150 is likely; breakout would signal a primary up-trend.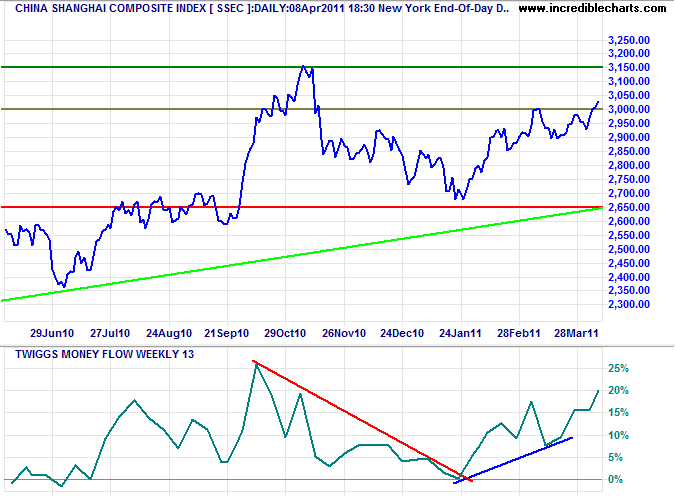 Australia
The All Ordinaries broke through resistance at 5000, signaling a primary advance. The ASX 200 made a similar break above 4950, confirming the up-trend. Rising 13-week Twiggs Money Flow indicates buying pressure. Immediate target for a breakout is 5500*.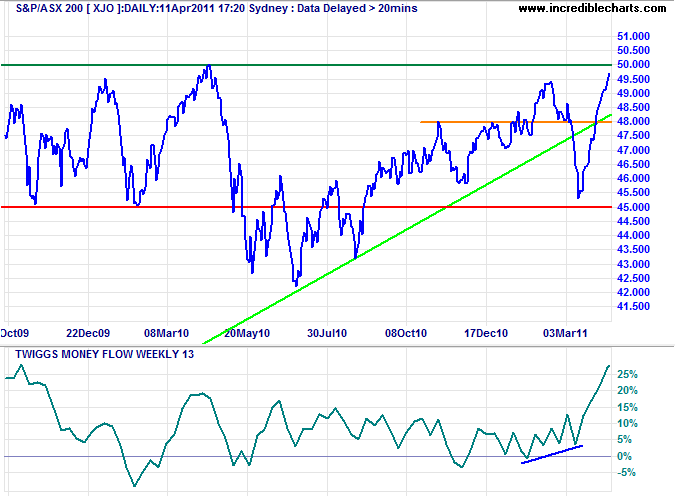 * Target calculations: 5000 + ( 5000 - 4500 ) = 5500
Do not do unto others as you would that they should do unto you. Their tastes may not be the same.

~ George Bernard Shaw