---
What's New: Incredible Charts 5.0.0.154
By Colin Twiggs
October 16, 2010 2:00 a.m. ET (4:00 p.m. AET)
This newsletter is subject to Incredible Charts Terms of Use.
We have ironed out most of the bugs with the beta version from June 2010 and this is ready for release to all users.
Delayed Data
US Stocks
The primary difference is that US stocks (NYSE, NASDAQ, AMEX and OTC) are continuously updated. Data is delayed by 15 minutes in accordance with exchange requirements. Data is sourced from a new data supplier and there are a few symbol differences (e.g. BRK.A instead of BRKA in older versions). We suggest that you use the search function if you encounter any missing stocks.
US Indexes
The change to new data supplier is more marked with index symbols. We have automated the process, linking old and new symbols as far as possible, but here is a run-down of major indices:
| Index Name | New Symbol |
| --- | --- |
| Dow Jones Industrial | $DOWI |
| Dow Jones Transport | $DOWT |
| Dow Jones Utility | $DOWU |
| S&P 500 | $INX or $SPX |
| Nasdaq 100 | $IUXX |
| Nasdaq Composite | $NASX |
| Russell 1000 | $RUI |
| Russell 2000 | $IUX |
| RJ/CRB Commodities | $CRB |
| US Dollar Index | $DXY |
All index symbols are prefaced by a dollar sign.
Dow Jones Indices
We are now licensed to display 15-minute delayed updates for all Dow Jones indices, so members can track market progress through the day.
S&P, CBOE and Russell Indices
These are only updated end-of-day (30 minutes after market close) at present. Continuous updates will only be introduced when the new members interface, with tiered subscriptions, is completed.
Australia: ASX
We are currently testing a similar feed (20-minute delayed) for the ASX. We were hoping to have this ready by early October but delays with the beta version have necessitated that we hold this back a few weeks more.
Toolbar Changes
The new version makes changes to the toolbar to improve usability.
Fetch Data
Fetch latest data for the current stock or index from the server.
Chart Periods
Select Time Period >> Display Periods on the chart menu.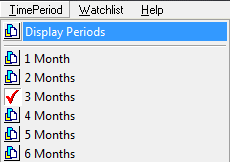 Enter a number (we recommend between 50 and 200) then click the Select button.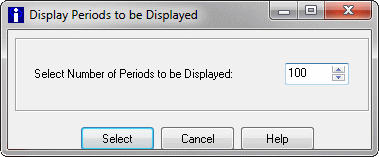 The time period will then automatically adjust to display the selected number of bars when you switch from Daily to Weekly or Monthly intervals on the toolbar or View menu.

Scroll Watchlists/Stock Screens
Select whether you want to Scroll Watchlist or Scroll Stockscreen and then use the up/down arrows on the toolbar or your keyboard.
This will hopefully make scrolling more intuitive and also allows users to disable the scroll function.
Other Changes
Keyboard Shortcut Keys
Chart menu
CTRL+F: Open Project from the File menu (previously F5)
F2 or F5: Fetch latest data from the server (without re-loading the complete history)
CTRL+F2 or F5: Refresh all data (including the history) from the server (previously F2)
Stock Screener menu
F2 or F5: Reload Input Page from the server (previously F2)
CTRL+F4: Open Chart Forum with your browser (previously CTRL+F2)
New Toolbar Buttons
Add to/Delete from Watchlist
Add or delete the current stock or index to/from a watchlist.
Projects & Watchlists
Projects and watchlists are now located in a more accessible sub-folder called UserFiles.
It is important that users include this folder in their regular backup. Or use File >> Export Files to copy projects and watchlists to a USB memory stick or CD.
Future Plans
Development plans for the remainder of this year are:
ASX, LSE & TSX continuous updates, delayed 15/20 minutes depending on the exchange;
Hour & Minute charts;
Charts loading 3 times faster; and
Tiered subscriptions that members can customize according to their needs.
We are a little behind schedule on the hour & minute charts, but hope to make up time as the data updates are completed. All else appears on track.
If we want to direct our lives, we must take control of our consistent actions. It's not what we do once in a while that shapes our lives, but what we do consistently.
~ Tony Robbins.