---
Yen jumps on BOJ intervention
By Colin Twiggs
September 16, 2010 5:00 a.m. EDT (7:00 p:m AET)
These extracts from my trading diary are for educational purposes and should not be interpreted as investment or trading advice. Full terms and conditions can be found at Terms of Use.
The dollar jumped sharply against the yen, breaking short-term resistance at ¥85 on the back of large-scale intervention by the Japanese government. Continued (yen) sales by the Bank Of Japan are likely to maintain support at ¥83 in the short/medium-term. Ability to hold this level in the long-term is doubtful, however, given the magnitude of the task and the results of the last (2004) intervention (WSJ). Breach of support at the 1995 low of ¥80 would be an admission of failure and would confirm a further primary decline. 21-day Twiggs Momentum holding below the zero line indicates a strong primary down-trend.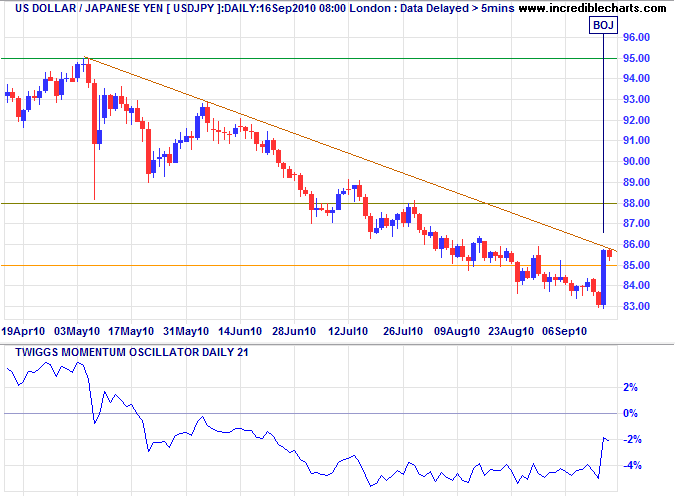 The US Dollar Index is headed for a test of primary support at 80; failure would signal a decline to 77*. Reversal above 83.5 is unlikely, but indicate an advance to 89. Respect of zero by 63-day Twiggs Momentum favors continuation of the primary down-trend.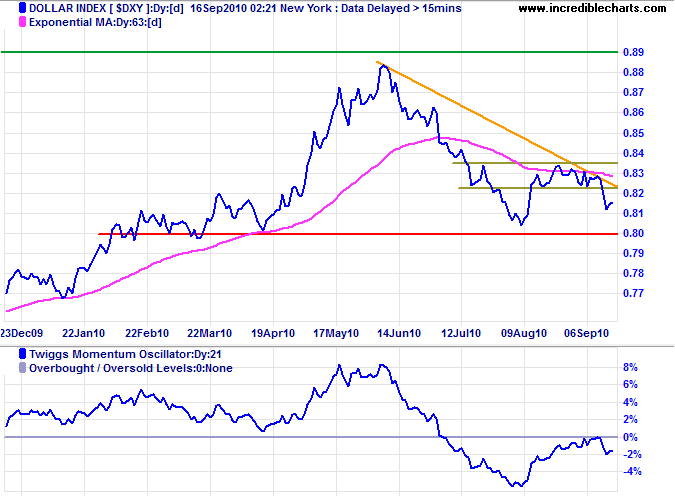 * Target calculation: 80 - ( 83 - 80 ) = 77
The weakening dollar helped to strengthen gold, crude oil and several of the currency crosses.
Gold broke through resistance at $1260 and is now retracing to test the new support level. Respect of $1260 would signal a primary advance to $1360*. Reversal below $1240 is less likely, but would warn of a correction to primary support at $1160. Twiggs Momentum (21-day) retracement that respects the zero line (from above) would confirm the primary up-trend.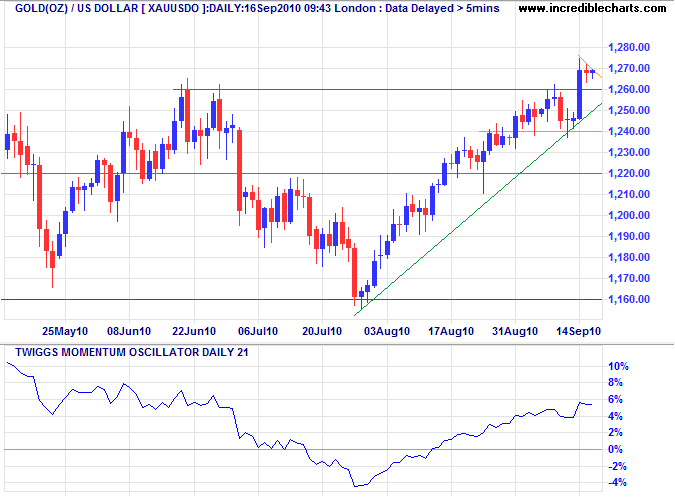 * Target calculation: 1260 + ( 1260 - 1160 ) = 1360
Crude broke resistance at $78/barrel and is now retracing to test the new support level. Respect would signal a rally to $83. The longer-term picture remains dull, however, with Twiggs Momentum (63-day) oscillating in a narrow band around zero. Expect a ranging market, between $70 and $83, to continue for some time.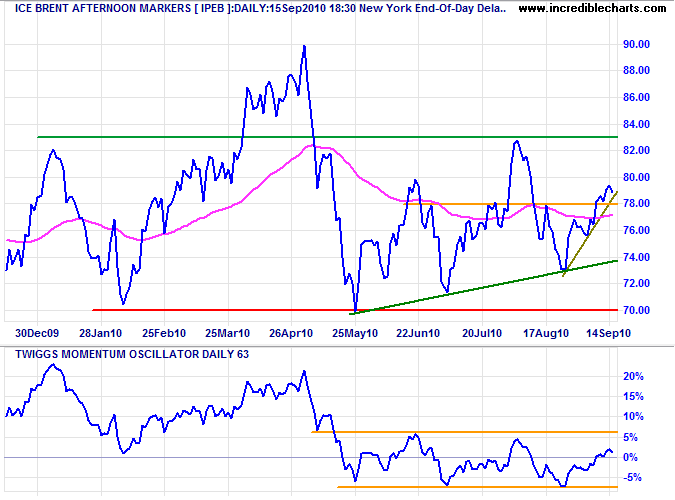 The euro responded to the weaker dollar with a rally to test resistance at $1.33. Breakout would signal the start of a primary up-trend, while reversal below $1.25 would re-test primary support at $1.19. Twiggs Momentum (63-day) recovery above zero would suggest the start of an up-trend, but reversal below its August low would warn of another primary decline.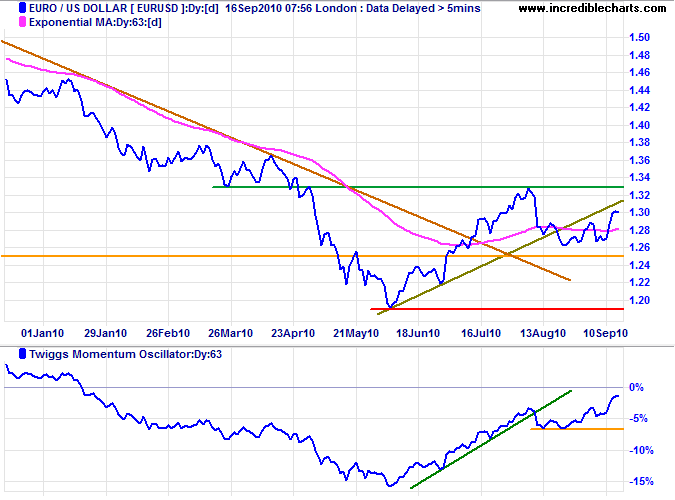 The pound respected support at $1.54, indicating an advance to $1.66*; breakout above $1.60 would confirm. Twiggs Momentum (63-day) holding above the zero line strengthens the bull signal.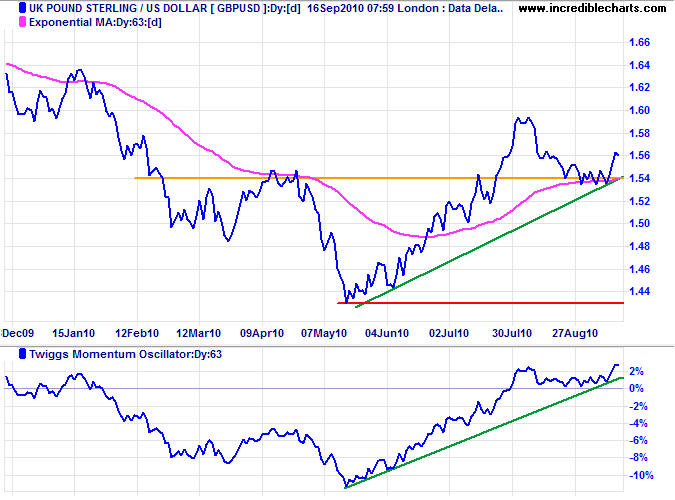 * Target calculation: 1.60 + ( 1.60 - 1.54 ) = 1.66
The Aussie dollar found resistance at $0.94 and is retracing to test short-term support at $0.92. Bearish divergence on 21-day Twiggs Momentum warns of a secondary correction. Reversal below the rising trendline would warn of another test of primary support at $0.81. Breakout above $0.94 would offer a target of parity — if confirmed.
* Target calculation: 0.93 + ( 0.93 - 0.81 ) = 1.05
There is nothing more difficult to carry out, nor more doubtful of success, nor more dangerous to handle, than to institute a new order of things.

~ Niccolo Machiavelli