---
What's New: Beta Version
By Colin Twiggs
June 24, 2010 2:00 a.m. ET (4:00 p.m. AET)
This newsletter is subject to Incredible Charts Terms of Use.
To activate the latest Beta version, select Help >> Upgrade To Latest Beta Version on the chart menu.
To return to the previous version, un-check the above selection. Changes made to watchlists and projects on the beta, however, will not be available on the earlier version.
Toolbar Changes
The latest beta includes changes to the toolbar to improve usability.
Chart Periods
Select Time Period >> Display Periods on the chart menu.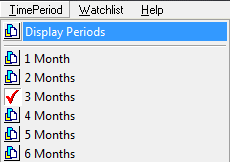 Enter a number (we recommend between 50 and 200) then click the Select button.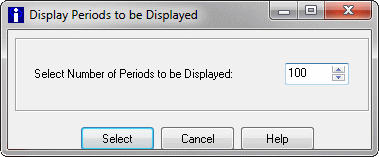 The time period will then automatically adjust to display the selected number of bars when you switch from Daily to Weekly or Monthly intervals on the toolbar or View menu.

Scroll Watchlists/Stock Screens
Select whether you want to Scroll Watchlist or Scroll Stockscreen and then use the up/down arrows on the toolbar or your keyboard.


This will hopefully make scrolling more intuitive and also allows users to disable the scroll function.
Delayed Data
US Stocks

Daily Charts for NYSE, NASDAQ, AMEX and OTC stocks are updated continuously through the day. Data is delayed by 15 minutes to comply with exchange requirements.
Unfortunately the development lead time for ASX and LSE stocks is longer, but they are next in line for release.
US Indexes
The change has necessitated a switch to a new data supplier with different index symbols. We have automated the process as far as possible, with watchlists updating to the new symbols, but here is a run-down of major indexes:
| Index Name | New Symbol |
| --- | --- |
| Dow Jones Industrial | $DOWI |
| Dow Jones Transport | $DOWT |
| Dow Jones Utility | $DOWU |
| S&P 500 | $INX or $SPX |
| Nasdaq 100 | $IUXX |
| Nasdaq Composite | $NASX |
| Russell 1000 | $RUI |
| Russell 2000 | $IUX |
| RJ/CRB Commodities | $CRB |
| US Dollar Index | $DXY |
All index symbols are prefaced by a dollar sign.
Forex & Precious Metals
Since our last newsletter we have also introduced continuous updates for Forex & Precious Metals. Data is delayed by 5 minutes in terms of our supplier license.
Trendline Bug Fix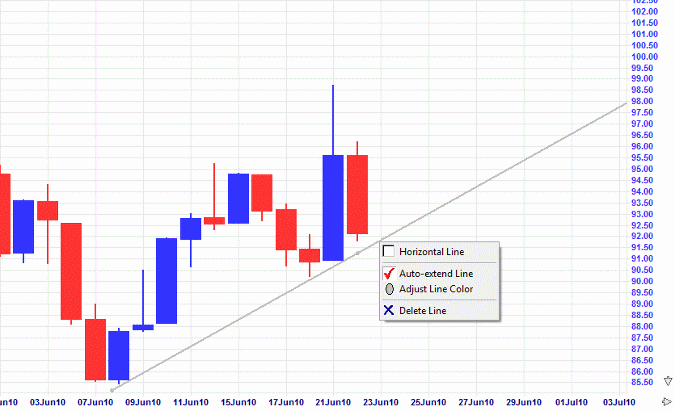 We fixed a bug where trendlines drawn ahead of the current date would lose their end anchor point. This is now automatically dealt with. The trendline is drawn with the end anchor point at the current date and set to Auto-extend so that it projects into the future.
Future Plans
Our development plans for the remainder of this year include:
ASX & LSE continuous updates, 20-minute delayed;
Hour & Minute charts;
Tiered subscriptions that members can customize according to their needs;
Charts loading 3 times faster;
Improved Search function; and
More versatile Indicator menu.
Awards
Incredible Charts was recently awarded a 4 star rating and Editor's Pick award by Software.Informer.
If what you did yesterday seems big,
you haven't done anything today.
~ Lou Holtz.