---
Flight To Safety
By Colin Twiggs
April 29, 2010 12:00 a.m. ET (2:00 p:m AET)
These extracts from my trading diary are for educational purposes and should not be interpreted as investment or trading advice. Full terms and conditions can be found at Terms of Use.
Gold and the US dollar were boosted by investors fleeing the euro after Standard & Poors' recent downgrade of Greek, Portugese and Spanish sovereign debt (WSJ). The downgrade also triggered a sell-off in Italian government bonds, warning that the contagion is spreading. Nations outside the EMU would be mistaken in believing that they are immune. When fear starts to spread, any country with a high public debt to GDP ratio is going to be subjected to close scrutiny.
Even the US is at risk. Ben Bernanke recently warned the National Commission on Fiscal Responsibility and Reform that the federal budget is set on an "unsustainable path" (Federal Reserve). This echoes the Government Accountability Office (GAO) warning that without significant policy changes the US government would soon face an "unsustainable growth in debt", with "roughly 93 cents of every dollar of federal revenue .... spent on the major entitlement programs and net interest costs by 2020" (Sprott). Unless prompt action is taken, the US will face a similar situation to Greece within 10 years.
US Dollar Index
The US Dollar Index broke through resistance at 82, but Wednesday's weak close indicates hesitancy. Reversal below 82 would warn of another test of 80, while respect would signal a fresh advance with a target of 84*. Bearish divergence on Twiggs Momentum (21-day) continues to warn that the up-trend is losing impetus. In the longer term, failure of primary support at 80 would offer an initial target of the January low at 76.5.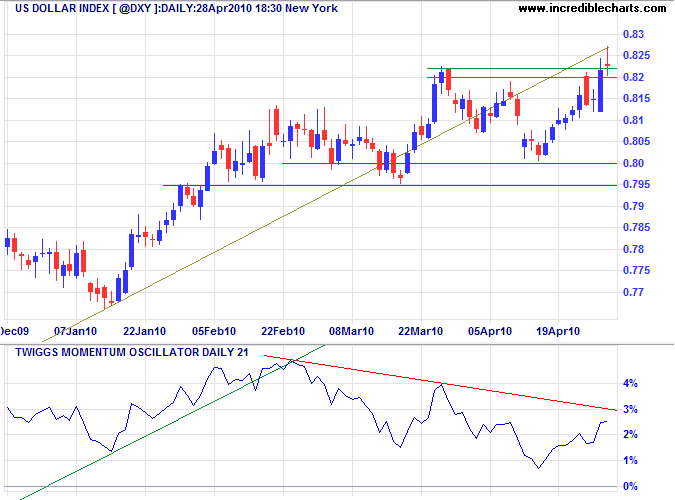 * Target calculation: 82 + ( 82 - 80 ) = 84
Gold benefited from the increased uncertainty, with spot prices breaking through resistance at $1160 to signal a fresh advance to $1220*. Rising Momentum (21-day) confirms the up-trend. Reversal below $1125 is unlikely, but would warn of a bull trap — and test support at $1080.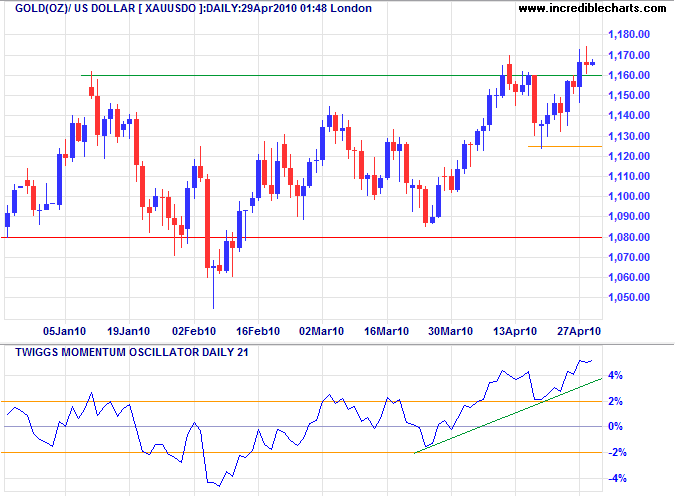 * Target calculation: 1140 + ( 1140 - 1060 ) = 1220
Crude is consolidating in a broadening wedge formation between $84 and $88/barrel. Breakout can be in either direction and is signaled by penetration of the upper/lower border or a failed swing (that reverses before testing the opposite border). Upward breakout would offer a long-term target of $98/barrel*, while reversal below the lower border would warn of another test of primary support at $70. Momentum reversal below the rising trendline warns of short-term weakness, but the overall picture remains positive.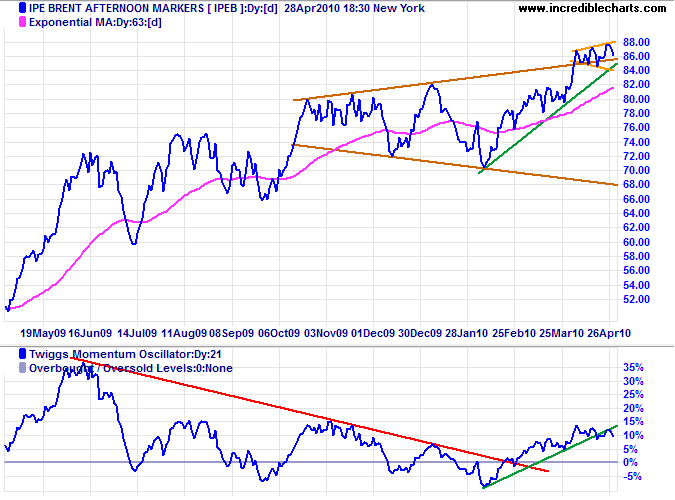 * Target calculation: 84 + ( 84 - 70 ) = 98
The euro broke through support at $1.33, warning of a decline to $1.29*. In the long term, recovery above $1.38 is most unlikely and we can expect a test of the 2009 low of $1.25.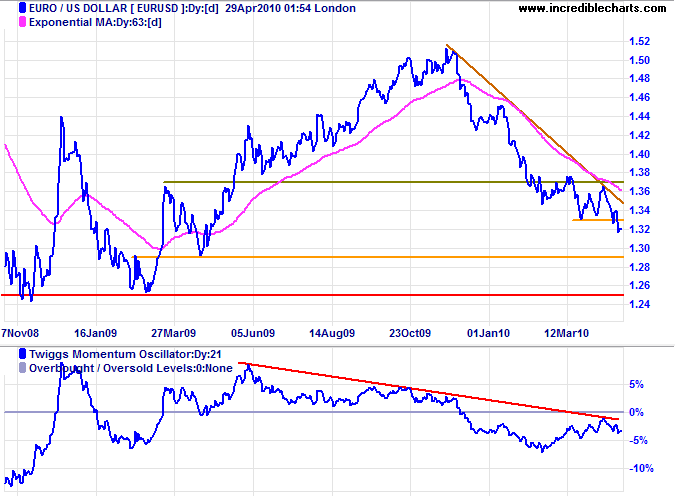 * Target calculation: 1.33 - ( 1.37 - 1.33 ) = 1.29
The pound reversed below the new support level at $1.53, warning of a bull trap. Twiggs Momentum (21-day) holding below zero warns of continued weakness. Expect another test of $1.48. Recovery above $1.53, however, would signal a rally to $1.60*; confirmed if the declining trendline is broken.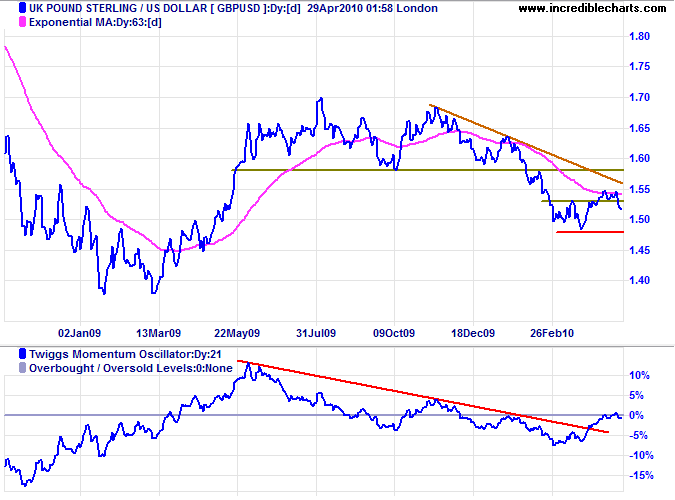 * Target calculation: 1.54 + ( 1.54 - 1.48 ) = 1.60
The dollar recovered above ¥93.50, signaling a primary advance to 100*. Rising Twiggs Momentum strengthens the signal — and breakout above ¥94 would confirm. Reversal below ¥92 is unlikely, but would warn of correction to primary support at ¥88.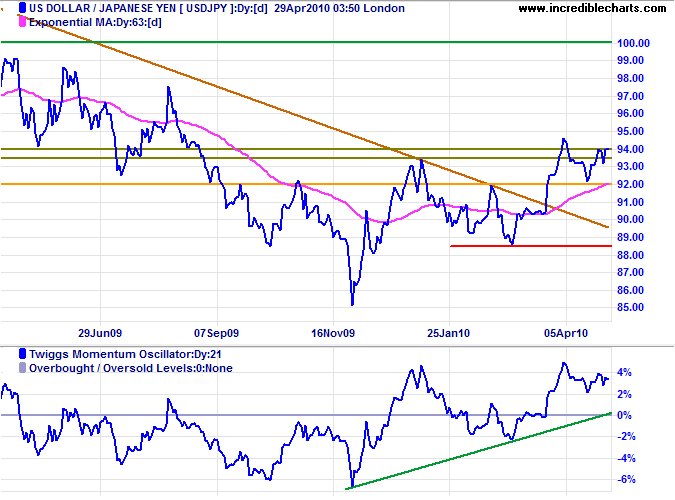 * Target calculation: 94 + ( 94 - 88 ) = 100
The Aussie dollar continues to test support at $91.50. Downward breakout would warn of a correction. Falling Twiggs Momentum strengthens the warning — more so if the indicator breaks zero. Recovery above $0.94 is less likely, but would offer a long-term target of parity* (expect strong resistance at that level).
* Target calculation: 0.94 + ( 0.94 - 0.86 ) = 1.02
Remember, a real decision is measured by the fact that you've taken new action. If there's no action, you haven't truly decided.

~ Tony Robbins