---
What's New
By Colin Twiggs
April 7, 2010 2:00 a.m. ET (4:00 p.m. AET)
This newsletter is subject to Incredible Charts Terms of Use.
Schedule Stock Screens
There is a new beta facility available on the stock screener that enables members to schedule regular stock screens on a daily, weekly, monthly or quarterly basis. The emailed link will open the screen results in your browser, identifying new additions and stocks carried over from the last screen. The results can also be downloaded to a spreadsheet. To set up a scheduled screen: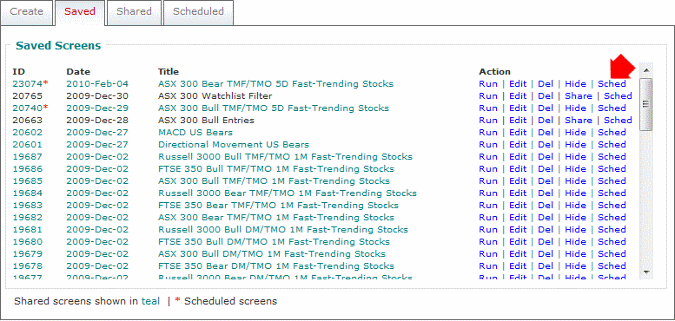 Open the stock screener
Open the Saved tab to view your saved stock screens
Click the Sched link next to a saved screen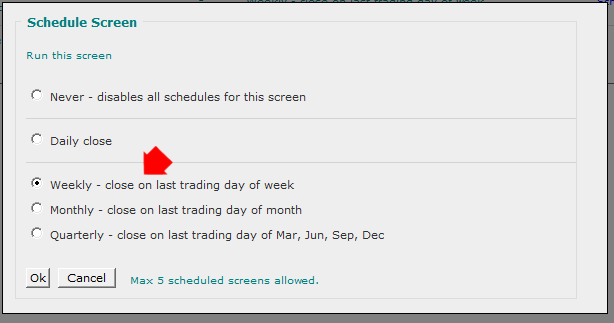 Select the day/s of the week that you wish to be emailed, otherwise Weekly, Monthly or Quarterly. Active traders will find daily emails particularly useful, but weekly emails are recommended for longer-term traders.
At this stage charts cannot be opened directly from the browser — that is planned for a future release.
Why the Debt to GDP Ratio matters
By Steve Keen
The main feature distinguishing my approach to economics from mainstream theory (known as "neoclassical" economics) is a focus upon the importance of credit in a dynamic, non-equilibrium framework. From this perspective I identify the ratio of debt to GDP — and the rate of change of that ratio — as the key determinant of the state of the economy, and this is what alerted me to the approaching Global Financial Crisis in late 2005. Debt to GDP levels in both Australia and the USA — the two countries for which I could get reliable data — were clearly on an exponential path that I knew had to break and cause a large economic breakdown.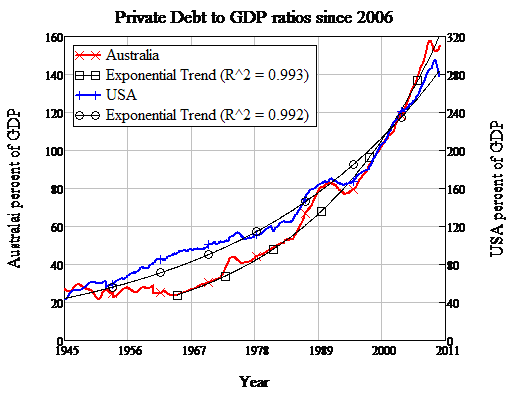 .....read more.
I never learn anything talking.
I only learn things when I ask questions.
~ Lou Holtz.