---
Gold Finds Support
By Colin Twiggs
December 7, 2009 6:30 p.m. ET (10:30 a.m. AET)
These extracts from my trading diary are for educational purposes and should not be interpreted as investment or trading advice. Full terms and conditions can be found at Terms of Use.
The US Dollar Index is testing resistance at 76. Breakout above the upper trend channel would warn that the down-trend is weakening — and a base forming. Until then, the primary trend remains down, fueling higher crude oil and precious metal prices.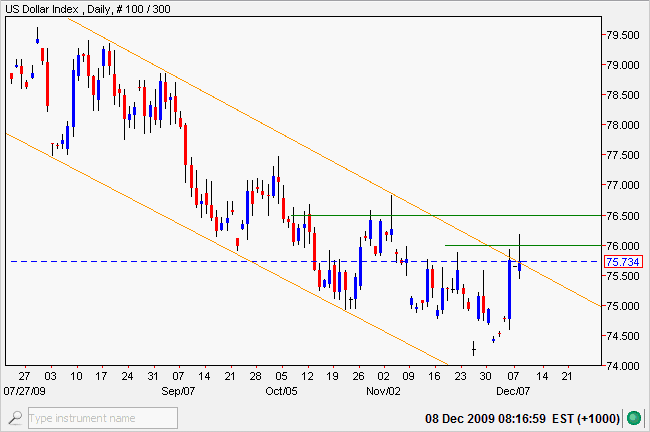 Source: Netdania
I incorrectly identified the support level for gold as $1150 in yesterday's newsletter. While there was short-term support at $1150, subsequent action clearly shows medium-term support at $1140 — the low from November 27. Recovery above $1160 would test resistance at $1200, but failure of support is more likely and would offer a target of $1060*. The primary trend remains up, but this may well be the start of a top formation.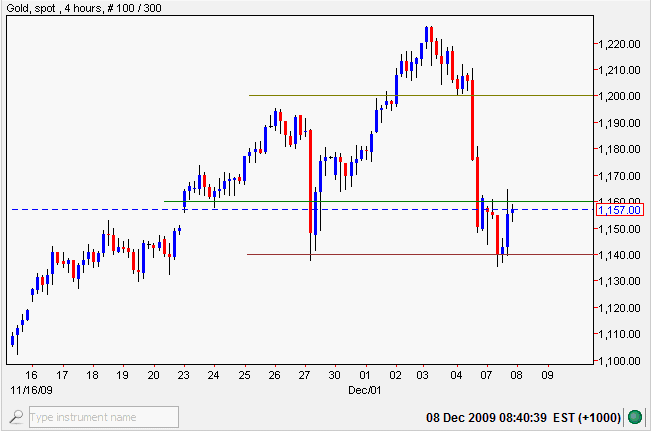 Source: Netdania
* Target calculation: 1140 - ( 1220 - 1140 ) = 1060
Crude oil continues in a downward flag/broadening wedge consolidation, indicating continuation of the up-trend. Upward breakout would offer a target of 97*; downward breakout is less likely, but would warn of a correction back to primary support at $65.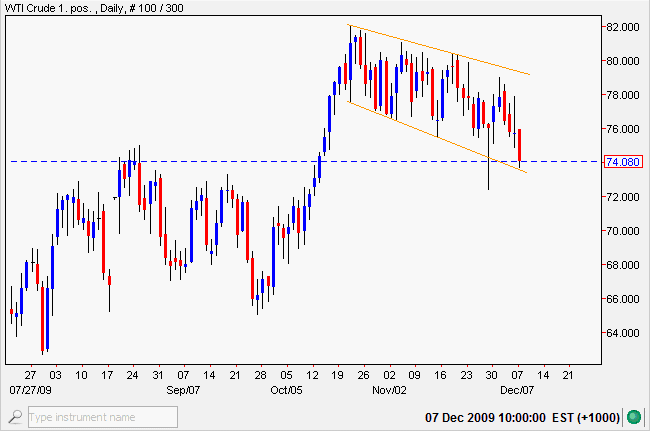 Source: Netdania
* Target calculation: 80 + ( 82 - 65 ) = 97
Help to keep this newsletter free! Forward this link to friends and colleagues

We are not human beings on a spiritual journey.
We are spiritual beings on a human journey.

~ Steven Covey