---
Gold & Oil Rally Continues
By Colin Twiggs
November 24, 2009 3:00 a.m. ET (7:00 p.m. AET)
These extracts from my trading diary are for educational purposes and should not be interpreted as investment or trading advice. Full terms and conditions can be found at Terms of Use.
The US Dollar Index is consolidating above support at 75; breakout would signal a decline to 74*. Momentum holding below zero indicates a strong down-trend (this is a new momentum indicator that will be released with the next beta version); the recent rise merely indicates consolidation. In the long term, the dollar is expected to test the 2008 low of 71. Recovery above 76.50 is unlikely, but would warn that the down-trend is ending. The weakening dollar continues to fuel rising crude oil and precious metal prices.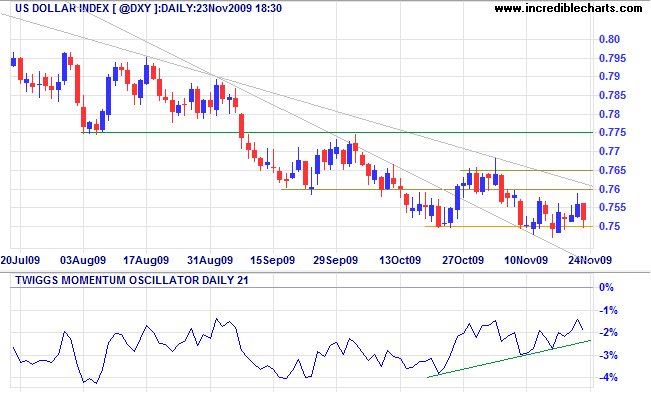 * Target calculation: 75 - ( 76 - 75 ) = 74
Spot gold is in an accelerating (runaway) up-trend, indicated by rising Momentum over the past few months. Reversal below 1150 would close the recent gap and warn of a short retracement; failure to fill the gap would again indicate strong buying pressure. The target of $1300* looks achievable inside two months. Further tall candles, gaps and/or short retracements would reinforce the signal. Reversal below the rising trendline, however, would warn of a short correction.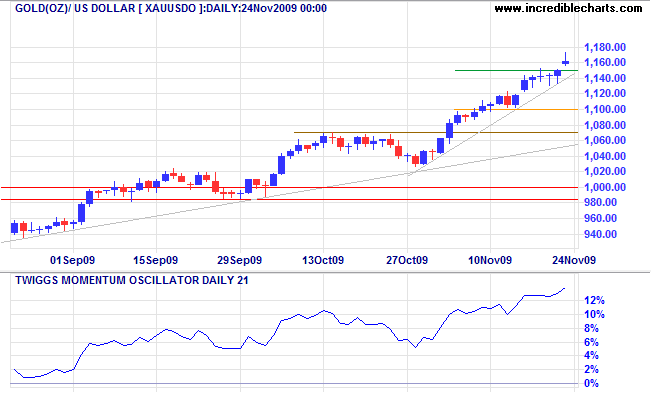 * Target calculation: 1000 + ( 1000 - 700 ) = 1300
The Market Vectors Gold Miners Index [GDX] completed a broadening wedge (continuation) pattern, offering a target of the 2008 high at $56 (the calculated target is $58*). My only concern is the bearish divergence on Twiggs Money Flow (13-week) which warns of a reversal. These signals are often early, but should not be ignored. Reversal below 50 would strengthen the warning.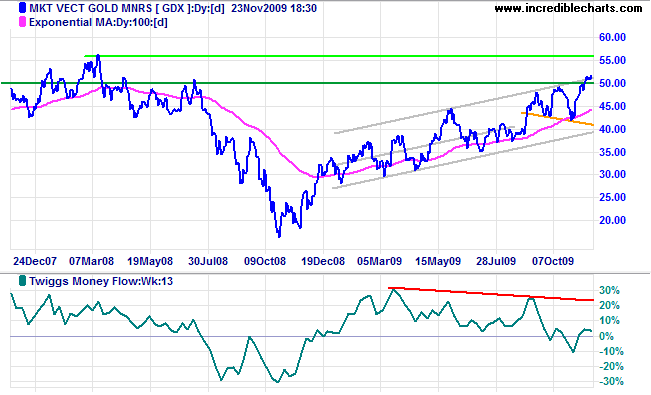 * Target calculation: 50 + ( 50 - 42 ) = 58
Spot silver displays an ascending broadening wedge (right-angled) with a base at $16, favoring a reversal. The target for a downward breakout is $13*, while upward breakout would offer a target of $22*.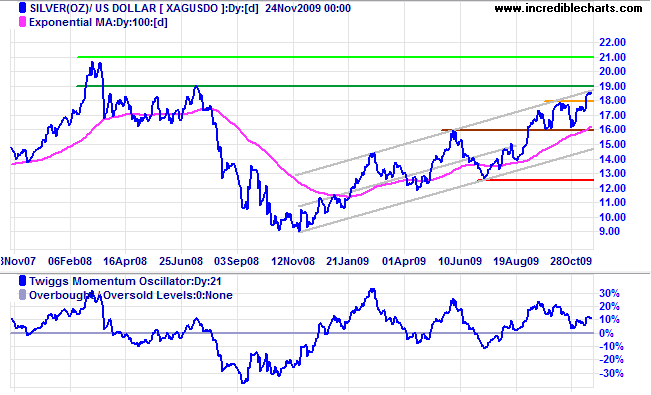 * Target calculation: 16 - ( 19 - 16 ) = 13 and 19 + ( 19 - 16 ) = 22
Platinum followed gold with a strong breakout above $1400 and is headed for a test of $1500*. Reversal below the lower trend channel from the earlier rising wedge pattern remains unlikely, but would warn of a test of support at $1100.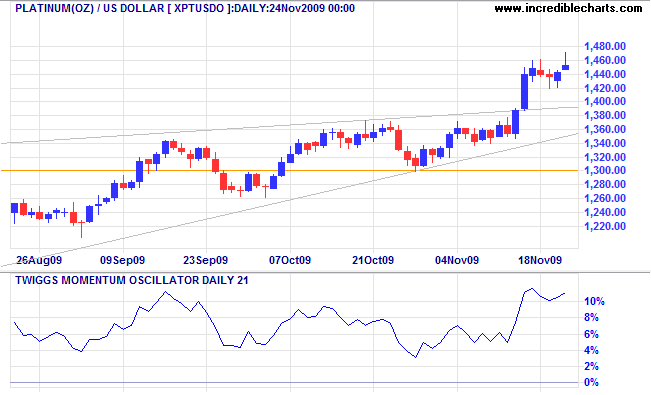 * Target calculation: 1300 + ( 1300 - 1100 ) = 1500
Crude oil shows a flag consolidation back to support at $75, signaling continuation of the up-trend. Upward breakout would offer a target of 97*; downward breakout is unlikely, but would warn of a correction back to primary support at $65.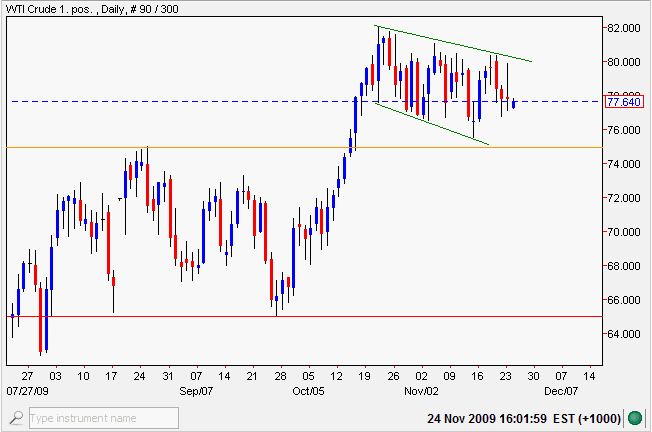 Source: Netdania
* Target calculation: 80 + ( 82 - 65 ) = 97
Help to keep this newsletter free! Forward this link to friends and colleagues

As a single footstep will not make a path on the earth, so a single thought will not make a pathway in the mind. To make a deep physical path, we walk again and again. To make a deep mental path, we must think over and over the kind of thoughts we wish to dominate our lives.

~ Henry David Thoreau