---
Commodities & Dow Warn Of Correction
By Colin Twiggs
September 1, 2009 7:00 p.m. ET (9:00 a.m. AET)
These extracts from my trading diary are for educational purposes and should not be interpreted as investment or trading advice. Full terms and conditions can be found at Terms of Use.
The CRB Commodities Index reacted to the sharp fall in China, breaking through support at 253 to signal a secondary correction and likely test of primary support at 230. This will have a negative effect on resources stocks and indexes like the ASX All Ordinaries. In the long term, failure of support at 230 would signal reversal to a primary down-trend, while recovery above 266 would signal another primary advance with a target of 300*.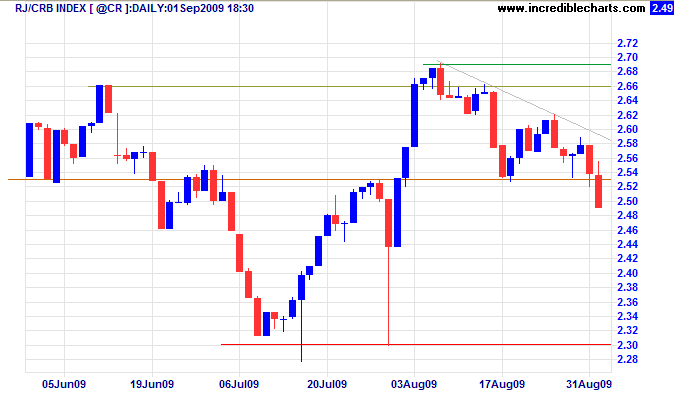 * Target calculation: 266 + ( 266 - 230 ) = 302
The fall in commodity prices was initiated by yesterday's sharp drop in the Shanghai Composite Index. Today the index paused, briefly consolidating. Breakout below 2650 is likely and would signal a down-swing to test primary support at 2100*.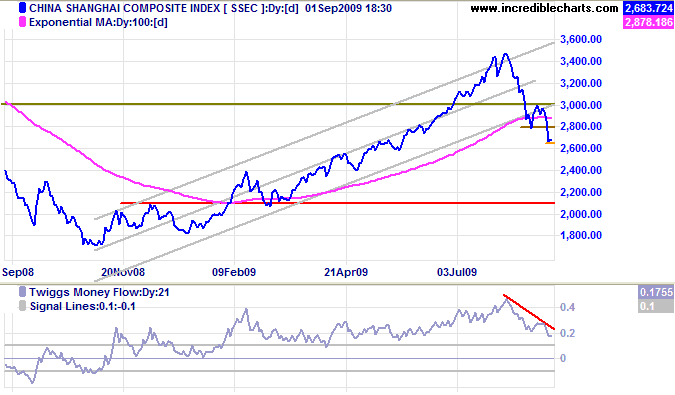 * Target calculation: 2800 - ( 3300 - 2800 ) = 2300
The Dow broke through support at both 9500 and 9400, warning of a secondary correction. The signal will be confirmed if support at 9100 is penetrated. Recovery above 9600 is unlikely, but would signal a further advance with a target of 10000*.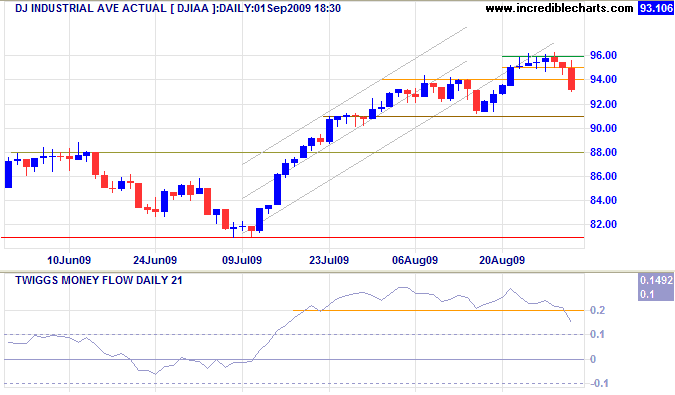 * Target calculation: 9600 - ( 9600 - 9300 ) = 9900
Help to keep this newsletter free! Forward this link to friends and colleagues

The greater the man, the less is he opinionative; he depends upon events and circumstances.

~ Napoleon Bonaparte (1769 - 1821)