---
Currencies Consolidate
By Colin Twiggs
August 20, 2009 10:00 p.m. ET (12:00 p:m AET)
These extracts from my trading diary are for educational purposes and should not be interpreted as investment or trading advice. Full terms and conditions can be found at Terms of Use.
The euro has been edging upwards since early June, but this is more consolidation than trend, with the currency slipping below the new support level of $1.43. Recovery (above $1.43) would signal that the gradual up-trend is likely to continue, while breakout below the trend channel would warn of reversal to a primary down-trend. Penetration of support at $1.38 would confirm the down-trend and target the April low of $1.29.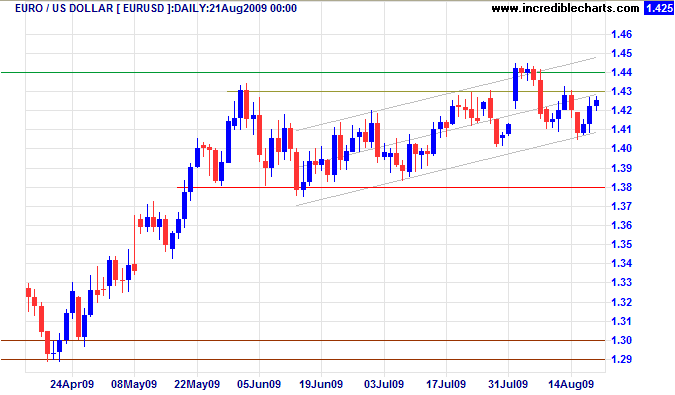 British Pound
The pound is consolidating in a narrow band between $1.60 and $1.66 against the greenback. The failed breakout in early August indicates weakness and failure of support at $1.60 would confirm reversal to a primary down-trend. Continued currency debasement by the Bank of England should ensure that the pound weakens against major trading partners.
Japanese Yen
The dollar is testing support at ¥94 after retreating from the upper trend channel. Penetration of support would indicate a test of the lower channel around ¥90. Again, the trend is gradual, edging lower rather than a strong decline, possibly due to BOJ support for the dollar.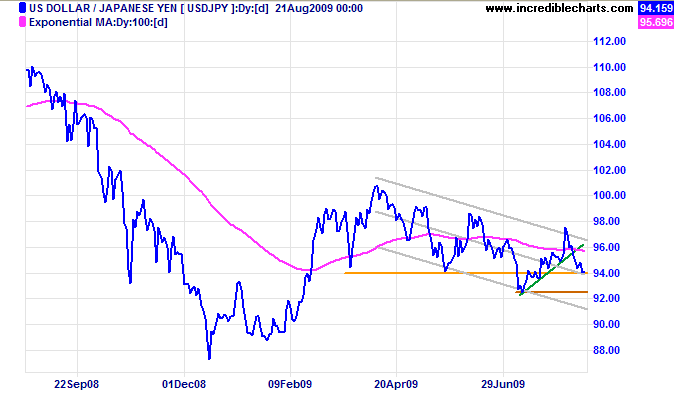 Australian Dollar
The Aussie dollar is testing the new support level at $0.82 against the greenback. Respect of support would indicate a primary advance with a target of $0.90*, while failure would test primary support around $0.7650. Recent commodity price weakness, as indicated by the decline of the CRB Commodities Index, is likely to prevent further advance of the little battler — unless we see recovery above the August peak at 269.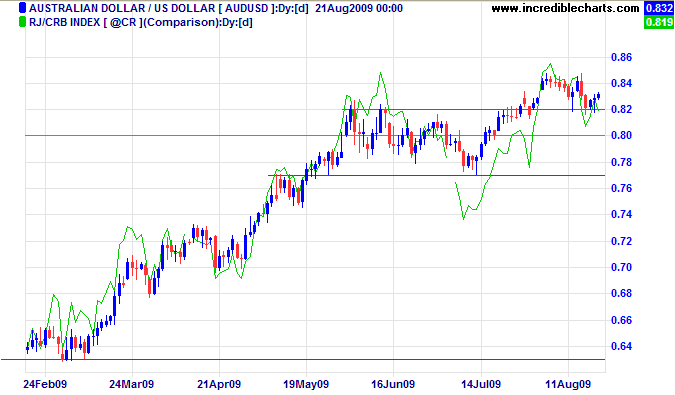 * Target calculation: 0.80 + ( 0.80 - 0.70 ) = 0.90
Help to keep this newsletter free! Forward this link to friends and colleagues 

To paraphrase Margaret Thatcher, the trouble with Keynesian economics is that eventually you run out of other people's money. By waiting until that day of reckoning, we postpone the inevitable. But as the very meaning of the word clearly implies, the inevitable inevitably arrives. And when it does, not only does the original problem need to be repaired, repairs are also needed for the Keynesian non-solutions that were attempted first.

~ Dr Steven Kates