---
Dollar Finds Support
By Colin Twiggs
July 30, 2009 4:00 a.m. ET (6:00 p:m AET)
These extracts from my trading diary are for educational purposes and should not be interpreted as investment or trading advice. Full terms and conditions can be found at Terms of Use.
US Dollar Index
The US Dollar Index respected primary support at 78.50 and is testing short-term resistance at 79.50. Narrow consolidation between these two levels would be a strong bear signal. Reversal below 78.50 would warn of another down-swing — testing the lower channel border around 73*. Recovery above 81 is unlikely, but would test the March low of 83 — indicating that the primary down-trend is over.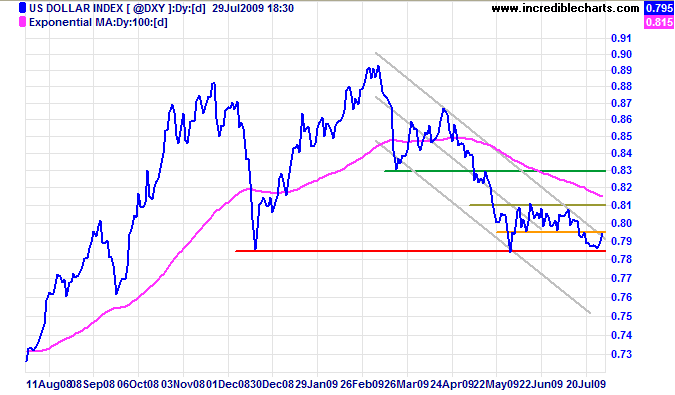 * Target calculation: 78 - ( 83 - 78) = 73
The euro continues to consolidate around the $1.40 level, retreating sharply from medium-term resistance at $1.43. Respect of $1.40 would be a bullish sign, indicating that upward breakout is likely — with a target of $1.50*. Reversal above $1.43 would confirm the signal. Breakout below $1.38 is unlikely, but would warn of a primary down-trend.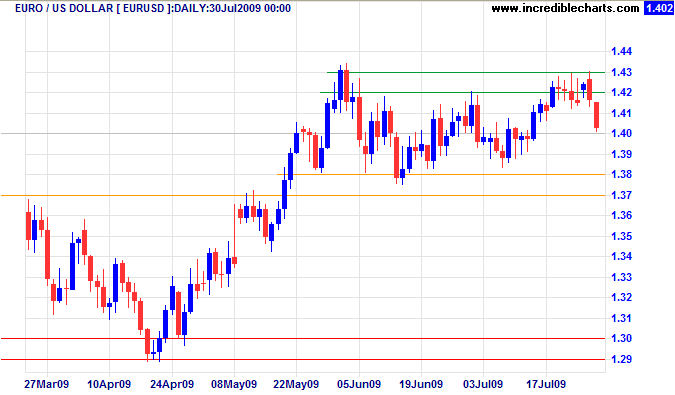 * Target calculation: 1.40 + ( 1.40 - 1.30 ) = 1.50
Japanese Yen
The dollar retreated above the former primary support level at ¥94, but this does not indicate trend reversal unless there is a breakout above the upper channel. The gradual slope of the trend channel indicates weakness and we need to be on the alert for further signs that the trend has reversed. Reversal below ¥94, however, would indicate another down-swing to test the lower channel — around the December low of ¥87*.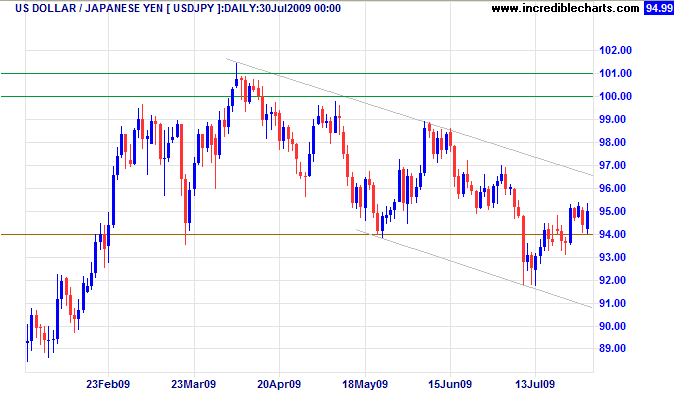 * Target calculation: 94 - ( 101 - 94) = 87
Australian Dollar
The Aussie dollar is testing the upper border of its recent consolidation between $0.78 and $0.82 against the greenback. Both the declining CRB Commodities Index and RBA selling are likely to hinder further advances. Respect of support at $0.80, however, would be a bullish sign. And breakout above $0.83 would confirm a primary advance with a target of $0.90*. Reversal below $0.77 is unlikely, but would test support at $0.70.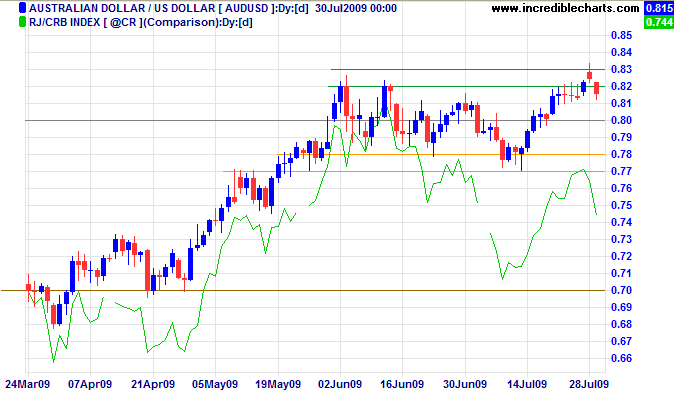 * Target calculation: 0.80 + ( 0.80 - 0.70 ) = 0.90
Help to keep this newsletter free! Forward this link to friends and colleagues

The good news is that, according to the Obama administration, the rich will pay for everything. The bad news is that, according to the Obama administration, you're rich.

~ P. J. O'Rourke