---
Dollar Triangle Against The Euro
By Colin Twiggs
July 16, 2009 2:00 a.m. ET (4:00 p:m AET)
These extracts from my trading diary are for educational purposes and should not be interpreted as investment or trading advice. Full terms and conditions can be found at Terms of Use.
US Dollar Index
The US Dollar Index is testing support after consolidating in a narrow band between 79.50 and 81 for several weeks. Downward breakout, in the direction of the primary trend, is more likely and would warn of a decline with a target of 73. Penetration of support at 78.50 would confirm. Upward breakout is not expected, but would test resistance from the March low at 83.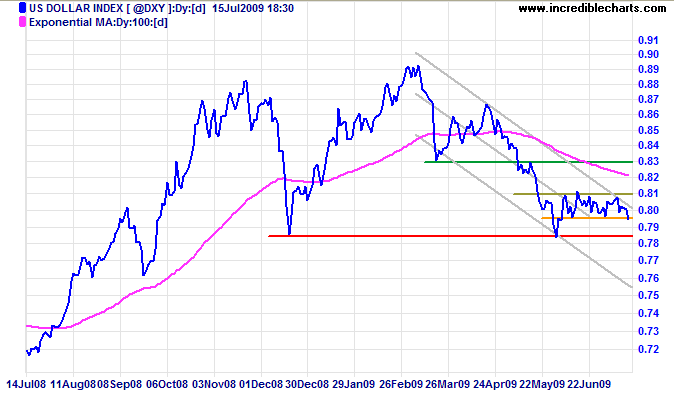 The euro displays a triangular consolidation against the greenback — a continuation pattern. Breakout above resistance at $1.42 would signal another primary advance with a target of $1.50. Reversal below $1.38 is unlikely, but would warn that the up-trend is weakening.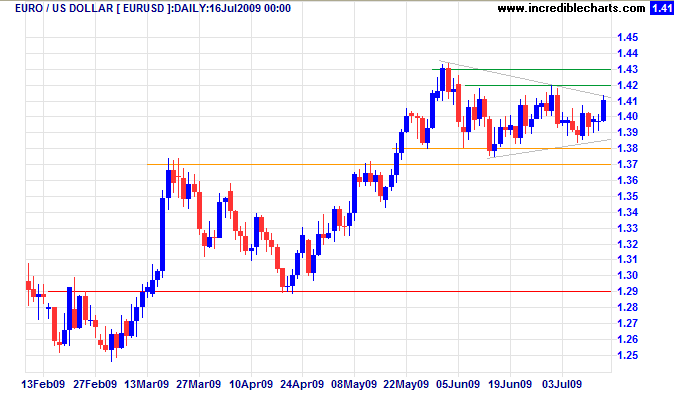 Japanese Yen
The dollar pulled back to test the new resistance level after downward breakout below ¥94 [orange]. Recovery above the upper trend channel/long-term moving average would warn of a bear trap, while respect of the upper trend channel would signal another down-swing. In the longer term, expect a test of the December low of ¥87.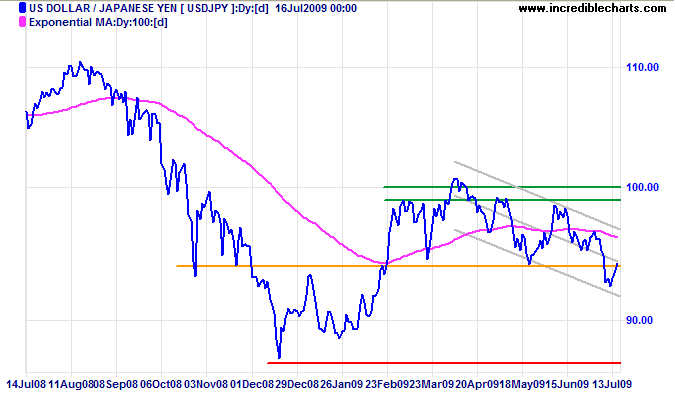 Australian Dollar
The Aussie dollar recovered above support at $0.78 after a marginal break gave a false bear signal. An up-turn on the CRB Commodities Index is a positive sign for the resource-rich currency. Expect a test of resistance at $0.82. Upward breakout is now likely, and would offer a target of the September 2008 high at $0.85. Reversal below $0.77 is unlikely, but would test support at $0.70.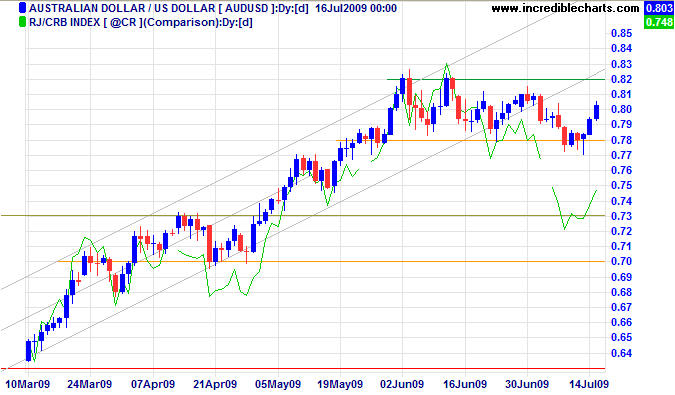 Help to keep this newsletter free! Forward this link to friends and colleagues

Whatever it is that the government does, sensible Americans would prefer that the government does it to somebody else.
This is the idea behind foreign policy.

~ P. J. O'Rourke