---
Dollar Sinks Against The Yen
By Colin Twiggs
July 8, 2009 9:00 p.m. ET (11:00 a:m AET)
These extracts from my trading diary are for educational purposes and should not be interpreted as investment or trading advice. Full terms and conditions can be found at Terms of Use.
US Dollar Index
The US Dollar Index continues to consolidate in a narrow band between 79.50 and 81. Downward breakout in the direction of the primary trend is more likely and would warn of a down-swing with a target of 73. Penetration of support at 78.50 would confirm. Upward breakout is not expected, but would test resistance at 83.
The euro is headed for another test of medium-term support at $1.37. Failure would warn that the up-trend is weakening, while reversal above $1.42 would indicate a primary advance with a target of $1.49/$1.50 — calculated as 1.43 + ( 1.43 - 1.37 ). Breakout above $1.43 would confirm the advance.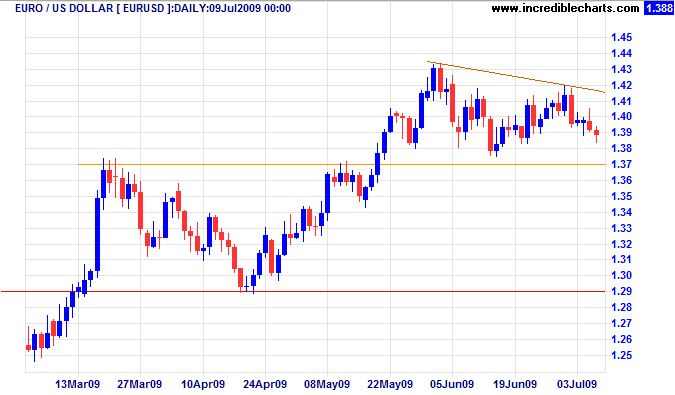 Japanese Yen
The dollar commenced a primary down-trend against the yen, signaled by breach of support at ¥94. Retracement that respects the new resistance level (at ¥94) would confirm the signal. Expect a test of the December low of ¥87.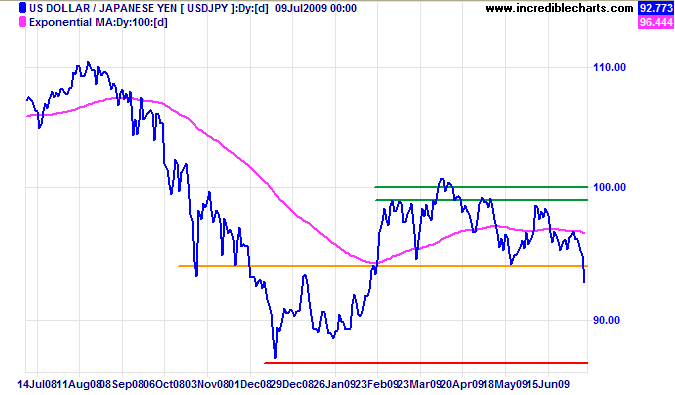 UK Pound Sterling
The UK pound is testing support at $1.60 against the greenback. Failure would indicate a secondary correction, with a target of $1.50, while respect of support would favor a primary advance to the upper trend channel.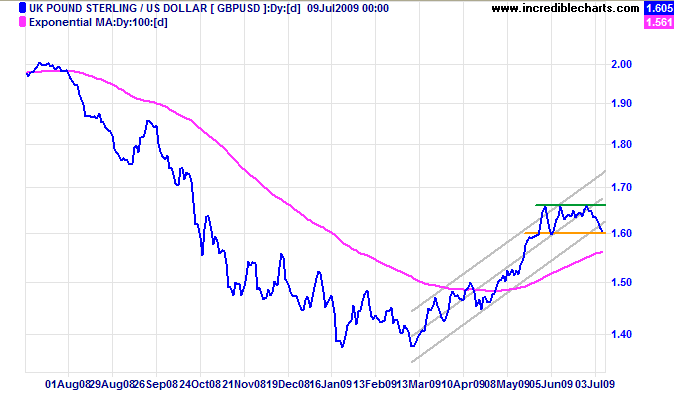 Australian Dollar
The Aussie dollar penetrated support at $0.78 from its recent consolidation against the greenback
— warning of a secondary correction. Follow-through below $0.77 would confirm the breakout, while reversal above $0.79 would warn of a bear trap. Upward breakout is now unlikely, but would offer a target of the September 2008 high at $0.85. Downward correction is likely to test support at the January 2009 high of $0.73.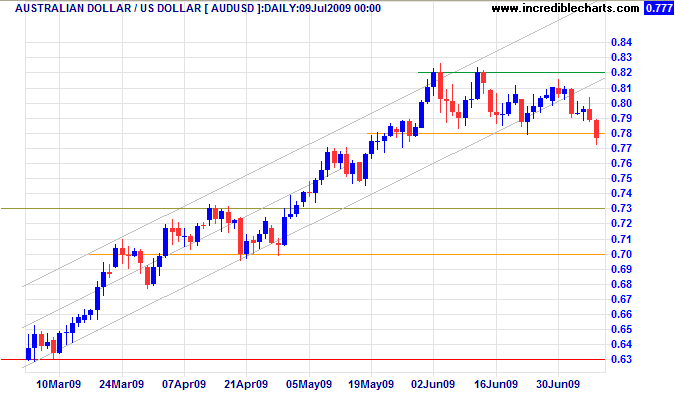 Help to keep this newsletter free! Forward this link to friends and colleagues

No drug, not even alcohol, causes the fundamental ills of society. If we're looking for the source of our troubles, we shouldn't test people for drugs, we should test them for stupidity, ignorance, greed and love of power.

~ P. J. O'Rourke