---
Dow Breaks 8200
By Colin Twiggs
July 7, 2009 9:30 p.m. ET (11:30 a.m. AET)
These extracts from my trading diary are for educational purposes and should not be interpreted as investment or trading advice. Full terms and conditions can be found at Terms of Use.
The Dow broke through support at 8200 to complete a head and shoulders reversal. Confirming earlier warnings, from breakout below the rising trend channel and from bearish divergence on Twiggs Money Flow (both 21-Day and 13-Week), the pattern signals a down-swing to test primary support at 6500.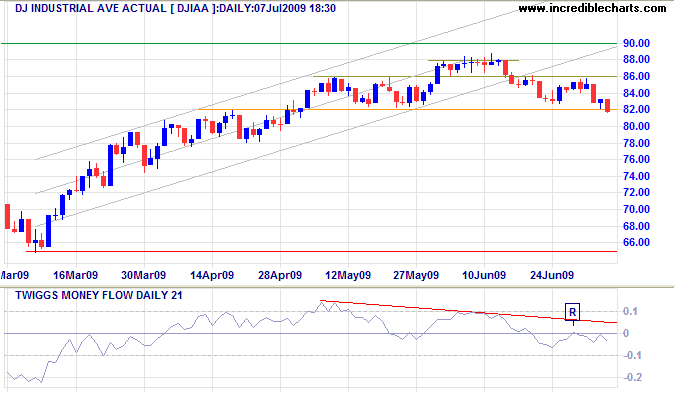 S&P 500 breakout below support at 880 would confirm the Dow signal — and warn of a test of primary support at 670.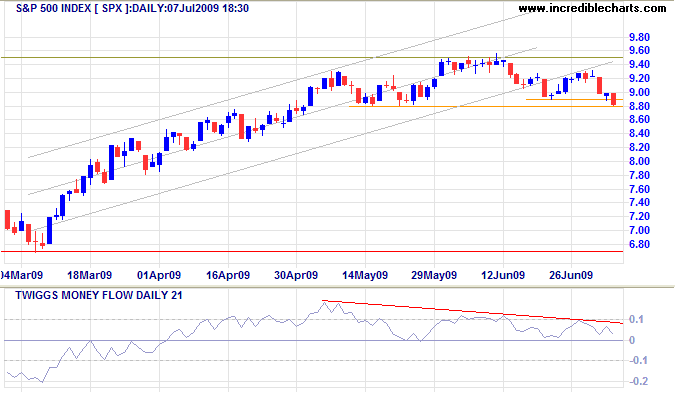 The breakout is expected to have a bearish influence on most major stockmarkets.
Help to keep this newsletter free! Forward this link to friends and colleagues

A man is rich in proportion to the number of things he can afford to let alone.

~ Henry David Thoreau