---
Gold Watershed At $940
By Colin Twiggs
June 30, 2009 4:00 a.m. ET (6:00 p.m. AET)
These extracts from my trading diary are for educational purposes and should not be interpreted as investment or trading advice. Full terms and conditions can be found at Terms of Use.
Spot gold is consolidating between $920 and $940. A close below $920 would test primary support at $870. A close above $940 (or intra-day penetration above $950), on the other hand, would form a bullish ascending triangle — indicating a breakout above $1000. In the longer term, failure of primary support would signal a test of the November 2008 low of $700; while breakout above $1000 would offer a medium-term target of $1130, calculated as 1000 + ( 1000 - 870 ), and long-term target of $1300.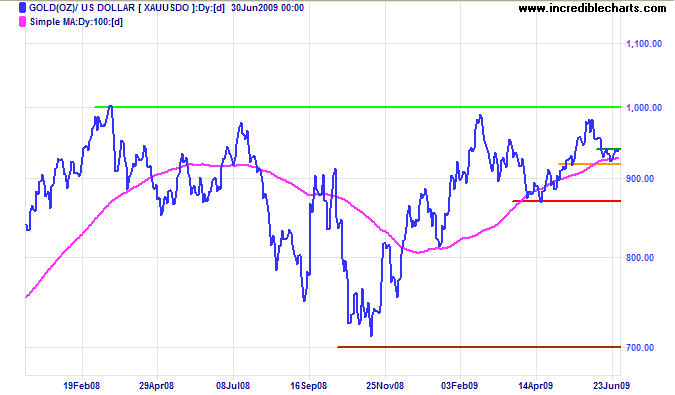 Gold miners, however, tend to lead the actual gold price. The Gold Miners Index [GDX] displays a bearish ascending broadening wedge. Breakout below $35.50 would test the lower border, threatening a secondary correction. Recovery above $40 would indicate an upward breakout and continuation of the primary advance — a positive sign for spot prices.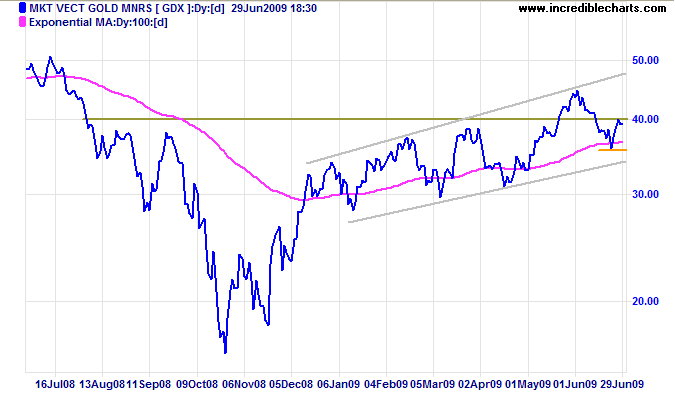 The spot silver primary up-trend is a positive sign for gold. Currently testing medium-term support at the lower trend channel, reversal above $14 would indicate a primary advance to test the upper channel border; while failure of support would signal trend weakness. In the longer term, failure of primary support at $12.00 would warn of reversal to a primary down-trend.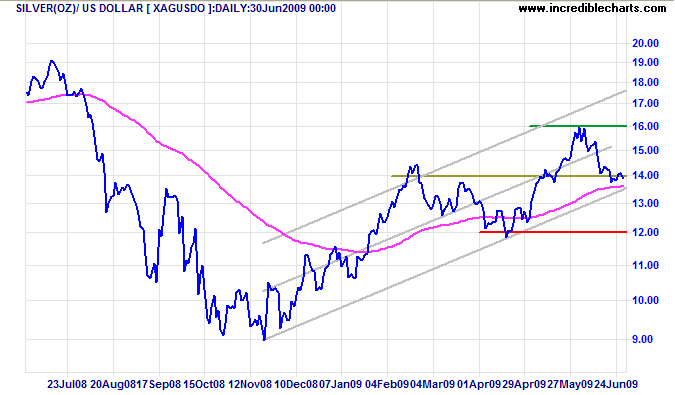 Brent Crude's narrow consolidation between $67 and $73 is a continuation signal. Upward breakout is likely and would signal another advance to test the upper trend channel. Downward breakout would warn of a secondary correction.
The weakening dollar increases demand for gold. The US Dollar Index is in a primary down-trend, testing resistance at 81. Upward breakout is unlikely, but would test the March 2009 low of 83. Respect of resistance, confirmed by penetration of support at 78, would indicate a primary down-swing with a target of 73 — calculated as 78 - [ 83 - 78 ].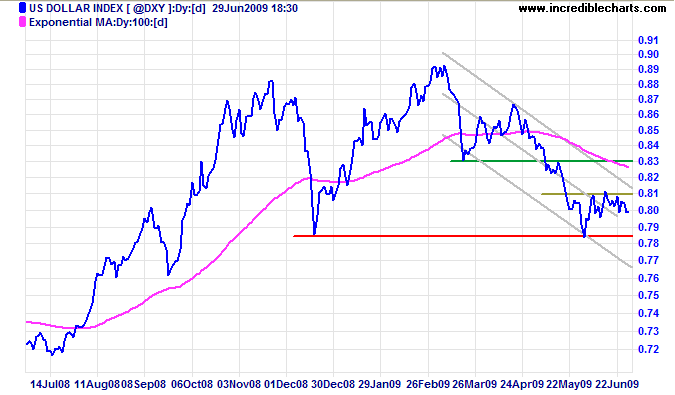 Help to keep this newsletter free! Forward this link to friends and colleagues

They always say time changes things, but you actually have to change them yourself.

~ Andy Warhol (1928 - 1987)