---
What's New: Forex & Precious Metals
By Colin Twiggs
June 25, 2009 3:00 a.m. ET (5:00 p:m AET)
These extracts from my trading diary are for educational purposes and should not be interpreted as investment or trading advice. Full terms and conditions can be found at Terms of Use.
We now provide end-of-day forex and precious metals updates, supplied by Tenfore/Morningstar in the UK. Days are calculated according to London trading time. You will find the new exchanges under Securities on the main chart menu.
And Forex and Precious Metals under Exchange on the stock screener.

Forex Update
US Dollar Index
The US Dollar Index is testing short-term resistance at 81. Breakout would signal a secondary reaction to test resistance at 83. Respect of 81, however, would leave the previous secondary low at 83 untested — warning of a strong primary down-swing with a target of 73.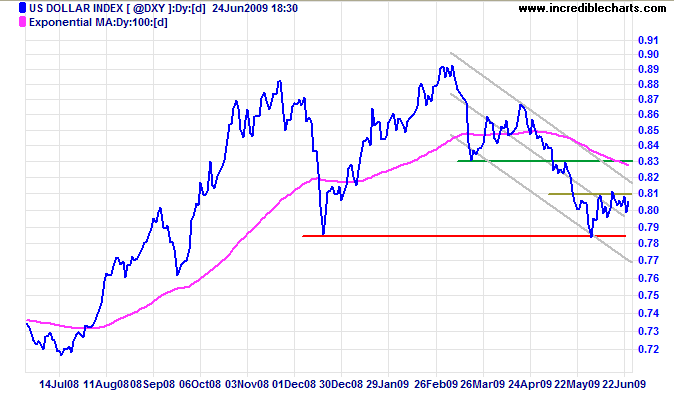 The primary trend of the euro is upwards and likely to continue. The latest retracement respected support at $1.37 [orange] and reversal above $1.41 [green] would signal a primary advance with a target of $1.50.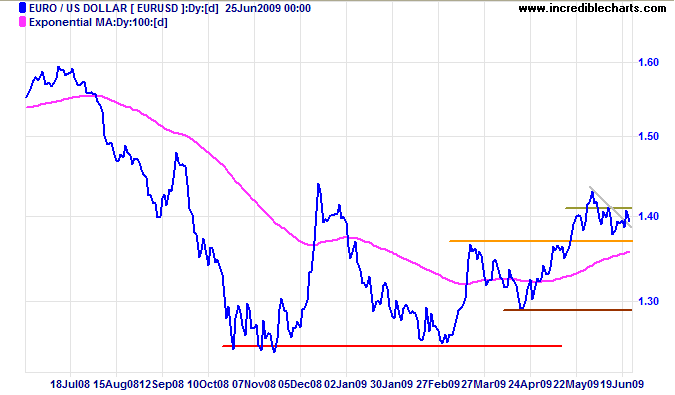 Japanese Yen
The dollar is in a primary up-trend against the yen, but is undergoing a lengthy consolidation between ¥94 and ¥100. Breakout will signal future direction. Upward breakout would offer a target of ¥106, while downward breakout would test the December low of ¥87.
Australian Dollar
The Aussie dollar is in a primary up-trend against the greenback, currently consolidating between $0.78 and $0.82. Upward breakout is more likely and would offer a target of the September high at $0.85, while downward breakout would warn of a correction to test support at $0.70.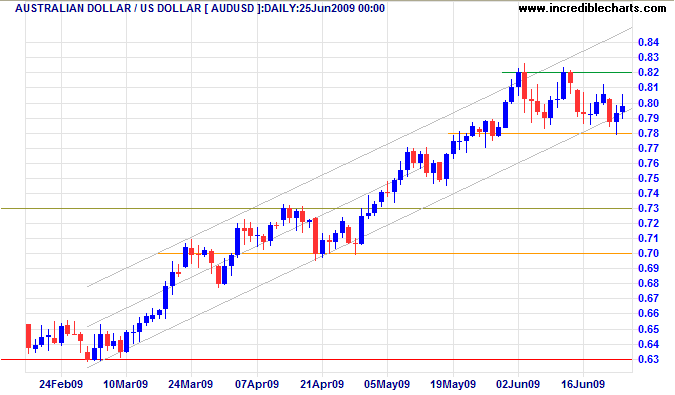 Help to keep this newsletter free! Forward this link to friends and colleagues

Giving money and power to government is like giving whiskey and car keys to teenage boys.

~ P. J. O'Rourke