---
Hole-In-The-Wall Reversal For Crude
By Colin Twiggs
June 23, 2009 9:30 a.m. ET (11:30 p.m. AET)
These extracts from my trading diary are for educational purposes and should not be interpreted as investment or trading advice. Full terms and conditions can be found at Terms of Use.
I will be in Cape Town, South Africa until next week and will skip some newsletters because of travel/time differences.
Spot gold confirmed its secondary reaction, respecting the new resistance level at $940. Expect a test of primary support at $870. In the longer term, failure of primary support would signal a test of the November 2008 low of $700; while respect of support would indicate another test of $1000.
Source: Netdania
Spot silver is undergoing a secondary correction, testing the lower border of its rising trend channel — roughly equivalent to a 61.8% Fibonacci retracement. Respect of the channel border would indicate a healthy up-trend. Breakout below the trend channel, however, would reflect trend weakness; while failure of primary support at $12.00 would signal reversal to a primary down-trend.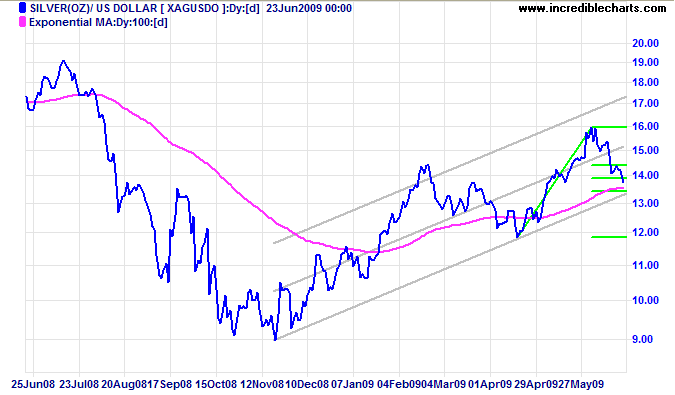 West Texas Crude warns of a secondary correction, with a gap below the rising trendline — sometimes called a hole-in-the-wall reversal. The target of $63 is calculated as 73 - [ 55 - 45 ].
Source: Netdania
A weakening dollar increases demand for gold. The US Dollar Index is in a primary down-trend — currently retracing to test the upper border of the trend channel at 82. Breakout is unlikely, but would warn of trend weakness. Respect of the upper channel would indicate another primary down-swing with a target of 73 — calculated as 78 - [ 83 - 78 ].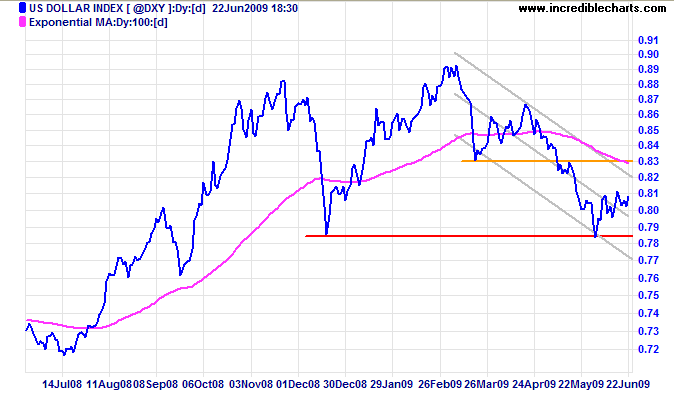 Help to keep this newsletter free! Forward this link to friends and colleagues

All of a sudden, the consumer is acting as though he had some sense. Naturally, government officials are determined to put a stop to it.

~ Bill Bonner