---
Gold Breaks Support
By Colin Twiggs
June 15, 2009 7:00 p.m. (9:00 a.m. AET)
These extracts from my trading diary are for educational purposes and should not be interpreted as investment or trading advice. Full terms and conditions can be found at Terms of Use.
I will be in Cape Town, South Africa for the next two weeks and will skip some newsletters because of travel/time differences.
Spot gold broke interim support at $940, warning of a test of primary support at $870. Retracement that respects the new resistance level would offer added confirmation. Reversal above $940 is most unlikely, but would warn of a bear trap.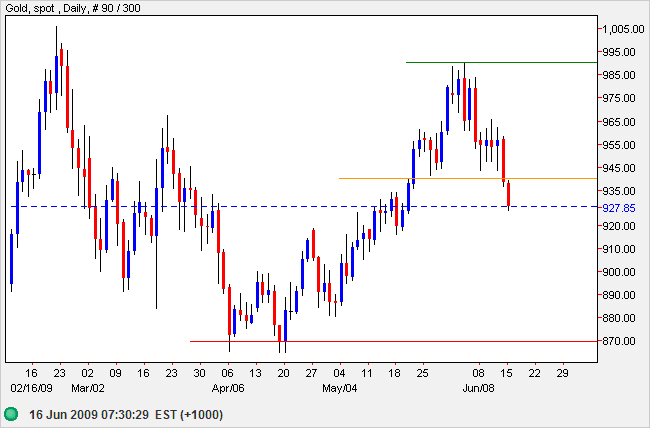 Source: Netdania
Spot silver made a similar break below interim support at $14.50/$14.75, signaling a secondary correction with a target of primary support at $12.00. Respect of the 61.8% retracement level at $13.50 is unlikely, but would indicate a healthy up-trend.
West Texas Crude continues its strong primary advance. Penetration of the rising trendline would indicate a secondary correction, with a target of $63 — calculated as 73 - [ 55 - 45 ].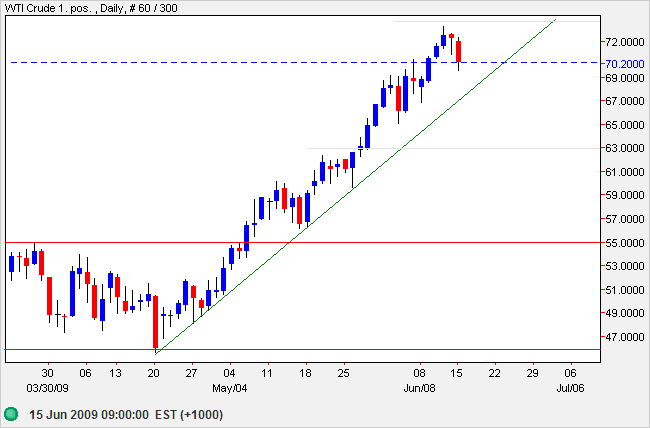 Source: Netdania
A weakening dollar increases demand for gold — and a falling gold price signals dollar strength. The US Dollar Index continues to test resistance at 81; breakout would test the stronger level at 83. Respect of 81 is unlikely, given the fall in gold and silver, but would signal another down-swing with a target of 73 — calculated as 78 - [ 83 - 78 ] .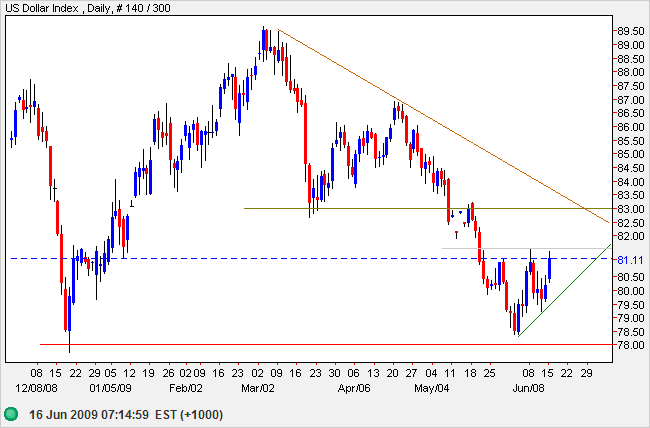 Help to keep this newsletter free! Forward this link to friends and colleagues

Any fool can make things bigger, more complex, and more violent. It takes a touch of genius — and a lot of courage — to move in the opposite direction.

~ Albert Einstein