---
Dollar Strengthens
By Colin Twiggs
June 11, 2009 1:00 a.m. ET (3:00 p:m AET)
These extracts from my trading diary are for educational purposes and should not be interpreted as investment or trading advice. Full terms and conditions can be found at Terms of Use.
US Dollar Index
The US Dollar Index is testing short-term resistance at 81. Breakout would signal a secondary reaction to test resistance at 83, while respect of resistance would warn of a primary down-swing with a target of 76.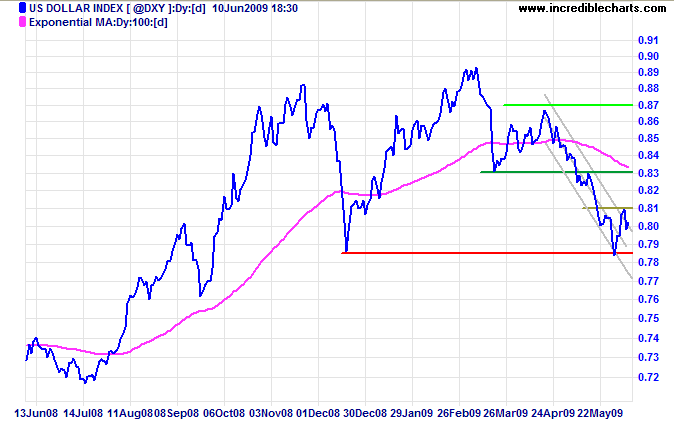 Testing of our new forex data feed is going slower than expected. Forex charts are only likely to be available towards the end of the month.
The primary trend of the euro is upwards and likely to continue. If we had to invert the euro/usd chart it would paint a similar picture to the US Dollar Index. Breakout from the rising trend channel warns of a secondary correction to test support at $1.37 [green]. Respect of the 100-Day moving average would be a bullish sign, while failure of primary support at $1.29 [red] would signal a trend reversal.
Japanese Yen
The dollar is testing resistance at ¥99. Breakout would signal reversal to a new primary up-trend — confirmed if resistance at ¥101 is penetrated. Reversal below ¥94, however, would signal continuation of the down-trend — with a target of the December low of ¥87.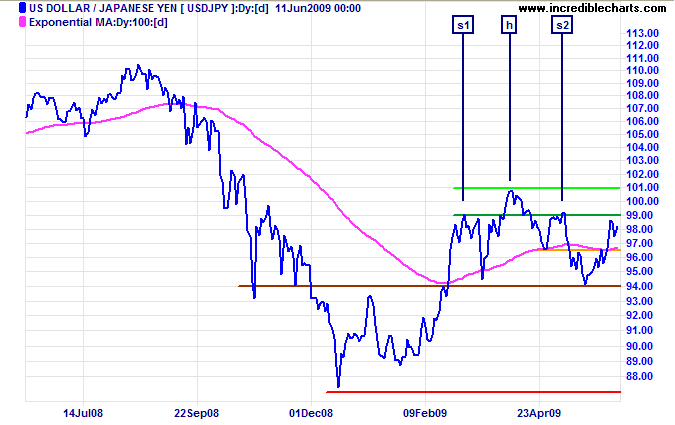 Australian Dollar
The Aussie dollar is testing its lower trend channel against the greenback. Downward breakout is more likely, considering the rebound on the US Dollar Index, and would signal a secondary correction. Respect of short-term support at $0.7750 [orange], however, would indicate another test of the upper channel. In the longer term, a secondary correction would test support at $0.7000; while the target for the primary up-trend is the September high at $0.8500.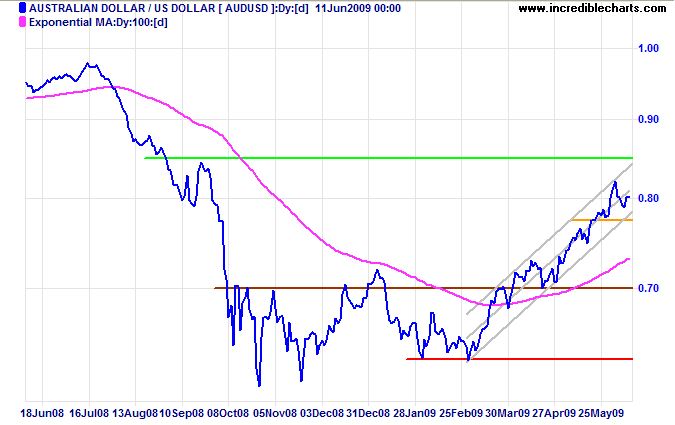 Help to keep this newsletter free! Forward this link to friends and colleagues

A government that robs Peter to pay Paul can always depend on the support of Paul.

~ George Bernard Shaw