---
Dollar Index Finds Target
By Colin Twiggs
June 4, 2009 3:00 a.m. ET (5:00 p:m AET)
These extracts from my trading diary are for educational purposes and should not be interpreted as investment or trading advice. Full terms and conditions can be found at Terms of Use.
US Dollar Index
The US Dollar Index reached its target of 79 and is now retracing to test the upper trend channel at 80. Upward breakout would signal a secondary reaction to test resistance at 83. Narrow consolidation above support at 78.50 would warn of another primary down-swing.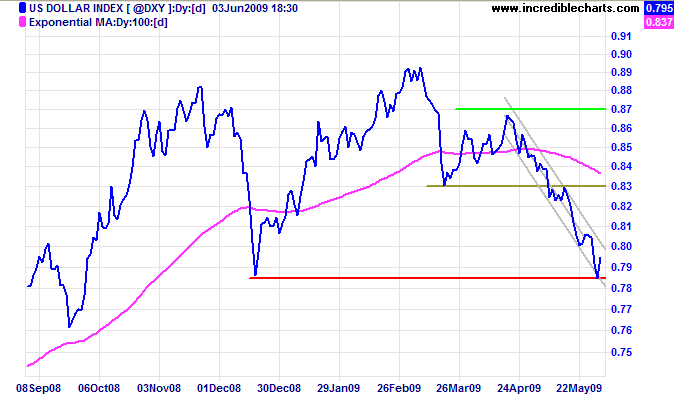 Testing of our new forex data feed is going slower than expected. If all goes well, this will be available next week.
The euro is retracing to test the lower trend channel at $1.40 against the greenback. Respect would indicate a swing to the upper trend channel — and test of the December high of $1.44. Breakout below $1.40 would signal a reaction to test support at $1.37 [green].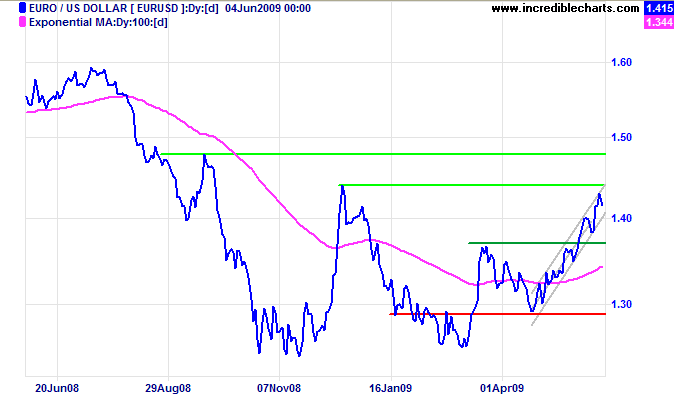 Japanese Yen
The dollar found support at ¥94, retracing to confirm resistance at ¥97 [green]. Respect of resistance would confirm the primary down-trend — with a target of the December low of ¥87. Breakout below ¥94 [orange] would strengthen the signal. Reversal above ¥97 is unlikely, but would warn of trend weakness.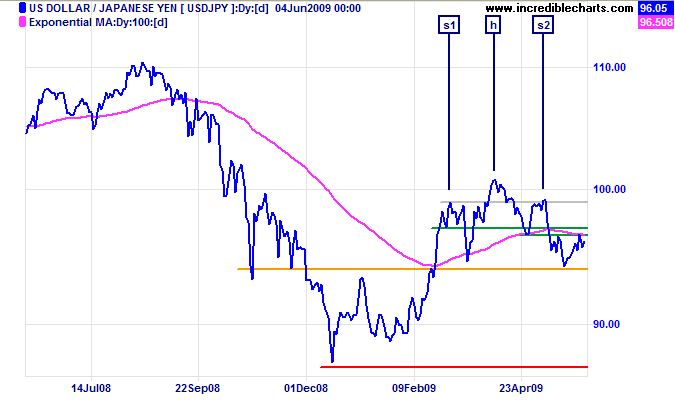 Australian Dollar
The Aussie dollar is retracing to test its lower trend channel against the greenback. Respect of support at $0.7750 [orange] would signal another swing to the upper channel. Failure of the lower trend channel would signal a secondary reaction to test support at $0.7000. The long-term target for the primary up-trend is the September high at $0.8500.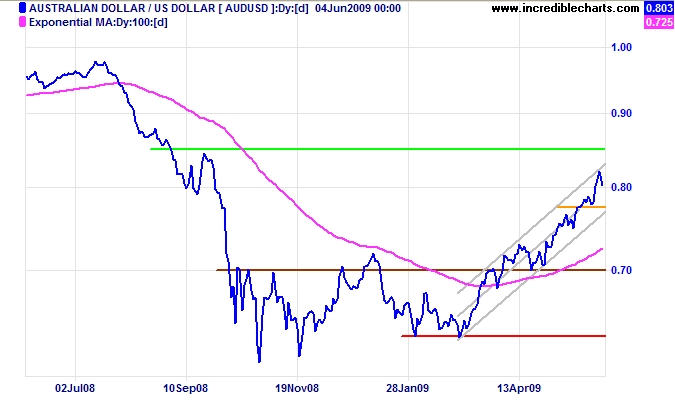 Help to keep this newsletter free! Forward this link to friends and colleagues 

Even as we take steps to address the recession and threats to financial stability, maintaining the confidence of the financial markets requires that we, as a nation, begin planning now for the restoration of fiscal balance.

~ Fed Chairman Ben Bernanke's June 3 warning to Congress