---
Silver Breakout
By Colin Twiggs
May 26, 2009 7:30 a.m. (9:30 p.m. AET)
These extracts from my trading diary are for educational purposes and should not be interpreted as investment or trading advice. Full terms and conditions can be found at Terms of Use.
Spot gold is consolidating below interim resistance at $960. The advance is expected to continue until it encounters strong resistance at $1000. Respect of resistance followed by reversal below the rising green trendline would warn of a decline to primary support at $700. Breakout above resistance, however, would signal a primary advance with a target of $1300, calculated as
1000 + ( 1000 - 700 ).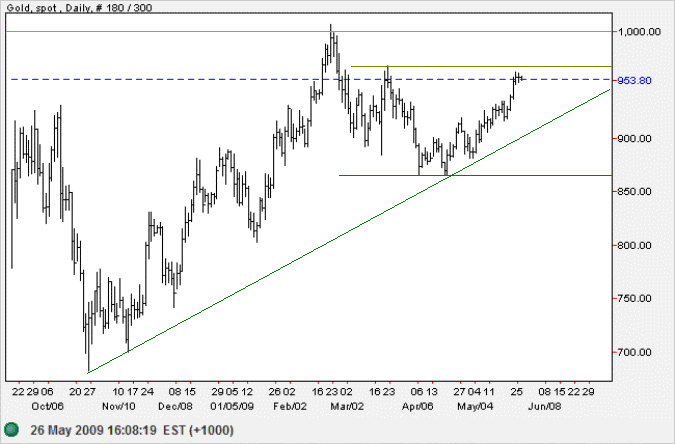 Source: Netdania
Spot silver broke out above its February high to start a primary up-trend — an encouraging sign for gold. Consolidation above the new support level at $14.50 is a bullish sign. The target of $17.00 is calculated as 14.50 + [ 14.50 - 12.00 ]. Reversal below $13.50, however, would signal another test of primary support at $11.75.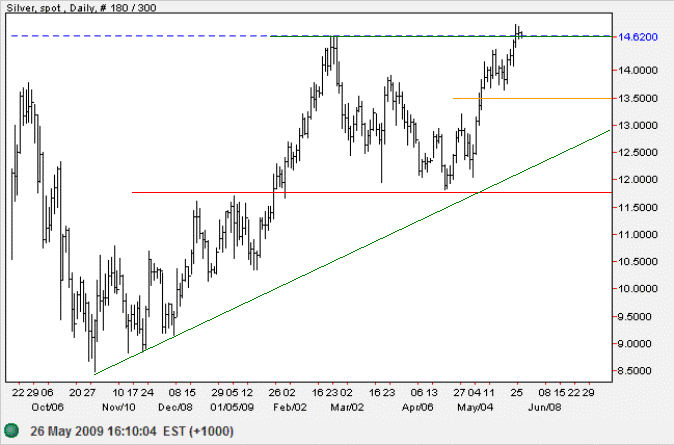 Rising crude prices warn of inflation, with West Texas Crude continuing a strong primary advance. The target of $65 is calculated as 55 + [ 55 - 45 ]. Reversal below the rising (green) trendline is not expected, but would signal trend weakness.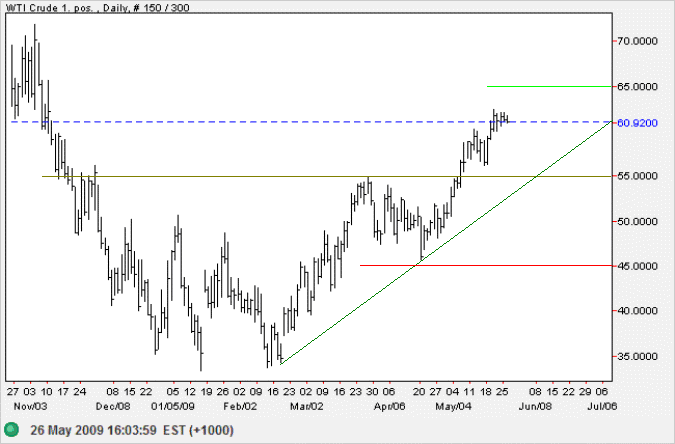 Source: Netdania
The US Dollar Index in a strong primary down-trend also points to rising inflation. The interim target of 79 is calculated as 83 - [87 - 83]. A weakening dollar is a bullish sign for gold.
Richard Fisher, president of the Dallas Fed and the biggest inflation hawk on the Fed Board considers that inflation is not a risk right now and that we are more likely to experience a mild deflation (WSJ). Deflation would undermine demand for bullion — and increase the likelihood that gold will remain range-bound below $1000.
Silver, crude and the dollar, however, all point to higher inflation and a stronger gold price. Inflation fears appear to emanate from Bank of England and Fed purchases of government securities which expand the amount of money in circulation. All we need is for gold to break through the $1000 mark to confirm this outlook.
I know of no more encouraging fact than the unquestioned ability of a man to elevate his life by conscious endeavor.

~ Henry David Thoreau