---
Euro Adds Its Weight Against The Dollar
By Colin Twiggs
May 21, 2009 3:30 a.m. ET (5:30 p:m AET)
These extracts from my trading diary are for educational purposes and should not be interpreted as investment or trading advice. Full terms and conditions can be found at Terms of Use.
The euro broke through resistance at its March high of $1.37 against the greenback, signaling a primary up-trend. Retracement that respects the new support level would confirm. The initial target is the December high of $1.44.
I am testing a new forex data feed for Incredible Charts. If all goes well, this will be added to the menu at the end of May.
US Dollar Index
The US Dollar Index pulled back to test the new resistance level. Respect of 83 confirms the primary down-trend and offers a target of the December low of 79, calculated as 83 - [ 87 - 83 ]. Reversal above 83 is most unlikely, but would warn of a bear trap.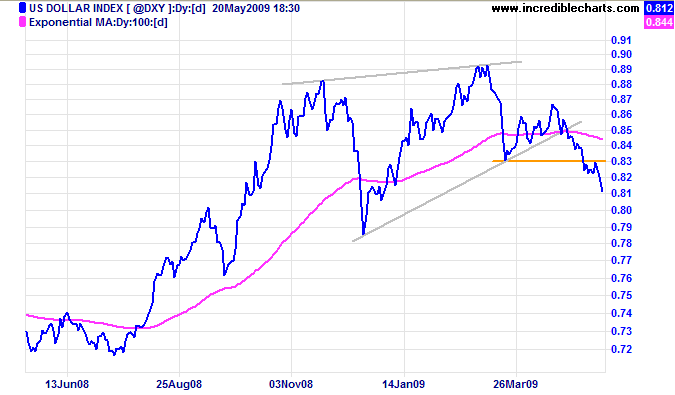 Japanese Yen
The dollar respected resistance at ¥96.50, confirming the recent head and shoulders reversal signal. Breakout below ¥94.50 would strengthen the signal even more. Expect a test of support at ¥87. Reversal above ¥96.50 is unlikely, but would warn of a bear trap.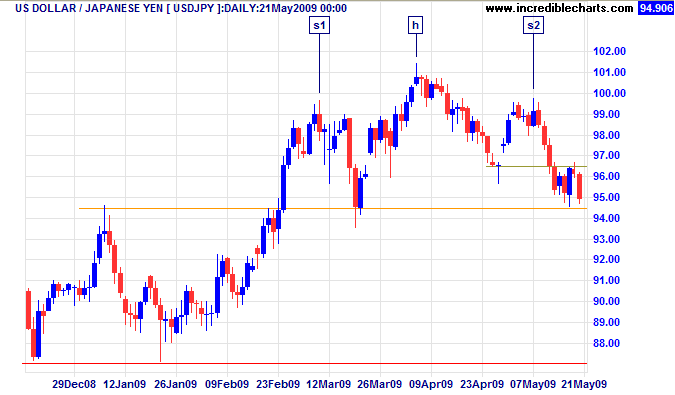 Australian Dollar
The Aussie dollar is in a primary up-trend against the greenback. A short retracement respected support at $0.75, indicating a test of the upper trend channel. The current doji candle indicates some hesitation, but is likely to resolve with follow-through above $0.78. The long-term target is the September high at $0.85. Reversal below $0.75 is now unlikely, and would warn of trend weakness.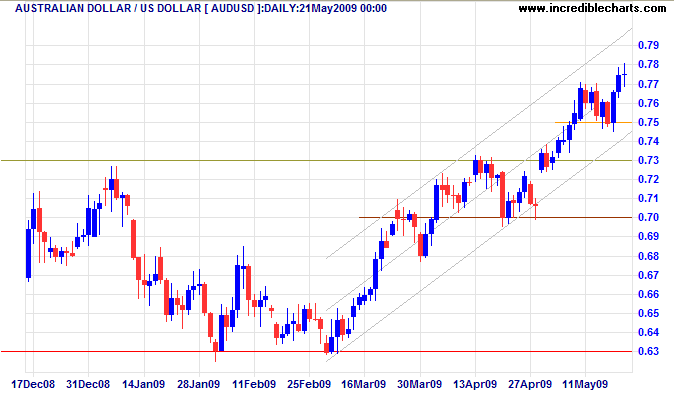 The biggest blunder of all had nothing to do with deregulation. For some reason, the Federal Reserve convinced itself that it could focus exclusively on the prices of consumer goods instead of taking asset prices into account when setting monetary policy.

~ Niall Ferguson: Diminished Returns