---
Will Resistance Hold?
By Colin Twiggs
April 30, 2009 10:00 p.m. ET (12:00 noon AET)
These extracts from my trading diary are for educational purposes and should not be interpreted as investment or trading advice. Full terms and conditions can be found at Terms of Use.
Japan: Nikkei 225
The Nikkei 225 reversed above short-term support at 8600, signaling another test of 9000. Twiggs Money Flow (21-Day) bearish divergence warns of a down-swing to test 7000. Breakout above 9000 remains unlikely, but would signal a primary up-trend. Reversal below 8600 would warn of another test of 7000 — confirmed if 8500 is penetrated. The export-led Japanese market has experienced a sharp contraction in sales. A rapid turnaround is unlikely.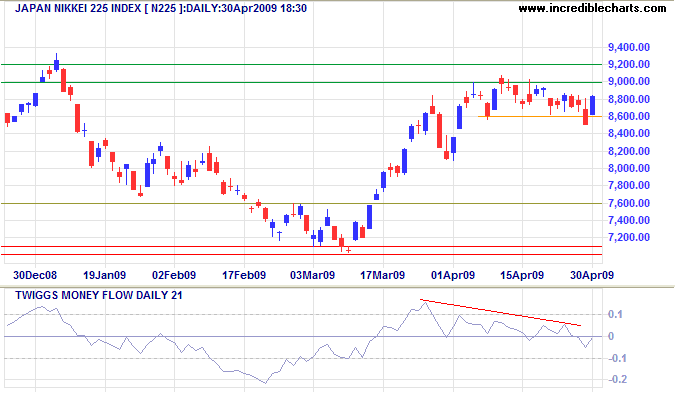 US: Dow Industrials
The US market is also not out of the woods. Further layoffs in the manufacturing sector are likely to impact on all sectors of the economy.
The Dow encountered resistance at 8200, with increased volume and a weak close. Expect a test of support at 7800. Breakout below 7800 would warn of a down-swing to test primary support at 6500, while reversal above 8200 would test primary resistance at 9000.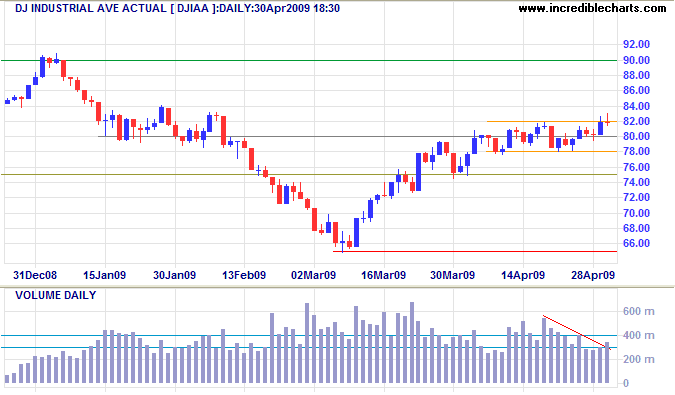 UK: FTSE 100
The FTSE 100 experienced similar resistance at 4300. Expect a correction to test support at 4000. In the longer term, breakout above 4300 would test primary resistance at 4650, while reversal below 4000 would test primary support at 3500.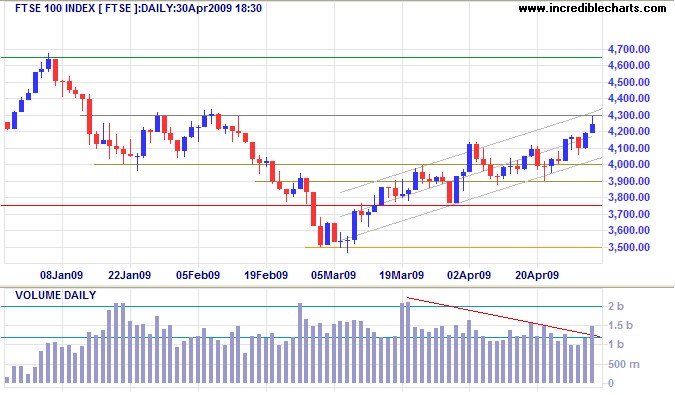 The only sure bulwark of continuing liberty is a government strong enough to protect the interests of the people, and a people strong enough and well enough informed to maintain its sovereign control over the government.

~ Franklin D Roosevelt
Note to readers:
I will be taking a break next week. Newsletters will resume on Monday, May 11th. Regards, Colin