---
The Next Wave
By Colin Twiggs
April 28, 2009 8:30 p.m. ET (10:30 a.m. AET)
These extracts from my trading diary are for educational purposes and should not be interpreted as investment or trading advice. Full terms and conditions can be found at Terms of Use.
Japan: Nikkei 225
The Nikkei 225 turned down below short-term support at 8600, signaling another test of primary support at 7000. Twiggs Money Flow (21-Day) crossed to below zero, indicating selling pressure. The Japanese market has been living precariously, ignoring the sharp contraction in its export-led economy, and a down-turn would signal a wave of realism.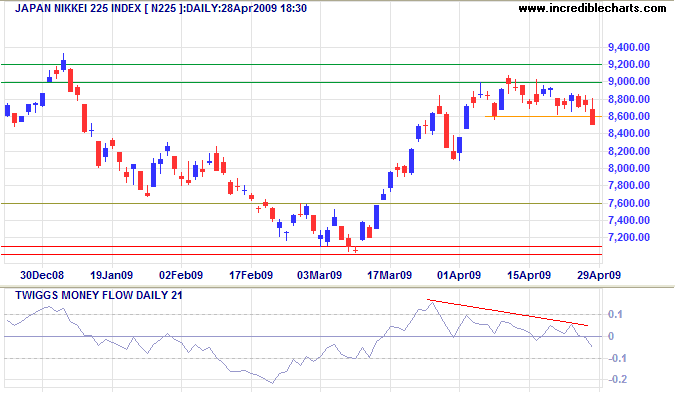 US: Dow Industrials
An impending sharp contraction in manufacturing, caused by collapse of the auto industry, is likely to result in massive layoffs — sending shockwaves through the entire economy. Even the bouyant tech sector will not be immune.
The Dow so far appears to be ignoring the risk, forming a narrow consolidation which is normally a continuation pattern. But reversal below 7800 would warn of a down-swing to test primary support at 6500. And a fall below 7500 would confirm.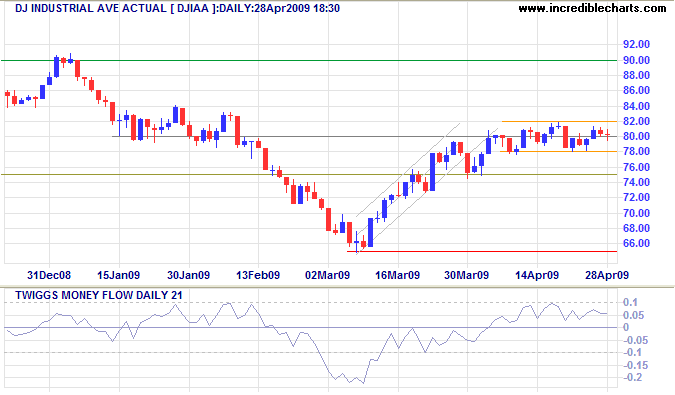 The Debt Bubble
Attempts to rescue consumers from the current credit contraction by stimulating a new debt bubble have so far proved ineffectual. We should be thankful: if successful they risk leading to an even greater contraction in the next cycle, with disastrous consequences for the entire system.
We spent our way into this mess — now we are being asked to spend our way out of it!

~ Lionel Barber, FT editor on the Future of Capitalism
Note to readers:
I will be taking a break next week. Newsletters will resume on Monday, May 11th. Regards, Colin