---
Gold Tests $900
By Colin Twiggs
April 14, 2009 10:30 p.m. (12:30 p.m. AET)
These extracts from my trading diary are for educational purposes and should not be interpreted as investment or trading advice. Full terms and conditions can be found at Terms of Use.
Spot gold is testing the new resistance level at $900, after earlier breaking through support at that level. Reversal below yesterday's low of $886 would indicate that resistance has been respected, confirming the down-trend with a target of primary support at $700. Penetration of resistance would mean a test of the upper trend channel — and a weaker down-trend.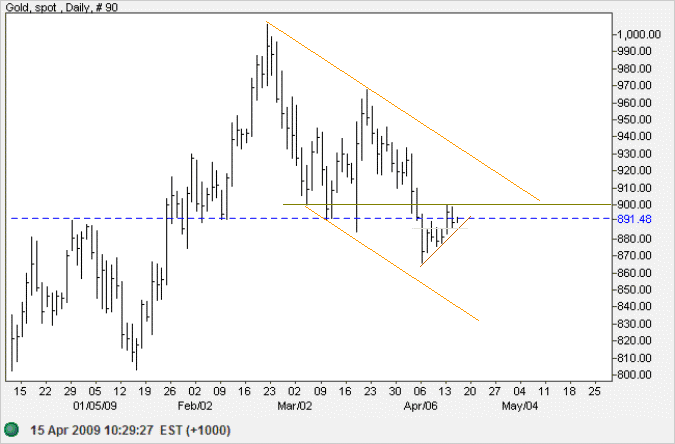 Source: Netdania
Spot silver penetration of support at $12 would add further confirmation of the down-trend.
West Texas Crude is consolidating in a pennant continuation pattern around $50 per barrel. Breakout above $55 would confirm the up-trend, offering a target of $65 (calculated as 50 + [ 50 - 35 ]). Reversal below $47, while less likely, would signal a test of support at $35.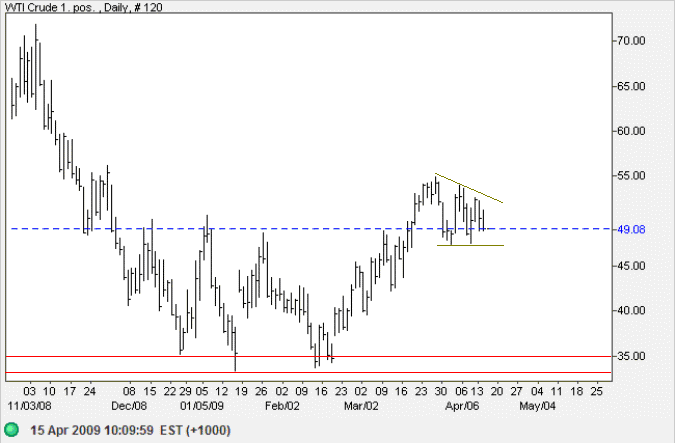 Source: Netdania
The US Dollar Index displays a tentative large rising wedge pattern, which would warn of a reversal. Breakout above 86 would signal a swing to the upper border, completing the wedge formation, while reversal below 83.50 would test primary support at 78. Downward breakout from the wedge would signal a weak dollar — causing upward pressure on oil and gold.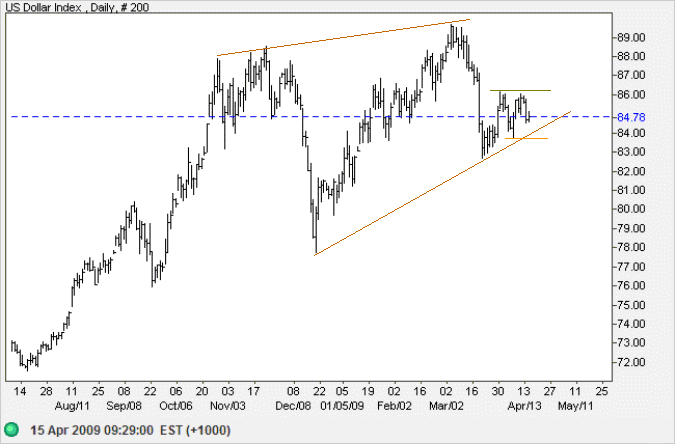 Men desire to have some share in the management of public affairs chiefly on account of the importance which it gives them.

~ Adam Smith: The Wealth of Nations (1776)