---
Gold Reversal
By Colin Twiggs
April 06, 2009 10:30 p.m. (12:30 p.m. AET)
These extracts from my trading diary are for educational purposes and should not be interpreted as investment or trading advice. Full terms and conditions can be found at Terms of Use.
Spot gold broke through the band of support at $900, after earlier breaking the rising trendline — indicating reversal of the last 4 months up-trend. Retracement that respects the new resisrtance level at $900 would confirm the down-trend, targeting primary support at $700. Spot silver breakout below $12 would add further confirmation.
Source: Netdania
Inflation is likely to remain muted in the next twelve months — easing demand for gold as an inflation hedge. Central bank attempts to expand the money supply are likely to be overwhelmed in the short/medium-term by the global credit contraction. We will continue to monitor bank credit growth, however, for signs of a reversal.
West Texas Crude failed to follow through after retreating below support at $50 per barrel, reversing to again test $55. Breakout above $55 would confirm the up-trend and target of $65 (calculated as
50 + [ 50 - 35 ]). Reversal below $47, while less likely, would test support at $35.
Source: Netdania
Spot silver penetration of support at $12 would signal a trend reversal, similar to gold. Retracement above $12.50, however, would warn of a bear trap.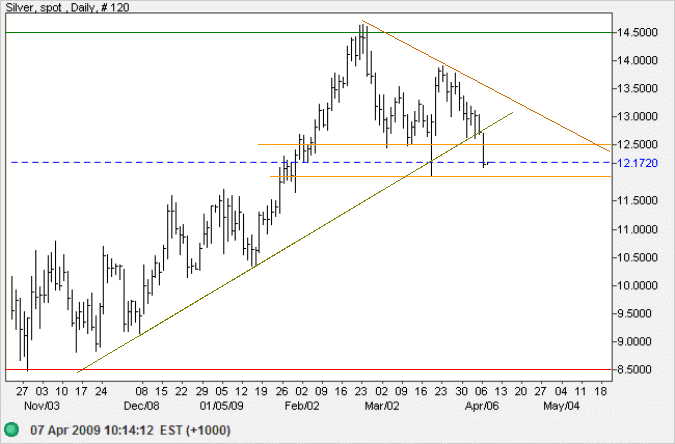 Source: Netdania
The US Dollar Index displays a large rising wedge pattern, warning of a reversal. The lower border, however, is not clearly defined until the index completes the turning point with a rise above 86. Downward breakout from the wedge would warn of a weak dollar — and upward pressure on gold.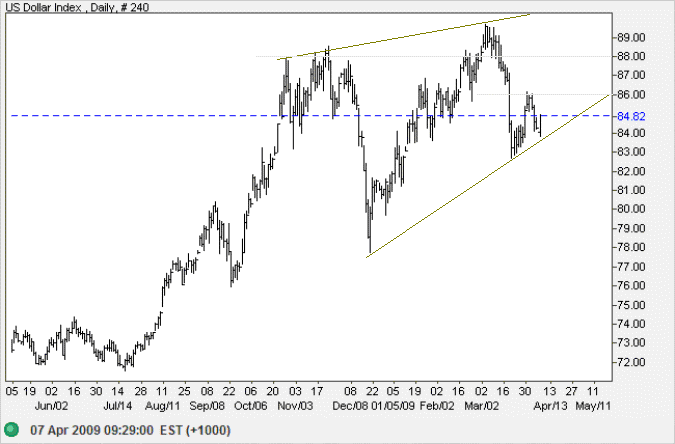 To a mind that is still the whole universe surrenders.

~ Zhuangzi