---
Dollar Weakens, Gold Rallies
By Colin Twiggs
March 11, 2009 11:00 p.m. ET (2:00 p:m AET)
These extracts from my trading diary are for educational purposes and should not be interpreted as investment or trading advice. Full terms and conditions can be found at Terms of Use.
The euro is rallying to test the band of resistance between $1.30 and $1.31. The primary trend is down and breakout unlikely, but would signal a rally to $1.35. Respect of resistance, indicated by a break of the rising trendline, is likely and would signify another test of support between $1.23 and $1.25. In the long-term, failure of support would offer a target of $1.00; that is 1.25 - ( 1.50 - 1.25 ).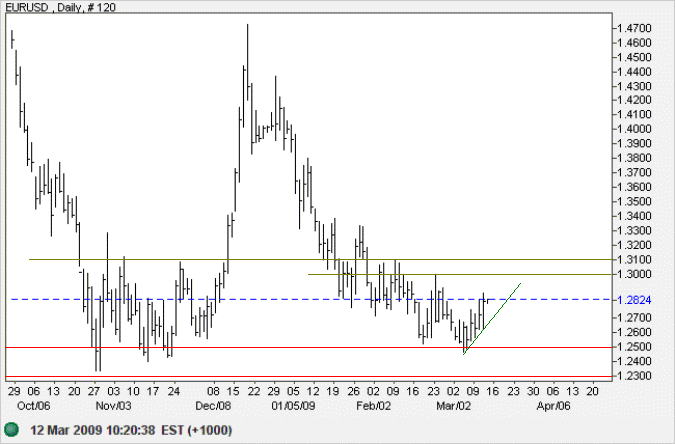 Source: Netdania
Japanese Yen
The dollar encountered resistance at the November high of 100 against the yen and is testing short-term support at 96.50. Narrow consolidation or retracement that respects interim support at 95 would indicate trend strength. In the long term, failure of primary support at 87 would target the 1995 low of 80, while breakout above 100 would suggest a target of 110.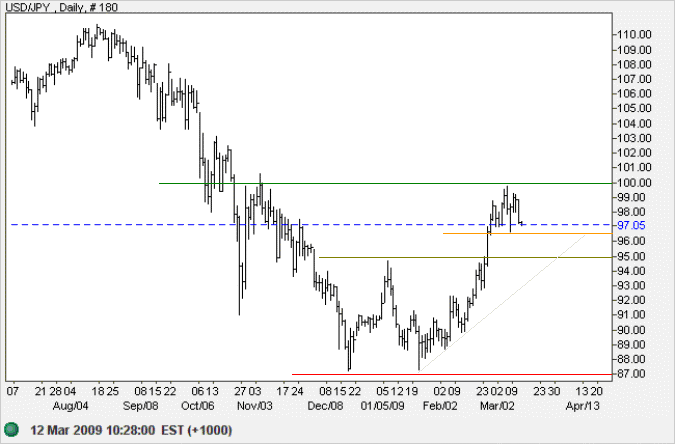 Source: Netdania
Australian Dollar
The Australian dollar is consolidating in a narrow range between $0.63 and $0.66 against the greenback. Further interest rate cuts remain likely, increasing downward pressure on the Aussie, but are likely to meet buying support from the Reserve Bank. In the long term, failure of $0.60 would target the 2001 lows between $0.48 and $0.50.
Source: Netdania
Gold
Spot gold recovered from its dip below $900, but the danger is not over yet. Respect of the declining trendline would warn of another test of support at $890.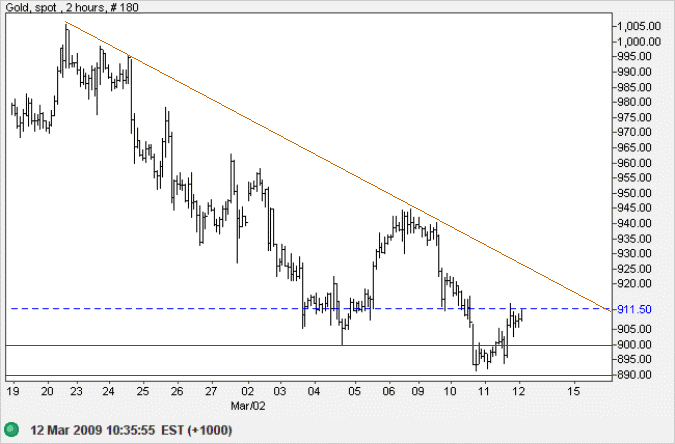 Source: Netdania
Spot silver similarly bounced off support at $12.50 but remains in a down-trend.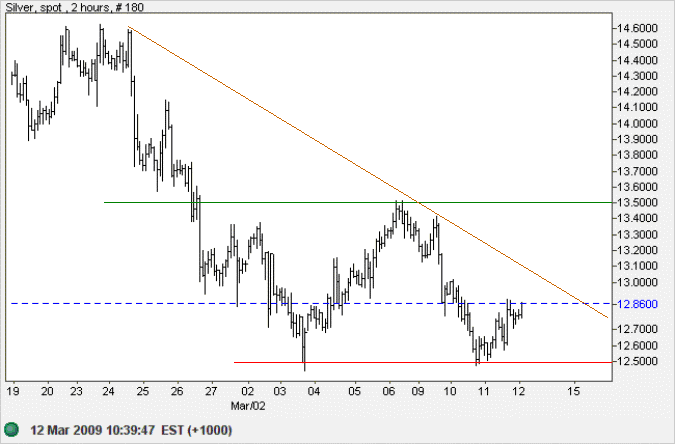 Source: Netdania
Every form of government tends to perish by excess of its basic principle.

~ Will Durant