---
Gold Dips Below $900
By Colin Twiggs
March 11, 2009 12:30 a.m. ET (3:30 p.m. AET)
These extracts from my trading diary are for educational purposes and should not be interpreted as investment or trading advice. Full terms and conditions can be found at Terms of Use.
Spot gold failed to follow through after forming a short-term pennant formation on the hourly chart. The metal reversed below support at $930 and is now testing the band of support between $890 and $900.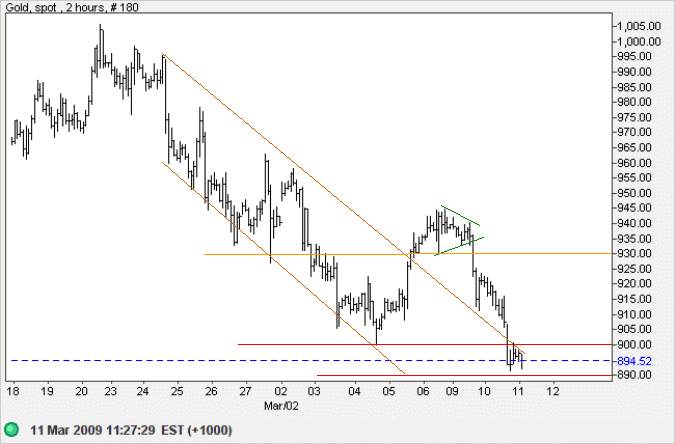 Source: Netdania
Reversal above $900 in the next few days would warn of a bear trap, while further losses would break the rising trend channel, warning of a down-swing to $700. In the long term, breakout above $1000 would offer a target of $1200 — calculated as 900 + ( 1000 - 700 ) from the large descending broadening wedge over the last 12 months. Penetration of $700 is unlikely in the present climate.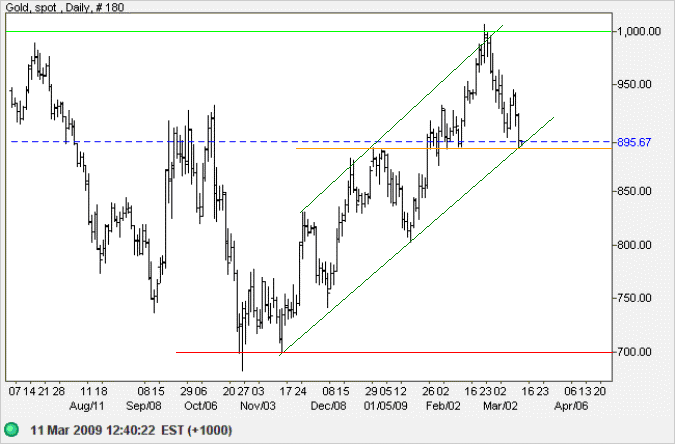 Source: Netdania
West Texas Crude is headed for a test of resistance at $50 per barrel. OPEC talk of further production cuts may provide support at current price levels, but are unlikely to reverse the primary down-trend. A fall below the recent rising trendline would signal another test of support between $33 and $35 per barrel. In the long term, penetration of support would warn of a down-swing to test the 2003 low of $20. The target is calculated as 35 - (50 - 35).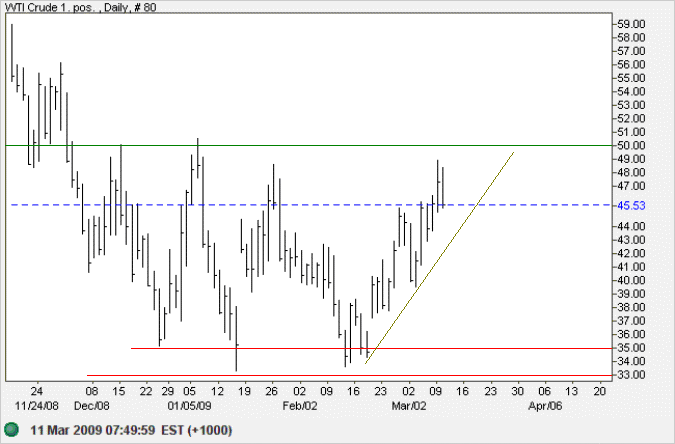 Source: Netdania
The Dow broke upwards from its narrow trend channel, indicating a rally to test the new resistance level at 7500. The up-tick in volume signals selling pressure. Sharp rallies such as this are typical of a bear market and seldom follow through. The primary down-swing target remains at 6000; calculated as 7500 - ( 9000 - 7500 ).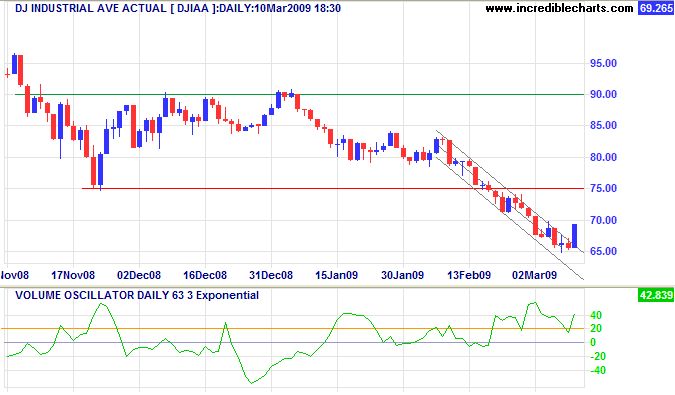 The FTSE 100 is likewise retracing to test resistance at 3800. The target for the primary down-swing remains at 3000; calculated as 3800 - (4600 - 3800).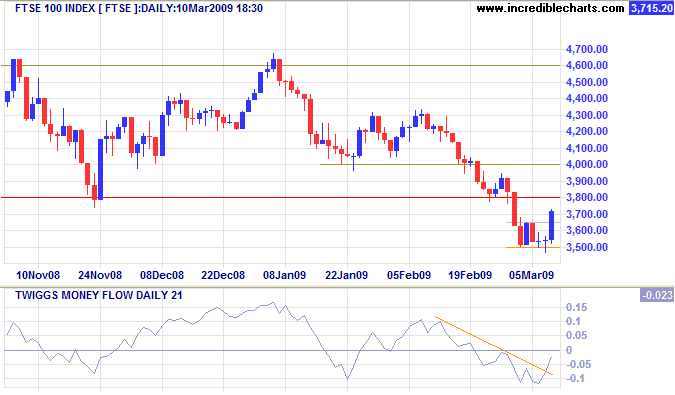 The Nikkei 225 is testing primary support at 7000. Narrow consolidation warns of a downward breakout with a target of 5000; calculated as 7000 - (9000 - 7000). The global contraction and stronger yen have caused a sharp fall in exports, with January 46 percent below a year earlier (Bloomberg). Expect further weakness.
The best way to destroy the capitalist system is to debauch the currency. By a continuing process of inflation, governments can confiscate, secretly and unobserved, an important part of the wealth of their citizens.

~ John Maynard Keynes