---
Euro Retraces While Yen Tests 100
By Colin Twiggs
March 4, 2009 9:00 p.m. ET (1:00 p:m AET)
These extracts from my trading diary are for educational purposes and should not be interpreted as investment or trading advice. Full terms and conditions can be found at Terms of Use.
The euro retraced to test the band of short-term resistance between $1.2650 and $1.2700. Breakout is unlikely, but would signal a rally to $1.30. Reversal would re-test the band of support between $1.2450 and $1.2500. Uncertainty over almost $1.5 trillion of European bank loans to Eastern Europe continues to weigh on the euro. In the long-term, failure of support would offer a long term target of $1.00; calculated as 1.25 - ( 1.50 - 1.25 ).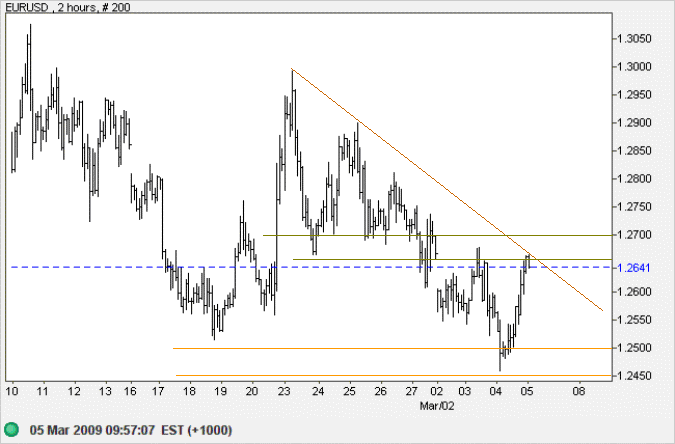 Source: Netdania
Japanese Yen
The dollar is testing resistance at the November high of 100 against the yen. Retracement that respects the rising trendline would confirm the primary up-trend, while respect of support at 95 would indicate tend strength. In the long term, failure of primary support at 87 is now unlikely, but would target the 1995 low of 80. Breakout above 100 would suggest a target of 110.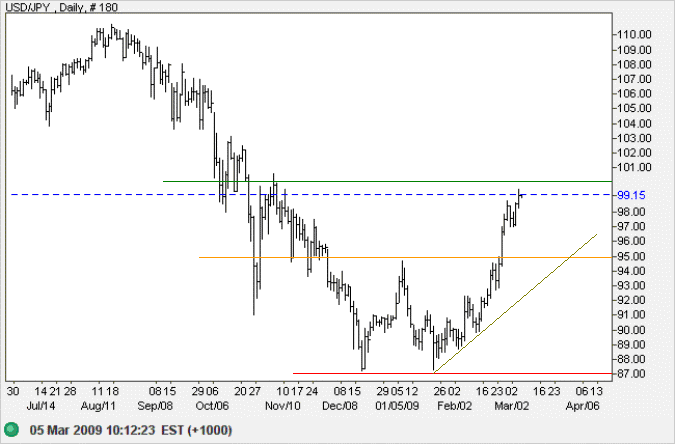 Source: Netdania
Australian Dollar
The Aussie dollar is headed for another test of resistance at $0.6550. Breakout would offer a target of $0.6850, while reversal would test $0.6300. The primary trend is down and failure of $0.6300 would test primary support at $0.60. In the long term, failure of $0.60 would target the 2001 lows between $0.48 and $0.50.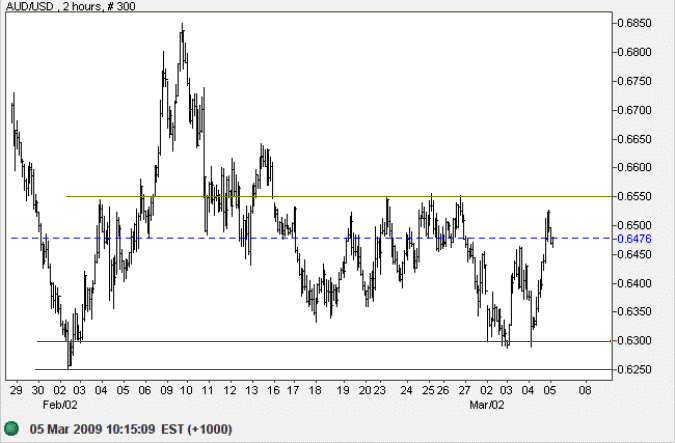 Source: Netdania
The Australian dollar has been in a large descending triangle against the yen, but now threatens an upward breakout. The pattern is normally bearish and upward breakouts should be treated with caution. A rise above 68 would confirm. Reversal below 55, on the other hand would warn of another down-swing, with a target of 42; calculated as 55 - ( 68 - 55 ).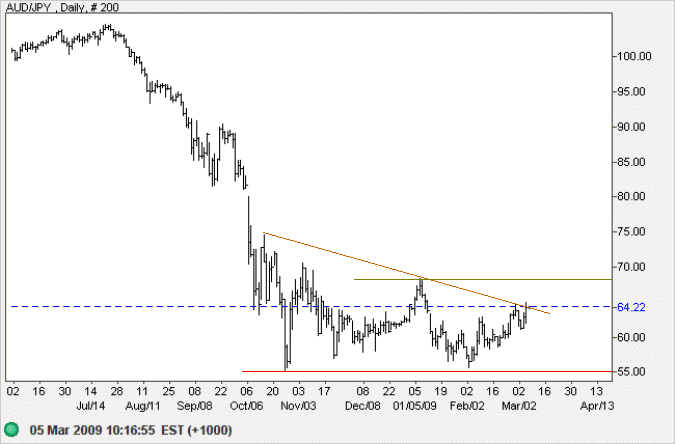 Source: Netdania
Elections should be held on April 16th — the day after we pay our income taxes. That is one of the few things that might discourage politicians from being big spenders.

~ Thomas Sowell