---
---
---
Yen Double Bottom
By Colin Twiggs
February 25, 2009 8:00 p.m. ET (12:00 midday AET)
I am trialing a new format of shorter, more frequent newsletters and would appreciate feedback as to whether you find them convenient or not. These extracts from my trading diary are for educational purposes and should not be interpreted as investment or trading advice. Full terms and conditions can be found at Terms of Use.
The euro is testing a band of primary support between $1.23 and $1.25. Uncertainty over almost $1.5 trillion of European bank loans to Eastern Europe is weighing on the euro. Failure of support would offer a long term target of $1.00; calculated as 1.25 - ( 1.50 - 1.25 ). Recovery above short-term resistance at $1.30, while less likely, would signal a bear market rally.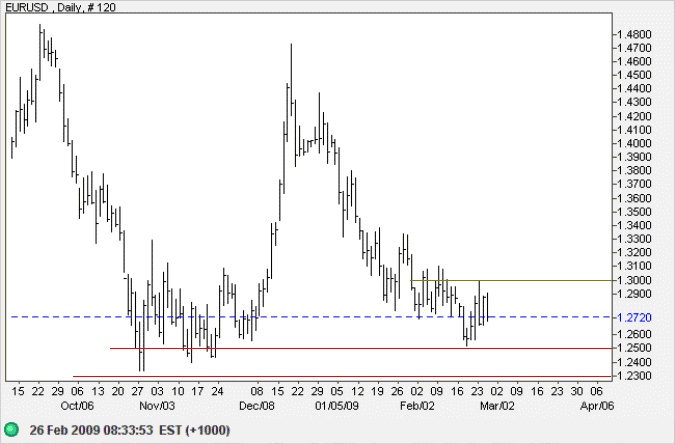 Source: Netdania
Japanese Yen
The dollar broke through resistance at 95 against the yen, completing a double bottom with a target of 103; calculated as 95 +( 95 - 87 ). This signals reversal to a primary up-trend, but it would be prudent to wait for confirmation before making any long-term commitment. Ideally from a retracement that respects the new support level. Failure of primary support at 87 is now unlikely, but would target the 1995 low of 80.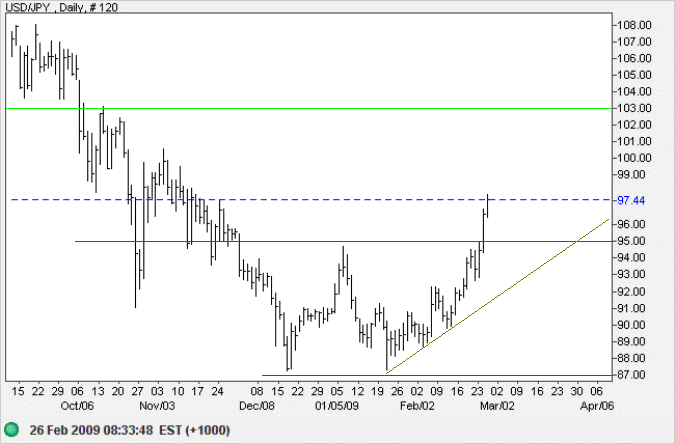 Source: Netdania
Australian Dollar
The Aussie dollar is testing a narrow band of medium-term support between $0.6250 and $0.6300. Failure is more likely, and would test primary support at $0.60. Recovery above medium-term resistance at $0.6850, on the other hand, would signal another test of $0.7250. In the long term, the primary trend is down and failure of $0.60 would target the 2001 lows between $0.48 and $0.50.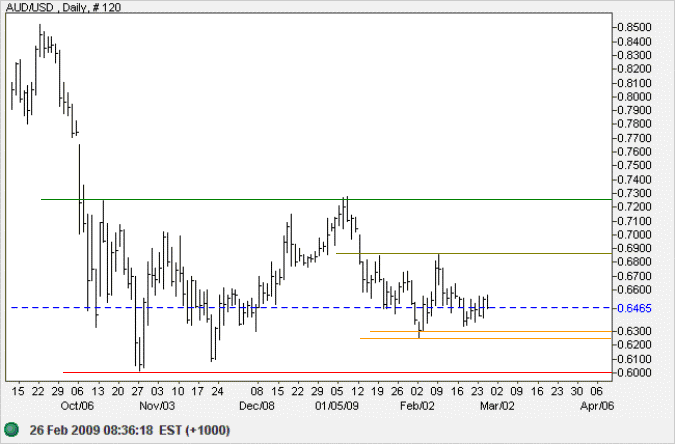 Source: Netdania
There are 10^11 stars in the galaxy. That used to be a huge number. But it's only a hundred billion. It's less than the national deficit! We used to call them astronomical numbers. Now we should call them economical numbers.

~ Richard Feynman (1918 - 1988)