---
Dow Breaks Below 7500
By Colin Twiggs
February 19, 8:00 p.m. ET (12:00 midday AET)
These extracts from my trading diary are for educational purposes and should not be interpreted as investment or trading advice. Full terms and conditions can be found at Terms of Use.
The Dow broke through support at 7500, signaling another down-swing with a target of 6000; calculated as 7500 - ( 9000 - 7500 ). Followers of Dow Theory used the Railway Average, later expanded to the Transport Average, and the Industrial Average to confirm each other. In Dow's time railway stocks used to dominate the stock exchange, but Transport has now faded to a secondary role. While transport stocks such as Fedex and UPS are still useful as an early warning system, I prefer to look for confirmation from the broader S&P 500 index.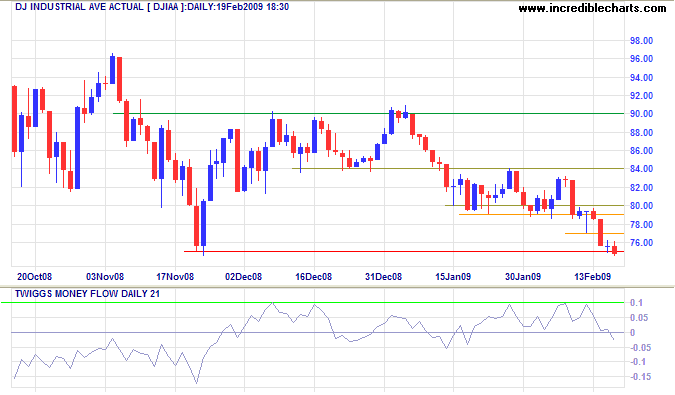 The S&P 500 broke through support at 800 and is headed for the November low of 750. Failure of this support level would confirm the Dow signal and offer a target of 600.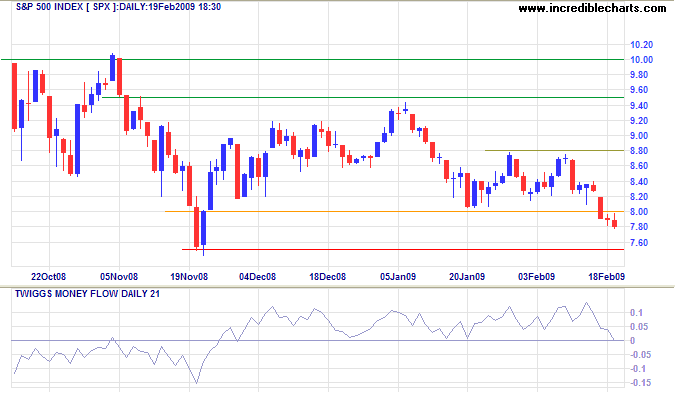 Gold and the euro have moved in sync against the dollar for some years, but this long standing relationship now threatens to reverse. Recent concerns over the stability of European banks have caused the euro to weaken against the dollar while gold rises. Euro breakout below its 2008 low of $1.23 and a gold rise above $1000 would add further confirmation.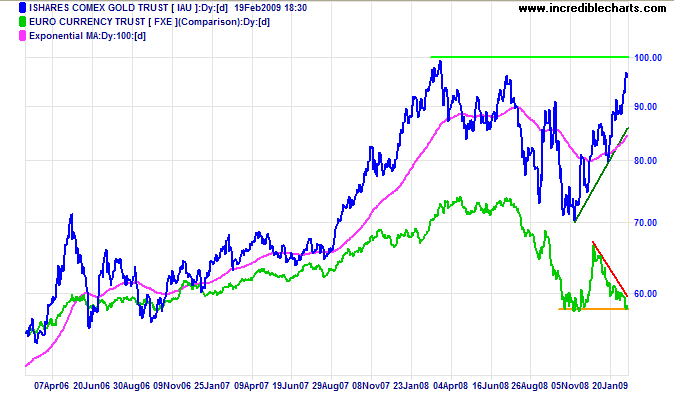 If the S&P 500 confirms the Dow signal, the All Ordinaries is likely to follow. A break below 3300 would target the March 2003 low of 2700.
Prosperity cannot be restored by raids upon the public Treasury.

~ Herbert Hoover